A carpenter or woodworker keeps a collection of different types of chisels. And each has distinct functions. You might think of doing all paring jobs with any chisel, and it is doable; however, experts will tell you to use the ones designed for accurate paring.
And undoubtedly, having the right tool for the right job is a delight. With a paring chisel, you can elevate your craftsmanship to a new level.
The tool comes with several features that make it different from all chisels. The best paring chisels include all the distinguished qualities to help you achieve perfectly smooth groves and offer balance and precision for angle cutting.
My Top Picks
Best Paring Chisels in 2022
But there are lots of options in the market to get lost while attempting to choosing one. Well, my carefully made list of quality tools might ease the process for you.
Below are a few premium quality paring chisels with a detailed description to ensure you can make an informed choice. Spare a few minutes and have a look.
1. Narex Right & Left 6 mm Skew Paring Chisels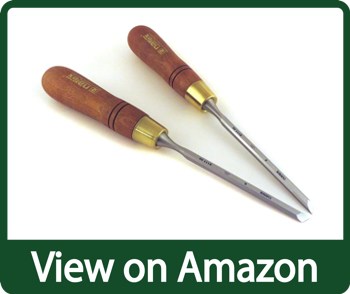 Coming from an international brand in the woodworking industry, Narex Skew Paring Chisels are superior to most paring chisels in the market. Well, let's get into the product's features.
The paring chisels come with blades of ¼ inches width and 4-¾ inches length, a standard dimension to make your dovetailing and tendon shoulder trimming jobs easier. The quality blades are made of tampered and hardened chrome-manganese steel, making them robust, sharp, and easier for you to cut thin wood slivers.
The tool features blades with a slim cross-section, a 25° bevel, and a 30° skew angle, which make them decent paring chisels, liked by many professionals. You can sharpen the blades to lessen the angles, and like all tools, the blades need sharpening before use.
Handles of the chisels also make them special. The round 1-¼-inch wide stained hornbeam handles offer control and balance while reaching tight edges and making delicate cuts. The handle length is also standard, 5-¼ inches long. The additional brass ferrule is there to reinforce the handle.
All things considered, the product makes an excellent quality paring chisel, and it is reflected in all the positive feedback from the customers.
Things I Like
Chrome-manganese well-tempered alloy steel offers maximum strength during paring work
Comes with a 1/4″ wide and both right and left skew designs for the perfect paring
30 and 25-degree bevel design makes chiseling easier
Super hard handle is made of European Hornbeam for comfort and durability
10" blade size with edge protector offers superior control over paring jobs.
Things Can be Improved
Need to sharpen before use.
2. Narex Premium 5 Piece Paring Chisels Set
Longer paring chisels offer you many advantages like greater control, visibility, and extra reach. The Narex Premium 5 Piece Set Paring Chisels provides just that with 5 pieces of about 13-⅜ inches long chisels.
Yes, you heard that right, 5 pieces and each of different width, 1-¼, 1, ¾, ½, and ¼ inches. So, you get a lot of options to use on different occasions like detailed angular cutting, paring off edges, dovetailing, and many more.
Also, the blades can be sharpened to razor-sharp, and with a standard bevel angle of 25°, it pares off thin wood slices like butter.
And you might think of them being too long, but the longer blades help you to have a steady cutting line or angle, and not to mention, you get more reach and leverage.
The well-built tools are made of chromium-manganese steel, tempered, and hardened to RC59. That translates into a long-lasting and heavier tool. You might have to horn the edges before use; however, the cutting edges hold sharp longer, meaning you have to re-horn them much less than average.
The handles are great too. They are made of hard European hornbeam wood, stained but not finished to give you a firm grip, control, and a good feel.
Things I Like
Alloy Steel hardened to Rc 59 offers durability and strength to handle rough use
Comes in 1/4″, 1/2″, 3/4″, 1″ and 1 1/4″ size for versatile paring tasks
Bevel is grounded at 25 degrees to shape the wood
5 inch long and 3/4" wide wooden handles offer comfort and better grip
9" long and 1/2″ width blade ensures better control on paring work.
Things Can be Improved
Requires regular lapping and shaping.
3. WoodRiver Bent Paring Chisel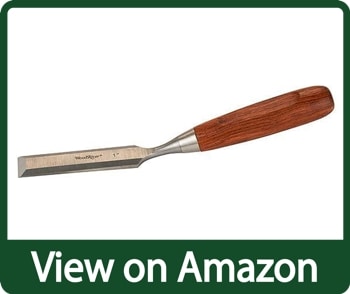 A cranked tool is preferred for paring off flat surfaces or other planes where regular paring chisels cannot reach or are inconvenient to use. And the Woodcraft, a well-known brand name for manufacturing excellent woodworking tools, produces one of the best paring chisels.
The WoodRiver Bent Paring Chisel can be a valuable addition to your collection. With this cranked chisel, you can deal with hard-to-reach areas with ease. The 18° bent neck allows you to keep it flat on the surface while holding the handles.
It works amazingly in removing glue, cleaning out corners, and trimming plugs. With the decent offset handle, you can see it clearly while working in a tighter space, whether you are digging in or not.
Woodcraft offers several choices on the blade width, 1, ¾, ½, and ¼ inches. All offer superior built quality, and the 4 inches length helps you to maneuver it around with ease.
And it comes at a very affordable price; however, you might find that the blade needs honing more often. It's because the tool is made of slightly softer steel, and although you may have to file more, the material makes it easy to sharpen as well.
Things I Like
Comes with an 18° bent tang to make the shaping easier than ever
Angle design keeps the blade flat while grasping its handle
Wooden handle offers comfort and strength to cut wood
4″ blade is short to create more pressure and accuracy
Sharp blade with easy sharpening makes it more convenient to use.
Things Can be Improved
Steel is a bit softer that often requires honing the face.
4. Narex Czech Steel Premium Woodworking Cabinetmakers Paring Chisel
Yes, another Narex tool makes it to my list because the brand is consistent with its quality. Narex Czech Steel Premium Woodworking Chisel comes with a thin ¾ inches blade to give you accuracy and precision while cleaning out edges.
The thickness of the tool is a delight to work with. With an average width of ¾ inches, you can use this on many different projects, from smaller and delicate ones to large pieces of furniture.
And it's not only the width that makes the tool superior, but the 9-½ inches long blade offers much control while operating. The tool is also available in a range of thickness from ¼ inches to 1-½ inches. So, you can pick one that suits your job, and it's nice to have several different sizes in your collection.
Like all Narex tools, the blades are hardened to RC59 and are composed of premium-quality chromium-manganese steel. The sharp edges hold longer and better, eliminating the need for re-honing very often.
The 6 inches long stained and wax hardwood handles give a firm grip ensuring your hands do not sweat and you don't slip the tool accidentally.
The brass ferrule around the tang further reinforces the handle, making it more robust and long-lasting.
Things I Like
9 inch long and ½ inch wide blades offer superior control for paring works
Durable chrome-manganese steel can handle pressure and roughness
Comes in 1/4", 1/2" 3/4" 1" and 1 1/4" sizes for more versatile tasks
European Hornbeam handle with solid brass provide comfort while working
25 degrees bevel is grounded for better shaping and cutting.
Things Can be Improved
You might need to remove the coating from the bottom before use.
5. Narex Premium 4 pc Cranked Neck Chisel Set
I will be ending my list with yet another Narex tool, and unlike the previous ones, it is a set of cranked chisels.
With a 30° bent angle, you can reach the spots with ease which a regular straight chisel will not let you. They sit perfectly flat on the surface while you grab the handles, allowing you to remove glue lines and making dadoes channel by pushing the blades forward and down simultaneously.
And while you do so, do not worry about the blades; they are made of chromium-manganese steel, making them stiffer and heavier. And the hardened steel will require little honing before use and much less re-honing, unlike the softer blades.
The set includes chisels with varying lengths and widths. While the thickness ranges from ¼ inches to 1 inch, the length varies from 5-½ inches to 4-½ inches. So, you get a wide range of applications with the set, from flush trimming to pattern making.
While you might think the length would limit you on different occasions, the bent angle and handle offset make sure you can reach all the tight and compact spaces. And again, the hardwood handles come with stained hornbeam, making it easier for you to have control and grip.
The 25° bevel angle is also a standard for paring chisel and preferred by many woodworkers.
Things I Like
Comes in 1/4″, 1/2″, 3/4″, and 1″ sizes to work with different wood sizes
Fine-grained and well-tempered alloy steel hardened to Rc 59 for maximum durability
Bevels are ground at 30 and 25 degrees for easy wood cutting
5 inches long offset handle offer superior control over the chisel
Handles are made of European Hornbeam to handle pressure and offer control.
Things Can be Improved
Handle could be more comfortable with gripping.
Things to Keep in Mind Before Picking a Paring Chisel
Not all good chisels are suitable for your work. You need to consider some factors when choosing the paring chisel.
Size of the Chisel
The size of the chisel plays a vital role in paring jobs. You need to fine-tune the shape of the wood for paring. If you are not sure which one will be most suitable, get a set of chisels of different sizes. A 15-20 inches chisel is generally considered an ideal size for paring. But you may need something different.
Durable and Strong Blade
You often need to pressurize the chisel with your hand to get the right shape for paring jobs. A durable and strong blade will easily handle the pressure.
Make sure the blade is made of durable steel with a premium coating. It will help you easily create the shape you want without breaking or bending the blade. The size is also important. Get one with 9-10 inches long for better control.
Comfortable and Long Handle
Handle is important to get better control and comfort. It should be wooden with proper coating for better grip and durability. Length is also important. Try one with 9-10 inches long to get better control and leverage.
The Style
Chisels come in western and Japanese styles. The main difference is steel hardness though it is not that important for paring work. You are not going to use any hammer or mallet for paring jobs where the hardness of steel is important.
However, Japanese chisels are often made by one craftsman. That means someone might have taken great care of the chisel while making it.
The Angle of The Bevel
The bevel angle is not something you should ignore. You will find different bevel angles such as 15, 30, 25, or even 35 degrees. Different angles are suitable to create different shapes in the wood. Get the right one or pick one set with different angles for the best result.
What Is A Paring Chisel?
Paring chisels are specifically designed tools for accurate and precise paring jobs. While you might be able to use any chisel for paring, the designed tool makes the job more accessible and easier.
The distinguishing features of a paring chisel that enables you to do so are its length, thin handles, and low cutting angles. Unlike the mortise and Japanese chisels, they come with thinner handles that push and slice wood gracefully.
And the blades tend to be longer than other chisels; as longer the blades, the steadier you can keep the tool for delicate cuttings and slicing. Also, the length is a plus point that enables you to reach every grove, tighter spot, or any hard-to-reach areas. You can blade the faces with ease as well, preventing you from digging in.
And lastly, but most important of all, is the tool's lower cutting angle. Typically paring chisels come with 20° to 25° bevel angle or even less. It enables you to push the blades through wood with much less force.
And to integrate all these features, the particular chisel type is made of hard steel. So, you will need less sharpening as well.
Different Types of Chisels
A chisel is an essential tool for woodworking. It is a simple tool for shaping and dressing wooden objects, yet you can easily get mixed up among many different types. For your clear understanding, I present here some of the common chisel types.
Mortise Chisel
These tools come with blades that have more thickness than width. The heavy blade and large hardwood handle are designed to take a greater amount of pounding as the tools are used with mallets to drive it into the wood. It then levers out the mortise waste. They are available in variable sizes, and one tool is adequate for all your mortising jobs.
Butt Chisel
These tools come with shorter and broader blades than most chisels. The size makes it easier to use and maneuver for several different purposes. There are both beveled and straight butt chisels, and they are used for clearing our wider areas and installing hinges and butts.
Dovetail Chisel
It is a special-purpose tool to create perfectly finished dovetails. The long and bevel-edged blades enable clearing out the joints with ease. It allows easier reach to joints and dovetails, and the bevel angle varies from 20-30°.
Read Also: An In-depth Guide about Dovetail Chisels.
Paring Chisel
These tools are designed for delicate and detailed works like cutting thin slices of wood or clearing grooves and joints. The longer blade and thinner handle offer significant leverage and reach. These special-purpose tools cannot be used with a mallet.
Bevel-edge Chisel
These chisels are probably the most common ones you can find at any shop. They are short with a greater bevel angle than paring chisels. The tools are easy to handle and used for a variety of jobs. The angle and length allow for maximum dovetail access, and they are also found in many different sizes.
FAQs about Paring Chisels
Can paring chisel be hit with a hammer?
The straightforward answer is you should not hit a paring chisel with a hammer. The blades are thinner, so you may end up bending them. If there is too much material to be removed, you can use other chisels for that, but do not hit a paring chisel with a hammer. The tool is designed for delicate and fine wood slicing jobs.
What is a firmer chisel?
It is a heavy-duty tool that can remove large wood pieces with a single strike. The wide rectangular blades are usually 4 inches long and strong enough to clear huge chanks for making deep joints. The tool is one of the earliest chisel types, and butt and bevel-edge chisels are said to be two variations of the type.
Do I need a paring chisel?
It is not like that you cannot do paring without paring chisels. While any chisel can do that, to do paring accurately and effortlessly, you need the special-purpose tools. So, it is not a must; having one can enable you to do paring and edge trimming jobs with ease.
How do I keep a chisel sharp?
Sharpening the chisels is quite easy, and depending on the condition of the blade, you can do it at home either with some hand tool or a power tool like a wheel grinder. A new chisel is not ready to use, and you will need some honing or sharpening to get them ready. You can use oil, water, or diamond stone, honing guide, sandpaper, and a strop for hand sharpening.
What are paring chisels used for?
Traditionally chisels are used for cabinet and pattern-makers. But you can use it for other purposes such as table making or any other woodworking paring.
Final Words
There is a wide array of chisels available with a slight change in the shape or material to make them suitable for specific tasks. While a general-purpose chisel can accomplish most chisel jobs, you might find them harder for a sophisticated job like paring.
For easy paring jobs, paring chisels are a must. But to make sure you pick the right tool; you should know all the details about the quality products currently in the market. This article is an attempt to provide you with valuable information about some of the best paring chisels.
You May Also Like:
Top 5 Cut Proof Gloves for Wood Carving.