Trust me an organized workshop is far more relaxing to be in than a messy one.
Your energy automatically drains out as you try to search for your tool everywhere in the mess. It's no fun working on a jumbled place.
Do you want to see a change?
Organize your stuff. And the smartest way to do so is to get yourself a tool roll.
A tool roll can help you keep your tools in one place in the most organized way. You can find everything in one place right beside your hand. The best tool roll can help you get peace at work and save your energy.
Our Top Selections
Top 5 Best Tool Roll Bags in 2022
No need to travel anywhere else. This list of 5 tool roll reviews will be enough for you to get the finest one.
1. Carhartt Legacy Tool Roll Bag
The more you can keep the better it is. That's the reason why I chose Carhartt Legacy Tool Roll for you. With this tool roll, you have 19 slots of different sizes to keep your tools of varying sizes.
Not limited to that, it also has 3 pockets to keep utility items. The fact that these have hook and loop closure makes them really safe to keep small tool parts.
You can keep your important tiny parts which you need by your side safe and secured in these without being worried about losing them.
No matter where you take it or how you use it, you can be tension-free when you are using this tool bag. Its material is rugged synthetic which is waterproof. So, you work under rain or anywhere, your tools inside will be safe.
It is very handy for both outside and indoor use. You may take it with you to the site or just keep it on your workshop shelf as a storing medium.
2. Rugged Tools Titan Deluxe Tool Roll for Bike/Motorcycle
The best thing in this roll sack that you are going to get is its chained pouches. It is nothing like the random ones.
You can store your tools more securely and without being in the tension of losing any. They stay put inside the pouches as they are finely sealed by protective chains.
5 out of 5 pouches of the bag contain the chain sealing facility. The pouches are spacious enough to fit pliers, screwdrivers, gauges, torches, and other necessary repair kits and accessories. It is the best tool roll for wrenches if you want to keep yours in one.
It is not solely made for storing repair supplies or mechanic equipment, but its sturdiness makes it ideal for such use.
The motorcycle tool roll bag is made of rugged material. It is specially made to be grease and waterproof. It is a perfect item to be used in construction sites or workshops.
You won't have to be struggling to carry it to your workspace. Its 2 handy loops on each end of the roll make it easy to transport.
You can easily tag this bike tool roll along with you while moving from one site to another.
3. Rugged Tools 32 Pocket Tool Roll Wrench Organizer & Tool Pouch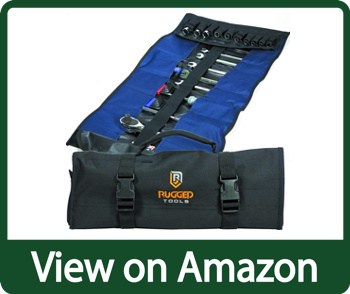 This is something special. It is the tool roll where you get the unique socket pockets. It has 10 sockets of sizes small to large to let in sockets of various sizes.
These specialized pockets allow you to hold your sockets safe and secured. You can get all your precious sockets all in one place lined up for you.
As the socket pockets are placed on one side, the tool pockets are arranged at the middle. You get a total of 22 pockets to store your tools.
They also come in various sizes to let you put the equipment of different sizes without constraining you to a single size.
An interesting part of this roll is its internal elastic strap. This is given for holding your tools at a place. This makes it easier to fold and unfold the roll. For this smart addition, your tools won't be displaced as you fold the roll. When you unfold it, the tools will be there as you left them.
This roll bag is not too large and doesn't eat up much space. You can easily carry it around without hassle.
Its dual buckle closure keeps the roll wrapped nice and tight. No chance of the roll to open up until you do it yourself.
4. Garry Tactical Roll Up Pouch Tools Organizer Bag for Wrench
You need more, you get more. This exclusive tool roll is an unusual roll bag with so many pockets of different styles. You won't have to choose one and give up on the other, because in this roll bag you get all in one.
This bag is so versatile in terms of pockets. Whether you need the sealed ones or the open pockets, you get them all here. It has a massive total of 18 opened pockets for your long tools.
For the equipment for which you need proper sealing, you get 4 chained pockets. And lastly offering you a larger storing option, it has a bigger pocket with the zipping facility.
It also gives you multiple carrying options. Where a normal roll bag contains only the loop handle, this unique one has a long belt facility too. This helps in keeping the tools in position.
The loops it has are also useful for hanging it from anywhere. It can be your workshop wall or even in your car seat, you can use it anywhere.
5. Uj Ramelson Durable Rollable Hanging Pocket Pouch for Chisels
Simplicity is also a fact. Not always the heavily packed tons of pouches are needed for storing.
Considering the diversity in needs, I put UJ Ramelson Tool Roll Holder on the list. This is the best tool roll for chisels to be found in the market.
This roll bag is a very simple but effective thing to use. It is perfect for storing daily usage items that you need right beside your hands every time.
Its open pouches let you take out and put back your tools as you need them. You can hang it on the wall while working and later wrap it up after use. This lets you work in a more organized way.
As the number and size of slots are important, knowing about the material of the toll roll is equally essential. You definitely don't want your bag to tear off just using it after a couple of days. The material must be sturdy to tackle the abuses of rough edges of tools and stand intact against them.
You can find exactly all that in this roll bag. It is made of sturdy leather to hold the heavy tools and not get ripped easily. You can expect it to give you a long-time service without getting damaged.
How to Choose A Perfect Tool Roll Bag
A guide to buying tool rolls can come in handy to help you buy the perfect one for your needs.
Portability
You need to carry your tool roll bag to places as you shift from site to site. For this, its carrying facility is an important aspect to consider.
The best system given for carrying such bags is strap loops. They might come with single or double loops but having them makes it very convenient for carrying. The fact that the tool roll filled with tools will be a heavy thing to carry.
Besides, firmly holding all the tools together is a challenging issue too. So, having an effective carrying facility is important for a rolling bag.
Material
For getting durable service, the material of the bag must be given importance. You must check what material the tool roll is made of.
It has to withstand sharp edges, heavyweight, getting rubbed off by course surface, and other work abuse. The professional tool roll bags are made solely for tool storing purposes and made in such a way that they can withstand all.
Such bags are also made of water and grease repellent. Together with all the features, they come out to be such fine roll bags to give effective in work for long.
Pockets
Pockets are the main part of the tool roll bag. The more pockets the better it is. You can store more of your tools in it. The number of slots differs from bag to bag. The pockets can be both inside or outside the bag, it depends on what design you choose.
Another important aspect is the pockets being sealed or open. Some bags have pockets including chain seals and some have hooks or others. And for some, the pockets remain open without a sealing facility. Both systems have their own benefits. You can choose the way you require.
And lastly the size. The sizes of the pockets differ too. You will find different bags with different sizes of pockets, even can find the same bag with different sizes of pockets.
Final Words
You can literally buy any bag. But will it be worth it to settle for any? I don't think so. You should be reflecting on your necessities. It is a smart idea to line up for what you are going to buy the canvas tool roll and then decide which one of them will suit your necessities the best.
The most commonly used bags are the ones with chain sealing options in pockets. Considering the aspects of safe storing and carrying of tools, the bag that stands out from the list is Wrench Roll Up Pouch Tools Organizer. This special roll bag has both open and sealed pockets. It is one of the best tool roll bags that can serve the purpose in the best way possible.
You May Also Like:
5 Top Quality Cut Resistant Gloves for Wood Carving.
A Complete Guide About Woodworking Bow Saw Blades.
An In-Depth Guide About Paring Chisels for Woodworking Project.