Looking for a tool to diversify your collection and tackle all difficulties with just a kit? Well, a Dremel rotary tool will be the sword that can make you the master of all wood cutting tasks.
It is a multifunctional kit that can cut, drill, engrave, finish, grind, etch, sharpen, and the list goes on. But what has made this tool more versatile?
They are the Dremel bits or accessories, each having a specific purpose. Each time you attach a bit at the tip of the tool it will change the functionality of the rotary tool.
To increase the adaptability of your Dremel, you need to have a bunch of bits. Don't get tensed about finding the required bits from the broad marketplace.
My Top Picks
Why Woodworkers Use Dremel Bits
The million-dollar question 'why use a Dremel bit' may pop-up into your mind before buying bits. If you tell me to answer in just one word, I will answer 'versatility'. But there are some other aspects also that will compel you to buy these outstanding kits. Let's elaborate in detail.
Master of all trades
You can be the jack of all trades, but without the right tool how can be a master? The Dremel bits will help you in this transformation with its wide application in cutting, finishing, etching, engraving, sculpting, sharpening, cleaning, and so on. Even you can complete a whole project with just a rotary tool and all the bits for different woodworking tasks. So, why not have a set of all the bits available?
Ease of use
You may think using a bit is not easy because of the sophisticated process of attaching it. But it is not tough at all. You just need to press the shaft lock of your rotary tool and rotate it, loosen the collet with the collet wrench, insert the bit into the collet with the shaft lock engaged, and retighten the collet. You are done! Now go for your wood cutting work.
Save space in your toolbox
There are very few woodworking tasks for which a specific Dremel bit is not available. For example, ball nose bits are for wood cutting and finishing, spiral bits for cleaning edges, disk and drum bits for sanding, straight bits for engraving, and many more. So, it is crystal clear that you can replace a lot of other tools with just one Dremel bit set.
Best Dremel Bits for Wood Carving & Cutting in 2022
In this section, I have reviewed the top 5 Dremel bits that are the best for cutting wood. Read the unbiased reviews and get the one that meets your needs.
1. HQMaster 10Pcs CNC Router Bits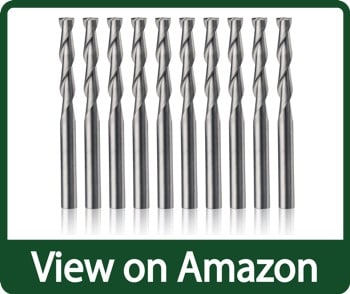 The product is one of the premium toolsets from the brand HQMaster Store. It is the perfect setting for not only cutting woods but also taking your groundbreaking 3D sculpture ideas into reality.
These are CNC router bits, which means their main purpose is to hollow out an area from a wide array of materials like MDF, ABS, PVC, acrylic, nylon, resin, plastics, density board, wood, plywood, hardwood, etc.
The tool has a sharp flute for faster engraving operation with a length, 17mm and a diameter, 1/8 inch. The spiral flutes with larger chip space resist the stickiness of crumbs on the edges to ensure smooth cutting and rapid chip removal.
The upcut feature of the flute will pull chips up providing you a smokeless and burr-free cutting experience. The thinner shank with the same diameter as the flute and a length of 21.5mm ensures precision in intricate cutting jobs like surface machining or relief sculpting.
The bits are made of solid carbide that ensures high impact resistance to withstand the extensive rotational speed without breaking down. This feature is a plus point to prevent abrasions and rusting for longer durability.
For an organized woodworker like you, the brand has provided a portable plastic case to store the bits. You can keep the bits in particular sections that have foam inserted to keep the bits from muddling up and cause damage to each other.
Things to Appreciate:
Higher precision with its 1/8 flute size compared to 1/4
Inexpensive compared to what you get
Up cut feature prevents tearing out or fuzzies on the edges
Sharp-edge ensures faster operation for better efficiency
Less noise while operation for a better working experience
Take Note:
Not suitable to cut hard metal
A little bit short than the description.
2. RotoZip SC16 Sab Recut Zip Bit For Wood and Plastic
Moving on to the next product. If you are specifically looking for drill bits, the 16Pcs set from the manufacturer RotoZip will definitely meet your requirements.
The bits are made of high-speed steel (HSS) for increased hardness to ensure a long cutting life. Another benefit of the material is the ease of resharpening. If the flute of your drill bits becomes dull or blunt, don't hesitate to grind and resharpen your drill bits thinking of the risk of breaking down.
Again, if you don't have a sharpening tool or time, you can replace it with a new one since you have a full package of 16pcs of bits. These bits are mostly used by the carpenters for wood cutting; however, they have applications on other materials too like fiberglass and drywall.
The most vital feature of a bit is the cutting edge or flute. The flute of these bits is spiral in design and is compatible with all rotary tools. The diameter of the flute is 1/8 inch with a cutting depth of 1-1/2 inches. Moreover, the shank diameter is also the same as the flute.
Things to Appreciate:
High-Speed Steel offers maximum strength while cutting
Re-sharpening ability keeps the efficiency higher
Suitable for wood, drywall, and even fiber glasses
The spiral flute makes it compatible with any rotary tools
16-PCS pack for replacing when one is broken or dull
Take Note:
Dulls fast when hitting the tough surface
Not suitable for drilling.
3. Dremel 561 Multipurpose Cutting Bit
If you get confused in choosing the right bit from the large toolset of bits, then the multipurpose cutting bit from the brand Dremel will surely save you from the dilemma.
The flute of the bit is spiral with upcut grooves. The grooves will pull out the chips or crumbs of material in the upward direction making the cutting area clean. The spiral design ensures a precise and flawless cut.
You can attach the bit to the collet of any rotary tool, but it is advised by the manufacturer to use the bit with Dremel Multipurpose Cutting Attachment.
The bit can cut hardwood up to 3/8 inch and softwood up to 5/8 inch. It is also highly operable in cutting plastics, fiberglass, drywall, laminate, aluminum, and vinyl siding.
The bit has a marginal rotary speed of 30,000 rpm below which it operates without burning out. I recommend you to use the material-specific rotary speed in rpm that has been set by the brand.
Things to Appreciate:
Stay sharp for a long time
Spiral with up-cut grooves keeps the working area clean
Cut various items from wood to aluminum
Can run up to 30,000 rpm without burning out
Inexpensive compared to what it offers
Take Note:
May leave scorch marks on wood after cutting
Tough to control freehand due to vibration.
4. SPTA 15Pcs Router and Drill Bits for DIY Woodworking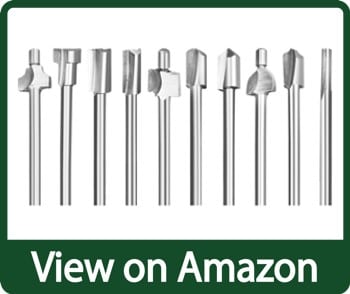 A combination of 15Pcs of bits, 10 router and 5 drills, is offered by the brand SPTA each having different-sized batch heads. If your DIY working job is concentrated on routing and drilling, this toolset will beat others in fulfilling your purpose.
What cannot be done with these router bits! Corner rounding; piloted breeding; making V-groove, core box, keyhole; getting a straight cut; cutting slots, all are possible with the different router bits that come up with the set. The single flute of these great engraving bits can also be fitted in your CNC machinery.
The 5Pcs of twisted drill bits will accelerate your drilling works to the ultimate extent. You can drill holes in angle iron, wood, plastic, aluminum alloy, and other materials with just a blink of an eye.
The comprising material of the bits is excellent quality high-speed steel that integrates longevity with adequate robustness. Moreover, the titanium coating on the bits fights back the peeling and fading to preserve the brightness and delicacy.
The router bits fit into most of the rotary tools no matter if it is from DREMEL, Craftsman, or Chicago brand.
The efficiency and quality of the products are facilitated by the two features, large capacity chip groove, and spiral sharp cutting edge. These facets of the tool ensure a smooth cut without smoke.
Things to Appreciate:
High-speed strong steel for precise cuts
Titanium coating to prevent wear and fading
Large chip groove with spiral cutting edge for sharp cutting
38mm, 3mm shank to fit most rotary tools
Suitable for wood, ABS, acrylic, PVC, and plastics to grind, polish, shape and burnish
Take Note:
A little bit hard to control freehand for the beginner
Heat fast when running at a higher speed.
5. Dremel 650 1/8-Inch Straight Routing Bit
I am ending up my 5-product list with the routing bit from again the Dremel brand. This bit is manufactured solely for a woodworker like you who is dealing with grooves, rabbets, or dadoes.
The first thing to mention is the flexibility of the bit. You can insert it in the collet of any woodworking rotary tool and go for cutting straight down a material. It works great for routing, inlaying, and mortising in wood and other soft materials.
Let's move to the cutting mechanism of the bit. Well, you need to cut with the grain to create grooves, against the grain to cut dadoes, and along the edge of the material for the L-shaped rabbets.
For routing, following a straight path is something of utmost priority. It is not a bolt from the blue incident to be diverted from the line. It may happen due to the wiggling of the bit caused by the vibration of the rotary tool.
To help you, helping gadgets namely router base is there. Just attach it to your rotary kit and it will assist you to control the routing depth as well as a straight track.
The core material high-speed steel provides sufficient stiffness and resists wearing and tearing out for a longer lifespan of the tool and ensures precision cutting.
Things to Appreciate:
High-grade steel construction for longer lifespan and precision
Suitable for routing, inlaying, and mortising
1/8" standard shank makes it compatible with Dremel rotary tools
Straight Router bits let you cut square grooves, rabbets and dadoes, and level areas
Work great for a beginner
Take Note:
Not suitable for hard materials
Get hot soon.
What Dremel Bit Do I Use to Cut Wood?
Even after having a suggestion of top 5 Dremel bits for wood carving & cutting, you may run out of decision-making. To help you, here are the things you need to consider to pick the best Dremel bit for wood cutting.
What Is Your Application?
Some people use the best Dremel bit for carving letters in wood whereas some use it for drilling or creating a design. You need to consider the applications since not all types of bits are suitable for all types of work.
For example, a sharp edge is mandatory to create shapes or intricate patterns in the wood. On the other hand, you need a sharp point to cut through the materials. So, consider the applications.
Consider the Shape of Your Bit
The shape of the bit makes all the difference in wood-cutting projects. Make sure you know what shapes are suitable for your projects.
For example, a flat edge bit is good for creating flat-bottomed slots or grooves. Sharp edges are suitable for cutting wood.
Do Not Forget the Power of the Rotary Tool
Consider the power of your rotary tool. If the power is too high, you want to pick a large bit to cut or drill any materials easily. The sharpness matters less in that case.
On the contrary, for less powerful tools, you always need a sharp and strong bit to handle the pressure.
Size Compatibility Matters
You should always consider the size according to your projects. Small bits are suitable for working with thinner and smaller materials. Sharp and small bits are also good for portraying designs on the wood.
Consider a small one if you need precision as well. You want something big when working with something thicker or stronger.
On What Surface Are You Going to Use the Bit?
The surface should be your first priority when it comes to picking the right bit. A soft and thin surface requires a sharp bit. Durability matters less here.
But when working with strong surfaces such as metal or tough wood, consider having a bit with strong construction. Try to get one with high-speed steel.
Will It Discolor the Working Surface?
Bits can also discolor the working surface which can worsen the scenario. For example, the Dremel bit often leaves cut marks when cutting the metal.
Make sure the edges are extremely sharp for cutting metal. Similarly, pick flat edges and high-speed steel for cutting woods without leaving any marks.
How Flexible Is It to Use?
Know your proficiency to pick the bit. Some bits are designed for beginners while some are good for experts. Consider your expertise level and pick one based on that. An expert bit is tough to control freehand for beginners and a beginner bit is not good enough for an expert.
Check the Shank Diameter
The shank diameter determines the type of materials you can work with. 1/8 is the most common diameter that is suitable for cutting or designing wood.
Go with a larger diameter to work with larger materials. You can pick a smaller diameter if you do not have enough space in between the materials.
How to Cut Wood with Dremel Bit
Even a good bit will not help if you do not know how to cut wood with a Dremel bit. Here is a short guide for you.
1. Gather your materials including a Dremel tool, a cutting bit, a piece of wood, and safety goggles.
2. Make sure you put on your safety goggles.
3. Attach the cutting bit to your Dremel.
4. Set the speed of your Dremel to low or medium according to your projects.
5. Hold the Dremel tool against the piece of wood. Apply gentle pressure as you move the tool back and forth to cut through the wood.
6. Once the cut is complete, turn off the Dremel and unplug it.
7. Remove the cutting bit from the Dremel.
8. Dispose of the wood scraps properly.
9. Wash your hands thoroughly.
Tips for Taking Proper Maintenance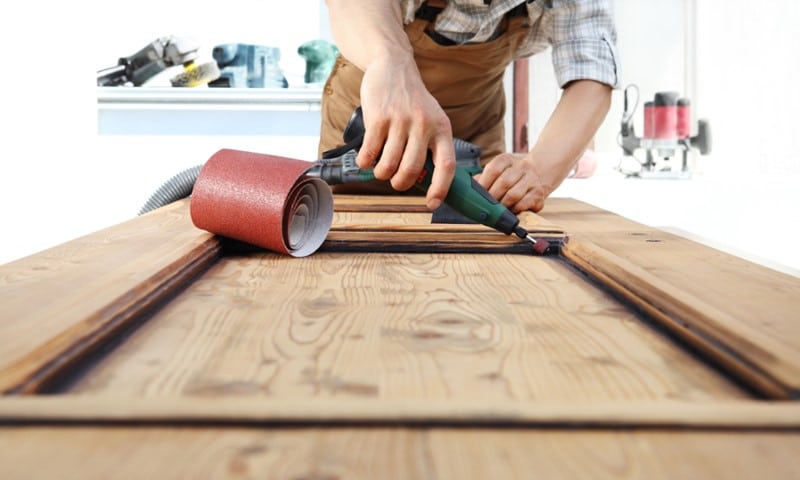 A passionate woodworker like you will have a great collection of almost all the bits available. But it will be worthless if you cannot take proper maintenance of your bits. Maintenance will ensure longer service life that will result in the maximum utilization of your investment. Follow the below-listed tips for taking care of your bits:
1. To prevent the beating up of bits, store them in a box that has a separate section for each one with some sort of belt to hold them tightly.
2. Apply a rotational speed that your bits can withstand without burning out. Some bits have a marginal speed for operating. Read the recommended speed from the manufacturer.
3. Clean the sticky crumbs and chips with an oven cleaner.
4. Use a brass brush to clean the carbide-point bits.
5. Do not use a bit on a material without being sure that it cuts that material.
6. Tighten the bit to the collet to avoid vibration and wiggling that can result in detachment of bit from the rotary tool and break down.
FAQs about Dremel Bits for Cutting Wood
Do you still have some questions? Check my FAQ section below to clear all your confusion.
Can you cut thin wood with a Dremel?
Yes, you can cut thin wood with a Dremel. Make sure you pick the right bit to ensure perfect cutting. A small yet sharp bit is good for cutting thin wood.
What Dremel bits are good for wood carving?
You need a strong bit made of durable materials such as high steel with the highest sharpness for carving. Pick the right size according to the strength and thickness of the wood.
Can a Dremel cut through the wood?
Yes, a Dremel can easily cut through wood. You can also cut plastic, fiberglass, drywall, and even metal with the Dremel.
How to attach a bit to the rotary tool?
It is quite an easy task to fit a bit into your rotary tool. First, switch off the rotary tool and make sure it has stopped rotating. Then press the spindle lock and using the collet wrench loosen the collet. Now insert the bit into the collet with the spindle lock engaged. Lastly, retighten the collet.
What safety equipment I need to wear?
Wear safety glasses to protect your eyes from metal crumbs. Hand gloves to safeguard your hand from the heat produced from high rotational speed. Earplugs to prevent metal chips from entering the ear, a face mask for avoiding inhalation of tiny metal bits, and protective shoes to be safe from hitting by hard metal chips.
What cautions need to be followed before cutting?
You need to follow some basic cautions before cutting. Clamp the workpiece on a workbench to resist movement during operation. Pick a bit that is compatible with the metal thickness and attach it tightly to the rotary tool. Wear proper protective gear. And lastly, choose an area with adequate fresh air for the cutting operation.
Why should I use a router base?
It is one of the helping gadgets that can be attached to your rotary tool. You need this attachment to have control over the carving depth while cutting with a bit. It works best on flat surfaces of wood, plexiglass, and plywood. This gadget will aid you in making grooves, pickguards; and enlarging pickup cavities.
What should be the rotational speed of the bit?
Speed depends on the material you are working on. For concrete, low speed will be okay. High speed will heat up the bit because concrete causes excessive friction with the bit. For wood and other softer materials, a higher rotational speed is permissible. But it is wise to use the material-specific speed recommended by the manufacturer.
My Two Cents at the End
While choosing the best Dremel bit for cutting wood you need to take the purpose and scope of your work into account. Every bit is designed for a specific purpose.
Bits will not only speed up your work but also reduce your toil in cutting, finishing, sharpening, etching, sculpting, etc. because they are attached to a power-driven rotary tool that can operate at a higher rotational speed. You just need to hold the rotary tool firmly and the bit will do the rest.
I tried to help you in purchasing these quintessential kits at my best. From the reviewers' side, HQMaster 10Pcs CNC Router Bits and SPTA 15Pcs Router and Drill Bits are recommended. Hope that you have already ordered one from the list and waiting for the delivery.
You May Also Like:
Top 5 Router Bit for Cutting Letters.
Top 5 Shoulder Plane for Woodworking Project.