If you enjoy getting creative with woods and making signs, you might want to invest in a decent router.
The hardware device will improve your craftsmanship manyfold. It is designed to enable you to carve out exceptional designs with satisfying details.
Routers alone cannot bring the results that you crave, though. They are accompanied by router bits in professional woodworks. Even if you're an amateur, the best router bits will make your effort worthwhile.
In a hurry? Here's the Winner List
5 Best Router Bits for Sign Making in 2021
We have prepared a list of some of the best router bits for signmaking that will help you master the art of woodwork. Check them out and pick the finest one!
1. Foos Engraving CNC Wood Router Bits – High Performance
If you're a woodwork enthusiast, you likely own a router already. The Foos Engraving CNC Wood Router Bits is a standard set that is compatible with most routers in the market.
The product is designed to make flawless cuts on the wood to achieve your target sign. The router bits make the task seem so easy that even beginners can learn their way around it without trouble.
The router bits come in a set of four, each made of solid carbide. The ideal cutting angle with these bits is 90 degrees. The 1/4 inches shank router bits will provide maximum stability. The length will minimize vibration while working, allowing you comfort and convenience.
The router bit provides a 20 degrees profile bit to help you with etching and outlining the signs. There is also 15 degrees carving liner to carve fine lines and intricate details.
To support multiple background depths, the product works in both 60 degrees and 90 degrees. All in all, it is one of the best router bit for cutting letters.
2. Freud CNC Router Bit Signmaking Set – Premium Pick
The Freud CNC Router Bit Set has a V-groove tip that ensures that you can carve sharp and deep grooves. The up and down spiral router bits provide clean and fast cuts on wood. The set also includes a ball note bit that makes clean and sharp grooves with a slightly rounded bottom.
The product works with wood, plywood, and MDF. It is made of enhanced TiCo super density carbide with chromium. The sign carving router bits, therefore, have 2 times cutting life than most of their counterparts.
To ensure maximum efficiency, these bits are manufactured to fit into the CNC types of rotary machinery. Additionally, each router bit on this set is designed to deliver a long and good quality cutting life, ensuring maximum durability and superior finish.
The set is ideal for sign-making promising versatility in your design as it covers all the necessary blades that you might need. With eight different bits, the product makes sure that you complete your project in a breeze. Lettering and engraving in a variety of materials are made possible with this set.
3. Yakamoz Shank Carbide Router Bit Set – Budget Friendly
Yakamoz Shank Carbide Router Bit Set is made ensuring industrial quality for professional woodwork. The set includes 6 pieces of blades in multiple sizes. The blades are made of solid hardened steel and come with an anti-kickback design.
The blades are covered by a build-up and heat-resistant Teflon coat that promises precision and smooth cutting. They also ensure impact resistance and wear-resistance.
The router bits are primarily used for sign making and lettering. They work smoothly on solid wood, hardwood, board, MDF, and such surfaces. They are not meant to work on metal, steel, iron, sand, and other non-wood materials.
The shank size is 1/4 inches, and the shank type is round. The product provides a cutting angle string of 90 degrees. To ensure sharp and precise cutting, the router bit set provides the cutting height of ¼ inches, ⅜ inches, and ½ inches.
The bits are specifically designed and work great if attached with a table-mounted router that is either controlled by computer numerical or is automated. They are not at all compatible with any drills.
4. Silivn Conical Engraving Router Bits
Silivn Engraving Router Bits is a popular product in the industry and that is for all the right reasons.
Having been in the business for years, the brand has satisfied many customers with its service. They take a very straightforward approach to sign-making. With the product, lettering will be a lot easier than you think.
These router bits outweigh other conventional bits made of carbide steel in cutting strength and provide superior quality carving results. All the thanks for this distinct feature go to the core material of the bits that is tungsten steel.
Silivn offers four router bits for lettering and engraving, each designed to satisfy your demands. For a detail cut, the router bits offer a 15-degree detail carver; 20-degree profile bit, or flat cut bit that will outline letters in wooden signs; 60- and 90-degrees V bits that will aid in carving V-groove.
With such variation in blades, the product ensures fast engraving of letters and sign making with high precision and no glitches. It has extremely sharp edges that provide a satisfying finish to your carving.
Each piece in the set is optimized, with a variation in size and shape, to solve most of your lettering issues.
5. Rockler 3-PCs Sign making Router Bits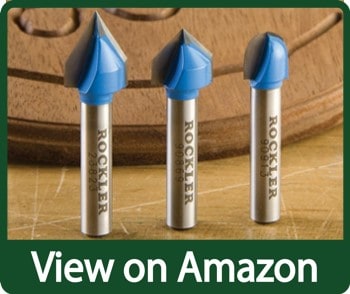 If you're looking for longevity, then Rockler 3 Pieces Sign making Router Bits will make the best choice. The brand incorporates advanced technology to offer the best lettering bits you can own.
The bits are made of k10 and k20 grade carbide for the clean cutting action. And the final sharpening is done with 600 to 800 grit diamond wheels. So, precision is guaranteed with this product. And as far as smoothness is concerned, Rockler creates a league of its own.
Rockler offers a set that is ideal for craftsmen who specialize in lettering. The set includes a ½ inch carbide-tipped sixty-degree bit, a ⅜ high core box bit, and a ½ inch ninety-degree v-groove bit.
As a result, it offers one of the most diverse sets to cater to all your lettering needs. The pieces in the set are all highly effective and will surely get the job done.
Different Types of Router Bits
Router bits are among the most versatile tool you can buy. They are compatible with routers and drills alike, offering satisfying woodworks. There are several types of router bits. Here are some of the most common types of router bits that everyone should own.
Straight Cutting Bit
As the name suggests, these bits are designed to cut straight and square-based grooves. The bits are available in a range of sizes from ¼ inches to ¾ inches in diameter. These are particularly helpful in cutting rabbets, grooves, and dadoes.
Round-Over Bit
Round-Over bits are used for shaping edges of shelves, chair arms, and more. They are also used in sign-making. You can adjust the base to control the cutting depth. These bits come in a wider range of sizes, from ¼ inches to ⅜ inches.
Cove Bit
So, you've been introduced to round-over bits. The cove bits are just the opposite of round-over bits. They will produce a concave radius around the edges of wooden surfaces.
These decorative edges are commonly seen on modern furniture legs, bookshelves, cabinet surfaces, and more. Cove bits can come in a range of diameters, from 1 inch to 1/8 inches. We recommend you get the standard sizes of ¼ inch diameter or ⅜ inches.
V-Groove Bit
The V-groove bits are one of the best router bits for wood carving. They are widely used for decorating drawer surfaces, cabinet doors, and other wooden surfaces. The most popular size in this bit is ½ inch diameter with a cutting angle of 90 degrees.
45-Degree Chamfer Bit
This is an edge-shaping bit that is designed to smoothen the edges of boards and panels. This tool is commonly used to remove sharp corners and squares from wooden surfaces, picture frames, vertical posts, and such. It is also used to produce V-shaped grooves.
Besides 45-degrees, the chamfer bits come in several other angles and sizes. However, the most common sizes are 1 to ¼ inches diameters.
Slot-Cutting Bits
This is a specialty bit designed to provide accurate and narrow slots and grooves around the edges of door frames, picture frames, and such surfaces. The bit can be detected easily by its wings. There are two wings, and each comes with a sharp carbide tooth. These teeth determine the thickness of slots you're going to curve.
Moreover, the bits are equipped with interchangeable pilots so you can switch between different sizes and angles, bringing variation in the design.
Ideal Core Material for Router Bits
It is vital to consider the material of router bits before making a purchase decision. They are designed to withstand heavy forces. Experts agree that the best router bits for sign making are made of carbide as they promise prominence, convenience, and efficiency.
Solid carbide bits ensure the maximum robustness in router bits. If you're dealing with hardwoods, solid carbide should be the best pick for you.
In case you're looking for blades with very sharp edges, then carbide-tipped bits will be the way to go. They can stand against the heavy intensity and high speeds.
Frequently Asked Questions (FAQs)
Will router bits fit in a drill?
Ans. Yes! Router bits are versatile tools that can also be used in drills. These allow you to improvise designs and complete your project smoothly. Even though they are named router bits and designed to be used in routers, you can achieve so much more with these tools.
Does the same router support both ¼ inch and ½ inch shanks?
Ans. A decent router will support all the standard-sized shanks, including ¼ inch and ½ inch. These routers will highly benefit your projects as they offer versatility and allow you to bring variation in the design. These routers will allow you much freedom as you can pick a bit of either size.
Do I need a plunge router?
Ans. This special type of router is necessary if you're working on the surface of a board rather than on the edges of corners. These routers will come in handy in cutting panels such as dadoes, insets, grooves, flutes, and more. You can profile the edges with round-over bits for sign-making as they are compatible with the best router bit for cutting circles.
Why should you own a spiral bit?
Ans. In most cases, spiral bits are chosen over standard bits because they ensure smoother surfaces. The spiral bits come in frequent contact with the stock, allowing them to eliminate any grainy texture on the corners and surfaces and leave a smooth surface.
Conclusion
By now you must have realized, there are so many varieties of router bits in today's market, each serving a different purpose. Depending on your project, convenience, and durability of the bit, you can choose from our list of the best router bits for sign making.
Most of the modern router bits incorporate an anti-kickback design. This is very useful as the technology prevents you from overusing the tool and minimizes the possibility of kickbacks.
The router bits on our list come with such important features. They are chosen with utmost sincerity keeping affordability and functionality in mind.
You May Also Like:
5 Top Quality Plug Cutter Set for Woodcraft.