While working around your shop, ever wondered how many times you need to temporarily stick wood parts together?
Bolted or screw joints can be a solution, but won't they require an extra effort of hammering and cause depression to your workpiece?
Well, in that case, a double-sided tape will be the best possible option for you to hold things temporarily. Plus, it can be removed easily after the work is done that too without causing any damage and leaving any residue. You will be a fan of double-sided tape once you use it, no doubt!
My Top Picks
Top 5 Best Woodworking Double Sided Tape in 2022
But before buying a double-sided tape you need to know the adhesive strength and other specifics of the tape. You are at the right address to get introduced to the top 5 best double stick tape for woodworking. Read on and find out more.
1. LLPT Residue-Free Double Sided Tape for Woodworking
This product comes first on my list by outweighing other ones with all its perks that will offer you neater-looking projects and better craftsmanship. The double-sided tape from the brand LLPT is a great shoot for the professional woodworker who is looking for an industrial-grade tape.
Let's know about the specifics that have decked out the tape!
The mainstay of the strong adhesion of the tape is the silicone-based adhesive that offers you primo quality elasticity and a high heat resistance of up to 120-degree on a Celsius scale. It will create a strong bond by holding up a maximum of 28lbs of weight per square inch. Additionally, it will neither leave any sticky material nor tear out fibers of wood while peeling it off from the wood surfaces.
Moreover, the thickness of the tape is optimized in such a way to ensure easy application on and removal from wood surfaces without any twisting, jumbling, and splitting of the tape. The easily peelable yellow colored paper backing is a plus to the convenient application.
However, don't underestimate the tape for its thinness. With that thickness, it will provide you a great balance while shaping, cutting, routing, turning, and slicing the wood pieces that are attached with the tape. It will never cause any sliding or detachment of connected parts during operation on the CNC machine bed or router table.
The most important thing is that the tape is specifically designed with the intention to temporarily attach the templates to your final workpiece. Besides, it can adhere to numerous materials such as plastic, metals like aluminum, steel, and wood for sure.
Things I Like
Silicone-based strong adhesive to hold decent weight
Yellow backing to keep track while removing
Prevent curling, breaking, and tangling with its optimal thickness
Can work up to 120 Celsius Degree temperature easily
Easy to apply and remove.
Things Can be Improved
Leaves some residue on your surface while removing.
2. XFasten 3-pack Double Sided Tape
Nothing can be more appropriate to purchase than a tape that can be used both for your woodworks and other activities as a hobbyist and homemaker. My premium pick from the brand XFasten is that must-have tape for you.
This woodworking tape can work for you for anything in your imagination and reality. You can use this tape for stable adhesion of wood pieces to cut by CNC machine and for temporary decoration of events at any location whether it is an auditorium or a classroom.
What's more, it is perfect for homemaking works such as fixing carpet to the floor, adhering sheets that are laminated on walls, attaching lights and other accessories on the wall, wrapping gifts; and lastly even making guitar as a hobbyist.
Next, the transparency of the crystal-clear tape will not hamper the color and texture of the surfaces you are using it on. You can use this tape as a shield on your sofas and other similar furniture to save them from the nail scratches of your loving pet. You can even use this tape for invisible stitching of your clothes if you don't have time for needles and thread.
The adhesive property of the tape ensures a strong bond to any surface whether it is as flat as a pancake, irregular, or wavy.
And finally, the ease of installation. The application of this tape is not rocket science. You need to cut your required sized tape from the roll, remove the backing, and fix it. That's it. The removal of the tape will not cause any headache of leaving residue on you too. Happy installation and uninstallation!
Moreover, the tape can withstand ultraviolet rays, excessive temperature, and humidity. And all these resistance properties have made this tape an ambidextrous one for works both inside and outside of the home. The tape will not yellow a bit if you use it for a long period.
Things I Like
Transparent design to use at any place
Does not yellow soon to prevent ruining the look of the surface
Medium duty adhesion is easy to apply and remove
Does not curl, split and shred easily.
UV, heat, and moisture resistance make it perfect for indoor and outdoor use.
Things Can be Improved
Tough to remove after a few days of.
3. HIPPIE CRAFTER 3 Pk 1 inch Double Sided Wood Tape
This 3 Pk Double Stick Tape is designed to work with any type of wood. You can use it with CNC machines and routers that make it suitable for both the DIYers and professionals.
With its silicone-based adhesive, you can securely hold pieces in place during routing. Yet, it does not offer such excessive grip that can make removing the tape challenging. This moderate grip makes it perfect for delicate woodworking work.
One of the major problems with the double-sided tape is applying due to both sides' adhesive.
But this one comes with ideal tackiness and thickness of 250 microns, so you can easily apply it where necessary. A cloth backing will make it even easier for you to use.
Another great thing about this double-sided tape is that it does not leave any sticky or messy residue behind while removing it. That means your working surface will stay clean and safe.
Each role comes with 60 ft long tape, and you will get a total of 3 roles in this package. I would strongly recommend this tape if you need something long, sticky, and easy to remove.
Things I Like
Suitable for any type of wood for professional woodworking
Comes with the right amount of grip for easy application
Standard tackiness and thickness make it simple to use and remove
Silicone-based adhesive ensures great strength
Leaves no residue while removing to keep the surface clean.
Things Can be Improved
The adhesive is not too strong.
4. XFasten Clear & Removable Double-Sided Tape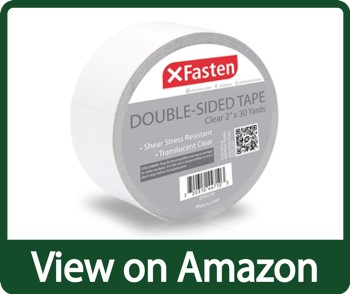 If the brand has products made with accredited laboratory and construction standards, isn't it normal to top several products from that very manufacturer? Well, I am talking about the brand XFasten which another product has made its position on my list of top five woodworking tape.
This tape is the same as the previous one from the brand but a little bit wider and longer in roll length. Let's lowdown on the specifics the product has!
This tape is an empowering tool for every homemaker. You can come up with neater-looking DIY projects and mounting works both temporarily and permanently with its application like a pro! What made this tape a primo in the application? All credit goes to the silicone composite adhesive material that enables convenient hassle-free fixing of the tape on any surface.
It will not curl, break, tangle or split at all during its installation. What about the uninstallation process? Well, it is also an easy-peasy task to peel off the tape from the working surface with eliminating all the risk of any damage, stickiness, and chipping off your paints or wood fibers.
Have you ever thought of an invisible shield on your furniture? You need to protect your furniture and tools from the accumulation of dirt and the scratches of your arrogant pet. No worries. The XFasten crystal-clear tape is there to help you out. Apply a layer of this tape on your sofas, leather seats, and other furniture preserving the aesthetic look and color beneath.
If you have a roll of this tape at your home, you are also free from the headache of sudden, temporary, and small-scale decoration both in an indoor and outdoor location. This a great tool indeed, isn't it?
Things I Like
Silicone Adhesive offers maximum strength and durability
Does not leave a residue or damage the wooden surface while using
Transparent surface with mess-free installation makes it perfect for home use
Prevent any unnecessary curling, splitting, or even shredding.
Easy to roll, cut, and install for its optimal thickness.
Things Can be Improved
Tough to remove the backing.
5. LLPT WT120 Double Sided White Woodworking Tape
If you are looking for a woodworking tape for precise and perfect temporary joints in the alignment and placing of wood parts, this LLPT tape will definitely fit the bill.
Don't be surprised to find another tape from the brand LLPT. It's obvious because the brand knows what features are required for standing out in the crowd.
So, now, the bells and whistles of the tape!
Whether you are a pastime or a professional woodworker, you need stable joints in every step of your heavy-duty project. Nothing can beat the tape from LLPT brand in adjoining wood pieces firmly no matter what purpose you are using it for.
You can use this tape for a wide range of adjoining works such as temporary fixing of parts before nailing or screwing, test installation of drawer borders, and also exact positioning of wood pieces in the making and shaping of drums or planes.
So, what has made this tape that strong? All hail to the butyl silicone material that is used as the adhesive material on the back of the tape. the optimum thickness is a plus in the strength of the tape.
These two features enable you in the easy installation and uninstallation of the tape without any breakdown, tangling, splitting of the tape as well as chipping off the wood fibers. Additionally, this tape is totally free from the downside of leaving gummy residue on your workpiece after peeling off.
What's more, this tape also has a wide application in easy home and office mounting works. The officials can take signatures on it, use it on nameplates making, mounting photo frames, and so on.
Things I Like
Thicker design to install easily and prevent curling and breaking
Acrylic Silicone Mix ensures superior adhesive strength
20 to 125 Celsius degrees temperature working capacity
Odor-free design makes it suitable for home use
Comes in different shapes to use in versatile project.
Things Can be Improved
Too strong for delicate surfaces or peeling off.
How to Pick A Perfect Double-Sided Tape for Woodworking
We have done suggesting the tapes for you. But how do you know which one is suitable for you? Well, we have got you covered.
Know Your Needs
As a consumer, you know why you are buying this tape. Are you buying it for home use or outdoor use? Is it for commercial use or for home use? Not all tapes mentioned above are good for commercial uses. Know your needs and make decisions based on that.
Understand Your Surface
You are taking this tape for woodworking. But what is the surface type? Is it smooth like glass? Or uneven like bricks or concrete? Understand your surface before making any decision. Some tapes work well on even surfaces where you need thick and highly adhesive tape for uneven surfaces.
Consider The Temperature
Double-sided tapes have a temperature limit. At a higher temperature, most tape glue will loosen whereas at a lower temperature, the glue might freeze. Know the temperature where you are going to apply the tape. Then know the temperature limit of the tape and pick the right one accordingly.
Do Not Forget the Removing
Removing is more important than applying. You will need to remove the tape once. You do not want a hard time removing the tape. Make sure it is easy to remove when you are done with it.
How Long the Tape Will Stay on The Surface
An important question you should ask yourself. Not all double-sided tapes can keep sticking for a long time. You need to know how long you are going to keep it. Pick one based on that.
Adhesive Strength Is Important
Sometimes you need a super-strong adhesive to attach something to wood whereas, you want something medium for random use. Know your needs and pick the adhesive strength accordingly.
Consider The Thickness
Some woodworking jobs require thick double-sided tape and some require thin tapes. Which one is your requirement? Do you need a thick one or a thin one? Thinner ones are easy to work with but not as strong as thicker ones.
Does It Leave Residue?
Most double-sided tapes leave residue after removal. Do you want your surface to be destroyed with the residue? Is the residue easy to remove? If not, do not pick that one. Some strong tape residue is really tough to remove. If you want a clean and residue-free surface, consider something residue-free.
Gets Yellow?
After a certain period, transparent tapes get yellow which destroys the beauty of your wooden surface. Try to get one that does not get yellow over time.
What About Moisture?
We often use tapes on wood outside the home. Moisture is common outside. To work in such conditions, your tape has to be moisture-resistant. If not, use it for home use only.
Is It Easy to Use?
Finally, is it easy to use? No matter how good the tape is, if you cannot use it comfortably, it is no use then. The tape has to be resistant to curling, breaking, shredding, or splitting. It should be easy to peel off and apply.
Considering all the factors mentioned above, you can easily pick the most suitable double-sided tape for your needs.
How Do You Make Double-Sided Tape Stick Better?
You can improve the result when you can make a double-sided tape stick better. Here are the tips for you.
First, store the tape properly since the double-sided tape is more delicate than others. Keep it at a safe temperature and away from moisture and dirt.
Know the maximum temperature of your tape. Never exceed the temperature to get the best result.
The surface area has to be clean. Try to rub it with alcohol.
UV rays can impact stickiness. Keep the tape away from UV rays, heat, and too much cold.
Do not reuse the tape to get the best result.
How to Remove Double-Sided Tape without Damaging Wood?
Removing the tape is more important than using it since it can damage your wood. Here are some tips for you.
Mineral spirits: Mineral spirit is the safest way to remove the tape. It requires some time for sure, but it will work like magic. Make sure you try it in an inconspicuous spot.
Putty Knife or Chisel: Putty knife or chisel can also work. Use the knife or chisel to pry and remove the tape.
Hairdryer: Heat can also work against the adhesive tape. You can simply use your hairdryer to apply a small amount of heat to loosen up the tape. It will help you remove the two-sided tape.
How to Remove Residue?
Removing the tape is easier, but removing the residue is not. It can destroy the damage of your wooden surface. Follow the tips below to remove the residue.
Try a warm and soapy rag to scrub the residue area. It should work if the residue is not too powerful.
Try alcohol if soap and warm water do not work. Simply rub some alcohol in that residue portion to remove it.
You can use vinegar to rub and remove residue as well.
Mineral spirits can work too.
Any paint remover or nail polish remover works effectively against the residue.
You can try baking soda, pipe cleaner, Windex, water paste, and other solvents.
If you cannot remove residue, do not try to force it. It can damage the wood and destroy the beauty of your item.
How Tapes are Used in Woodworking
Whether you consider tape as a 'tool' in your woodworks or not, it doesn't affect the popularity of using tape in making both temporary and permanent joints. Tapes are the handiest tool in your workshop that will save your time and energy from the hammering process of nails and screws.
Won't it be great if you have a list of all the woodworking tapes? Here I am. Continue reading to know more.
Double-Sided Tape
From the name, it is clear that the tape has adhesive on both sides of it. The type of adhesive can differ depending on the bonding strength you require. Some tape has the same adhesive on both sides while some have different on either side. It is because you may need to stick one side permanently and the other temporarily for easy repositioning. Some tapes are regular in shape while others may be designed in mesh for a strong bond.
While leaving residue on the workpiece is common for any woodworking tape, the double-sided tape leaves no annoying residue while you remove it. This tape is perfect for all kinds of projects in the shop.
You can attach the template or jigs to your final workpiece for cutting, routing, shaping, pattern turning, and anchoring.
Masking Tape
This tape is mostly used in marking and labeling wood parts in your shop. It is practiced by the professional woodworkers to mark the mating parts while mantling and dismantling an antique piece of work for the repairing.
In making dovetail joints this tape is also useful to peel off the end grain for guidance in sawing process. Besides, for darker-colored wood, it is tough to detect a pencil mark on it. In that case, the woodworker prefers masking tape in marking a center point or cutting point.
This tape is also used widely in protecting the edge of your workpiece while cutting or scraping the planes.
Painter's Tape
This tape is the most useful one in painting your woodwork projects. While painting you need to protect the edges, floors, and parts of your furniture. the annoying color splashes will ruin the aesthetic of your crafts and furniture. You need to just safeguard those areas with the blue or green colored painter's tape. Don't make a mess by using masking tape instead of the painter's one. The painter's tape is specifically designed to resist the seeping and deflecting of paint drops and offer you the best quality painting experience.
Read Also: An In-Depth Guide About Tape for Concrete Wall.
Guard Tape
This tape comes up with the motive of safeguarding you not your workpiece. This tape is undoubtedly one of the must-haves in your workshop for protecting your fingers and hands while doing the carving works.
This tape is neither double-sided nor sticks to other surfaces. The unique design makes it only attachable to its own strap. Roll up the tape on your finger to withstand any pinching or injuries. This tape will also offer you a better gripping experience on your hand tools because of its high friction property.
FAQs about Double Stick Tape for Woodworking
Are the mounting tape or carpet tape an alternative to the double-sided tape for woodworking?
The answer is no. These two tapes are a little too thick for the things in a woodwork shop. They not only leave a sticky residue but also chip of the fibers of the wood. A double-sided tape is perfect for all kinds of projects in your shop because of its thinness and better holding power.
How to use double-sided tape in template routing?
You need to first make a template. Attach the tape to your workpiece, then remove the paper backing, and finally fix the template to the other side of the tape. You can then rough cut the shape with a saw and final shaping with a router bit on a router table. You can also remove the tape without any damage and leaving residue once you are done with template routing.
What are the uses of double-sided tape in woodworking?
You can use the tape in precise and perfect aligning of wood parts. For example, mounting a temporary hardboard top to an existing workbench, applying an auxiliary fence to miter saw, making a simple easy to use taper jig, and even holding hardware in place and project parts together for assembly.
Can double-sided tape be used on wood?
Yes, double-sided tape works great on wood. Remember that it can be tricky to remove the double-sided tape from wood.
What kind of tape will stick to wood?
You can use duct tape, gorilla tape, painter tape, double-sided tape, and even foil tape. But foil tape will not be strong enough to stick to wood.
Does 3M double-sided tape stick to wood?
Yes, you can use 3M double-sided tape to wood. It will work perfectly with wood, concrete, particleboard, and others.
Is double-sided tape non-toxic?
Most double-sided tapes are non-toxic. But you will find some that consist of toxic materials in them. Check the ingredients in the body.
Can a double-sided tape damage your wood?
Yes, strong double-sided tape can damage wood while removed. Chances are, the wood may peel off while removing.
Conclusion
You will be just amazed after using good double-sided tape for your woodworking joining purposes. Though nails and screws are widely used in temporary joining works, why not purchase something hassle-free and convenient both in the application and final output?
I hope I have relieved you from the tension of choosing the best double sided tape for woodworking from this broad marketplace. Not only that, but you have also got an idea of all the tapes available in the market that can be of utmost help in the successful completion of your woodworking project.
You May Also Like: