When you are carving wood, you are usually keeping your hands on the table, which is the safest way. But if the piece of wood has to be held in your hands, you will need some protection so that you don't cut your hands instead of the piece of the wood. So, how do you protect your hands when carving wood?
To protect your hands as well as your fingers, there are quite a few options you can choose from. You have gloves as well as finger guards which you can use. As these protective gears are made of various materials, they have different properties.
Let us take a look at proper ways to protect your hands and fingers when you are carving wood so that the piece of wood is the only thing that is being cut.
How Do You Protect Your Hands When Carving Wood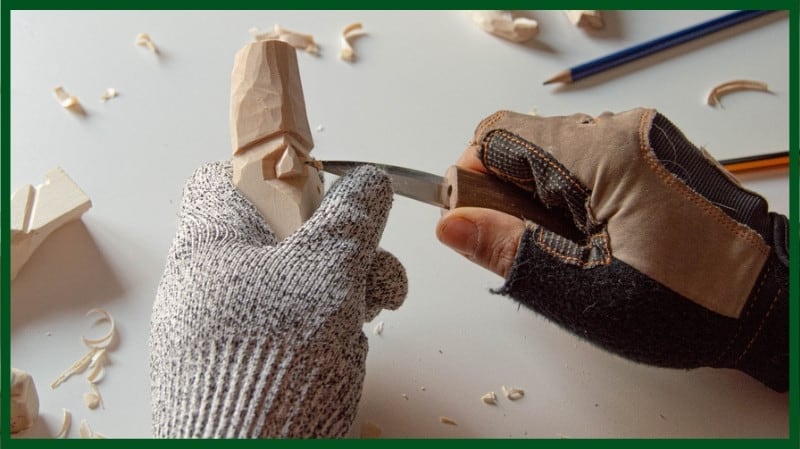 There are two ways to protect your limbs when you are doing woodwork, which are gloves and finger guards. Without any further ado, let us take a look at them.
Gloves
Fortunately for you, there are a lot of glove types that you can choose from. Let us take a look at them.
1. Using Cut-resistant Gloves
Do you know which gloves are cut-resistant? Well, cut-resistant gloves are the cheapest ones out there and also the most basic. Primarily they are used for whittling projects which do not need much work. So, if you are a beginner, they are ideal for you. They are mostly made of kevlar fibers and also very comfortable to wear. While using them, notice what their cut resistance rating is. It is better to use gloves that have at least a cut resistance level of 5.
They have some drawbacks as well. The wood chips are most likely to get stuck in the Kevlar fiber while working. Also, these gloves are not puncture-proof and will get fuzzy after a certain period.
2. Using Cut resistant gloves having Grips that don't slip
They are the same as the gloves I have mentioned above. But, they have one advantage. These gloves have rubber palms and/or grip dots so that you can hold on to the piece of wood better. They are also made by using Kevlar Fibre and are very comfortable.
They are not also puncture-proof like plain cut resistant gloves. The versions that have rubber palms can get a bit warm when using them and you may need to break them in a few places to make them wearable.
3. Using Cut-resistant Gloves having leather Palms
Probably the best kind of cut-resistant glove is the ones which have leather palms. Unlike the two aforementioned ones, they have more protection from puncture and are more durable. They are also more comfortable than the rubber palm ones.
But if you are looking for a version that is a bit cheap, they are not for you. Also, they can get a bit warm while using.
4. Using Reinforced Steel Gloves
Although they look similar to Kevlar-made gloves, reinforced steel gloves are way tougher. Instead of Kevlar fiber, these gloves are made of steel wire.
They bear some similarities with the Kevlar gloves in not only looks but the comfort as well. You can also find reinforced steel gloves having rubber palms as well as grip dots.
They have less dexterity than their Kevlar counterparts. Also, you can find wood chips getting stuck in them too.
5. Using Metal Mesh Gloves
They offer far more protection for your hands than the ones that are mentioned above. Although they are less dexter than other aforementioned gloves, they more than make up for that by providing you with greater protection. Metal mesh gloves are made of interlinking chains and wires that can take the form of your hand. Some also come with adjustable wrist straps so that the gloves don't fall off while working.
But these perks come with a price, literally. Along with being quite expensive, the gloves are sold individually instead of being sold in pairs.
6. Using Regular Shop gloves
You can also use the usual shop gloves that are lying around in your house. This is also beginner-friendly equipment that allows you to do simple wood carving.
But for more intricate whittling, I would suggest you don't use these gloves as they are not dexter enough and also offer very little slash protection.
Read Also: How to Pick A Tool Roll Bags for Organizing Your Gear.
Finger Guards
Another piece of equipment you can use to protect yourself while working with wood is to use finger guards. You also protect your thumbs by using these. They protect the most dexterity while whittling. Also, if you are working on a hot day, they are perfect protective gear to put on. They also have greater portability as you can carry them in your pockets.
But you will not get any slash protection and you can not cover the other fingers on your hands with them. So, you have to be extra careful when using them.
Other Alternatives
Although they are the most common, gloves and finger guards are not the only things that protect your hands when wood carving. You can also use athletic tapes to cover your fingers. They are simple to use, comfortable against your skin, and are very cheap. You can use them to make your finger guards as thick or thin as you want. Also, you can easily cover as many fingers as you want with them.
But as good as they may sound, they are not very cut-resistant. But they can resist accidental cuts and provide much greater dexterity than gloves.
Also Read: How to Choose A Perfect Coping Sled for Router & Shaper.
Final thoughts
Cutting your hands while carving wood can cause quite a bit of damage and blood loss. But if you know how to protect your hands while carving wood, you can save your hands and fingers from these wounds. So choose your protective gear wisely.