Looking for an appliance to make your joinery work more efficient and tighter? Joints are something that distinguishes your piece of furniture from a bummer project in terms of perfection and strength.
Dovetail chisels might do the right thing for you in precision joinery works that will result in perfect joints. With all those chisels in the market, it can be a tightrope walk for you to find out the best one.
So, I did some major investigation on the topic and put down a list of dovetail chisels. The list will help you find the best one and understand the process of selecting and where to look while buying one.
My Top Selections
List of Best Chisels for Dovetails in 2022
1. Narex 813507-19 Czech Steel Dovetail Japanese Style Chisel
Our intensive research and analysis say Narex Czech Steel Dovetail chisel might be the close to perfect dovetail chisel for your woodwork.
So, what makes it so unique? Well, it comes from a well-established brand for hand tools. The Czech Republican company has been making hand tools since 1919, having 100 years of experience in the field.
Narex Czech Steel Japanese dovetail chisels come in three different sizes. If you need micro-level work, you can pick the ¼ inch one. The edge offers an upper triangular blade shape with a 35 degree of blade angle.
The blade is 5-inch long. Longer blades are always helpful. The reason is, it gives you better visibility while working.
The tampered chrome-manganese steel is hardened at RC 59. The number 59 refers to the hardness of the steel. While ax and other wood cutting tools offer RC 55 steel, Narex offers 59 hard steel with fantastic edge finishing.
Though the handle may not be up to the premium quality like other features yet, it offers a good hold at this price level. The European beechwood 5-¼ inch handle will allow you to grip and work perfectly on any wooden surface.
Things to Appreciate
Durable fine-grained, chrome-manganese steel construction for maximum strength
Acute 35-degree angles to cut through the tough corner
Comes with 1/4, 1/2″, and 3/4 " sizes for versatile work
The stained European Beechwood handle offers comfort and control
5 inches long blade ensures easy cutting.
Things Can be Improved
The tough protective coating reduces sharpness.
2. Narex 852100 3 Piece Set Japanese Dovetail Chisels
Narex did some extraordinary work with their dovetail chisels, so I had to take this model as my second item in this list. This time the Czech company is offering a bundle of three dovetail chisels.
As I already know from the previous product, this one too offers chrome-manganese steel. To ensure the toughness and hardness of the steel, Narex 852100 also provides fine-grained steel, which is hardened to 59 HRC.
The edges are well finished, and it also forms an upper triangular shape with an acute 35-degree angle. This will help you to do corner works more efficiently and will give you a good finish.
The Japanese-style chisel offers a unique hollow blade that will give you clear visibility while working. It does both jobs as a hollow blade in the back and a solid upper triangle shape in the front.
The handles are made from beechwood and have two solid brass ferrules, giving it an antique look. The overall finishing of the chisels is excellent.
The three sizes come in an antique box which can also be used as a carrier. The package offers three different blade sizes, ¼, ½, and ¾-inch.
Things to Appreciate
Blades are hardened to Rc 59 and made from chrome-manganese steel for longevity and durability
Ensures clearance into corners thanks to its acute 35-degree angles on both sides
Able to work with different projects with its 1/4, 1/2″ and 3/4″ sizes
Comfortable handle made from stained European Beechwood
A thick and long 5" blade provides smooth control.
Things Can be Improved
Blade sides are thicker compared to others.
3. KSEIBI 312130 Premium Wood Chisel Set with Soft Grip Handles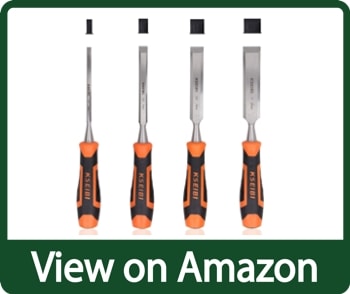 To find a chisel to get your work done is one thing but having a premium tool while working makes it easier and more comfortable. Though it costs some extra bucks from your pocket, many woodworkers agree that it is worth it.
For my best value, let us introduce you to KSEIBI 312130 premium wood chisel. A dovetail chisel with a soft and comfortable grip handle will save your hands from soreness.
The whole package comes with four pieces of chisels in four different sizes. One is ½ inch, and the others are ¼, ¾, and 1-inch blades. If you are a beginner, I recommend you try this one. It will have a more negligible effect on your palm.
KSEIBI used a bevel-edge chisel for this model. Well, if you do not know the technical terms, then let us explain them to you. The bevel edge chisel has a unique oblique blade edge on both sides. The angle makes the cutting smoother and gives you an ultra-low friction wood surface.
The blade's durability is excellent, as it uses a fine-grained, chrome-manganese blade which is double tempered at 300-400 degrees Fahrenheit and hardened to Rockwell 59-degree and 2-degree HRC. It ensures the edge to be tough and challenging.
Things to Appreciate
Comes in 4 pieces to work with different types of dovetails
Bevel-edged chisel provides precise clearance at any angles and corners
Blades are made of chrome-manganese steel for strength and durability
Ergonomically polypropylene handle features TPR softer to reduce fatigue
A comfortable grip provides maximum control while creating a dovetail.
Things Can be Improved
Need to sharpen them before use.
4. NOVA 6008 Dovetail Chisel Chuck Accessory
Down to my last item of the best dovetail chisel. In every kind of product review, there's one product that stands out from other products even if they are not the winner of that list. For my number four, I have the same type of product.
NOVA 6008 Dovetail Chisel is something that stands out in terms of simplicity. The small yet sharp and accurate chisel will make your woodworking smoother. It is light and looks like a screwdriver.
The blade is a standard dovetail which ensures sharpness and a clean edge. The clean edge is vital as the irregular edge often leaves unwanted traces on the wood surfaces.
The handle is another beautiful thing about NOVA 6008. The color and wooden texture are satisfying to the eyes. The handle is not cylindrical like other dovetail chisels. The handle is curved. The outcome of a curved handle is it makes the grip tight, and there is less chance of slipping from the palm.
NOVA 6008 comes with a blade that has its credential written on it. If you are a beginner in this work, it will guide you and make your work fast.
Things to Appreciate
Allows to make precise dovetail with its sharp and clean edge
Comes with a handy mark out the scale to achieve accuracy when making dovetail
Comfortable wooden handle to deliver comfort and control
H2 high-speed steel construction keeps the Chisel running for a long time
15 degrees angle ensures clearance to tough corners.
Things Can be Improved
Cannot cut outside dovetail.
How to Pick the Right Chisels for Dovetails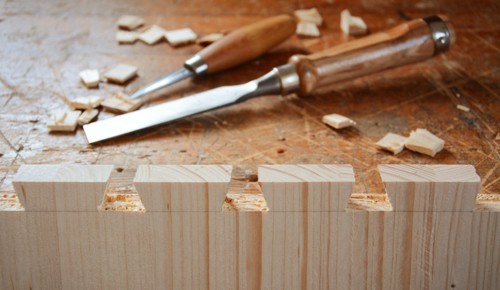 Still have confusion about picking the right one? I have got you covered with this buying guide. Follow it below:
Blade Hardness
The blade plays the most vital part in creating a dovetail. You need to check the quality of the blade. Consider having one with Rc 59, and Rc 60 hardness. Less than that might not work effectively to create a dovetail.
Blade Sharpness
Along with the hardness, sharpness is important since the dovetail is a precise task. You need sharp blades to operate smoothly. Some chisel blades need to be sharpened before use, keep that in mind too.
Angle of the Blade
The blade angle tells you the clearance you can get in the corners. Some blades offer 35-degree corners while some are designed with 30 or 15-degree angles. Consider your needs to get the right angles.
Handle
Blades are important for cutting. But the control and precision depend on the handle a lot. Make sure the handles are comfortable with proper gripping. The materials and design are the key factors to make the handle comfortable.
Chisel Dimension
Are you dealing with confined space or tough corners? Or simply a large space? Know your surface and pick the right size chisel based on that. If the chisel size is too large, you cannot work in confined areas and vice versa.
Construction
The construction plays the main role in terms of longevity, strength, and durability. Make sure the blades are made of hard materials such as steel and the handles of wood. If the construction is not durable enough, it cannot handle the pressure and tension while making a dovetail.
Flexibility to Use
Lastly, consider the flexibility and maneuvering. Check the blade and handle size. Are they comfortable and easy to use? Are they lightweight? You may need to work for a long time. Without flexibility, you will experience fatigue.
Requirements for Dovetailing
In woodwork, the most important thing is making tight joints. When you are making a lot of joints and concern about the tightness of joinery, then read along. Dovetailing is the most popular way of making joints in the wood. But how does one make the work efficient?
A Fine Chisel
What makes a chisel fine? Well, for every woodworking, there is a kind of chisel available. For dovetailing, there are bevel edge chisels. The corner edges of the bevel edge are sharper than standard chisels. The feature enables you to cut tight and precise joints.
Cutting Angle
To resist slipping to the gauge line, you can use a low cutting angle. For cutting angles, I recommend you use as low as 20-22 degrees.
Blade Quality
For dovetailing, my analysis shows that it works excellent with softer steel and short blades. The high carbon steel is usually the softer blades. Softer blades allow you to sharp it swiftly. For dovetailing, you might need up to mark sharp blades.
The shorter blades usually offer more strength in less force. You can use a suitable butt chisel for dovetailing too. Butt chisels have a short blade and allow you to hit it with a mallet. This will assist you significantly in cutting sharply.
Japanese Chisels
Japanese are always well-known for their swords and samurai. The chisel needs a good blade. The Japanese dovetail chisels attract a significant portion of woodworkers. Though older Japanese chisels are primarily long, they started making conventional chisels with their style with time.
In this passage, I will talk about two major types of Japanese-style chisels. One is the socket, and the other one is the tang.
The socket chisels have a unique blade connection with the handle and that makes the difference. The conical extension of the blade goes in the handle. This might be the oldest way to give a chisel a grip. After it enters the handle, the hammer makes it strong with some smacking.
The tradition is to make the outer diameter of the handle bigger than the blade width. The shape of the handle is maintained in a concave shape. It makes the connection between both firms.
The tang shoulder has a tight fit to the end grain of the handle. The tang chisels are lighter, which makes them easier to work with. It can also take a heavy load before the handle wears off.
Most woodworkers prefer tang chisels over socket chisels. The reason behind it is that the socket chisels are heavier, and the connection loosens over time.
FAQs about Dovetail Chisels
How to Cut a Dovetail joint?
I recommend you start with a chisel. After getting the basic idea of dovetailing, you will be able to use a table saw or a router to make your work efficient. Keeping the dovetail uniform and tight should be the goal. Use your chisel according to the angle of the tail.
How to sharpen a dovetail chisel?
The dovetail chisels have an identical upper triangular shape in the front and flat or hollow in the back. For sharpening, you need to use a honing guide and a sharpening stone. You can also use a Nagura stone for finishing. The basic is to keep the bevel level standard and polish it concerning the angle.
What is the difference between Oiire Nomi and Shinogi Nomi?
Oiire Nomis are common bench chisels. The blade ranges from 3mm to 42mm in length. The handle's diameter is lower than the blades. On the other hand, Shinogi Nomis are dovetail chisels. They are dedicated to joint cutting and clearing the sidewall of a mortise. They have an upper-triangular shape like a dove's tail.
Which Japanese chisel's Steel is better?
Japanese chisels have two types. One is white; the other is blue. The significant difference comes in terms of sharpening. White steels are more straightforward to sharpen than blue ones. On another note, Blue steels offer greater endurance and are also resistant to abrasion. The blue one provides better durability also.
What size chisels for dovetails?
The size of the chisel depends on the dovetail you are making. 3/8″ is a standard size but it can vary from 1/4″ to 1/2″ and many more.
Final Words
Though many woodworkers argue about having a dovetail chisel in the toolkit, it is the most useful one for a woodworker like you if you hand-cut dovetails. This tool is the exact primo for a casual or professional woodworker.
You can get lost in the broad marketplace while buying this essential chisel. In this article, I tried to save you from fighting tooth and nail while choosing the best dovetail chisels for you.
Whether you are buying Narex or Nova while buying a dovetail chisel, always keep your preference in mind. No list is hundred percent accurate. Everyone has their preference. But I hope this article has helped you enough to get the picture clear and buy the chisel that is a sure bang for your buck.
You May Also Read:
Top 5 Paring Chisels for Your Project.
5 High Quality Folding Ruler for Woodworking.