Are you looking for a folding ruler?
Yes, you may find folding rulers anywhere but finding the right one is the challenge. The best folding ruler will give you the finest result while measuring almost anything.
So many things are there to consider while selecting a folding ruler. To make it easy for you I made this review list including some of the best folding rulers that can be found in the market. Thus, you can find your right one from one place without having to search everywhere.
My Top Picks
Top 5 Best Folding Carpenters Ruler in 2022
Instead of including too many, I have selected 5 top folding rulers for you. This will help you take a deeper look at each review.
1. Rhino 55160 6′ Length Folding Carpenter's Ruler
For regular use, you need a tough scale. The one that can withstand all the worksite abuse. And such a folding ruler is this Rhino Rulers Folding Carpenter's Ruler.
This folding ruler is a tough one. It has a strongly built body made of Polyamide and fiberglass. Its construction material increases the toughness of the ruler compared to what other materials can do.
Its durability is a highlighting aspect of this folding ruler. You can get a long-time service for sure considering its enduring capability. It is waterproof and a wear-proof ruler. No matter how roughly you use it you can still expect it to be in good shape.
You can find a very interesting feature on it. This 6' ruler has a special 6" sliding extension. You can simply slide out the middle black 6" scale to increase the length of the scale. This facilitates measuring longer items in tight positions.
Why I Love It
Polyamide construction with 30% fiberglass improves the lifespan
Water resistance for less maintenance and use under wet conditions
Deeply embossed scales to work under harsh conditions
Scratch resistance to stay sharp and clear to read
Highly flexible with 90° positive stop joints for more convenient use.
Take Note
Not suitable for inside measurement due to inside numbering
The sliding rule is somehow loose for the first inch.
2. Klein Tools 910-6 Durable Fiberglass 6-Foot Folding Ruler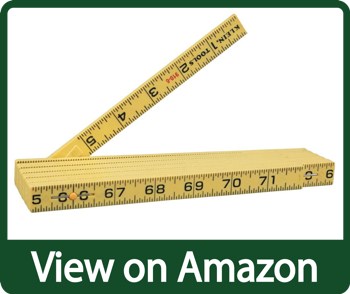 Annotations are a very important aspect of a measuring scale. They need to be very clear and precise to give you the most accurate results possible. And this Klein Tools 910-6 Folding Ruler can provide you exactly the thing you need.
The total ruler is yellow in color with black markings on it. Each inch is precisely noted for delivering precise results. In every 16 inches, it contains a red marking instead of black. This makes it easy to understand how far you have come while measuring.
This ruler is designed and structured in such a convenient way so that you can easily understand the markings and act as per them. You don't have to struggle even for once.
You get the markings on both sides of the ruler. It eliminates the requirement of flipping the ruler while working. No matter which side you are working with, you can complete your measuring task either way.
Why I Love It
Black markings on the yellow color with red stud ensure easy reading
Both sides marking helps you measure anything easily
Graved graduations on both sides for low light reading
Tough nylon with glass fibers construction for durability and weather resistance
Stainless steel spring hinges with positive joints add strength to the ruler.
Take Note
The left-handed design might be unusual for right-handed people
Cannot increase the length due to the lack of extensions.
3. Festool Folding wooden Rule
In case you want a wooden ruler, you can check this one out. This Festool Folding Rule ruler is a high-qualitywood-built ruler. The total structure is made of wood with steel spring joints.
At a first glance, this model of Festool Folding Rule ruler does not look like a typical ruler. The chic black color with the company logo gives a very unique look. This is the look you get from the sidewise. But from the top view, you get the actual scale engraved on the white background.
It's a 2m wood ruler with 10 links. Each segment is connected to the other with the steel hinge at the corners. It unfolds in a zigzag pattern which you can straighten up to form a long straight ruler.
Unfolding the ruler, you can measure things laid horizontally or vertically. The spring hinge does a very good job in keeping the ruler segments folded or unfolded firmly without wiggling.
Why I Love It
Made from wood material with hardened steel spring for added durability
Weather and abrasion resistance for a longer lifespan
Inexpensive compared to many yet get the job done
Metal end cap prevents abrasion that ensures accuracy for a long time
10 links for even more convenient.
Take Note
No imperial measurements such as inches or feet
Not suitable for inside measurement.
4. Lufkin X46SLN 6′ Brass Ext Wood Rule
This is another 6' wooden folding ruler. It's a traditional style wooden ruler that can serve your purpose effectively. Nothing too complicated is included in it. Just the simple hinges included linked scales that can be unfolded to become a long scale.
It is a well-built ruler with quality ensured wood and high-class brass hinges. You can surely get a long-time service out of it even after constant use. No tension of easily wearing off or breakage. The strong built ensures that it can tackle all work abuse.
Folding and unfolding is an easy job for this ruler. You can easily swipe open it and keep it in its position without moving to and fro. The hinges do a really good job for it.
The measurements are engraved clearly with dark black color to help you notice them effortlessly. You can also find various necessary annotations marked in red to get noticed easily. You won't have to search through the thing randomly. Important points are highlighted for you to see at a glance.
Why I Love It
Wooden construction for environmental safety
Steel hinges for added durability and strength
Black marking to ensure accurate measurement
Clear marking with numbers for easy reading
Brown color provides an original wood feeling when using.
Take Note
Folding and unfolding is a little bit tough
No metric measurement.
5. Crescent Lufkin X48N 5/8″ x 8′ Red End Wood Rule
Need a longer ruler? This one from Lufkin is such a long one that can serve your purpose. As you unfold it and straighten up the zigzag segments, it will unfold into an 8' long ruler.
This is not only long but it also has a unique facility of sliding extension. You can simply slide it out to measure something in a tight space. It is flat, thin, and is of 6" long. This is really helpful when you cannot fit the regular ruler into something.
High-quality material is used to make this masterpiece. From the wood to brass hinges everything gives the ruler the robustness it needs. The ruler is made to last long.
A really effective addition that this ruler has to tackle accidental bumps and knocks is the brass end caps. The end corners of the ruler are covered with brass caps. These work as a shield for the corners to avoid chipping and splintering.
Why I Love It
Wooden construction for environmental safety
Steel hinges for added durability and strength
Black marking to ensure accurate measurement
Clear marking with numbers for easy reading
Brown color provides an original wood feeling when using.
Take Note
Folding and unfolding is a little bit tough
No metric measurement.
What Is a Folding Ruler Used For?
It is common that a folding ruler to be used for measuring like any other ruler. But this one does something exceptional that others cannot.
You can measure something high or long away. Measuring tape will flop when it will still rigid when you extend. It also enables you to measure any short or small distance like any other ruler.
Measuring angle is also possible with the folding ruler. You can simply create a triangle and measure the angle. Drawing parallel lines are also possible by simply folding down the ruler into a '4' shape.
FAQs about Folding Ruler
Can folding rulers give accurate measurements?
Yes, indeed the folding rulers can give accurate measurements just like the regular ones. They are called folding rulers as they can be folded into smaller sizes. But this special feature has nothing to do with the fluctuation of accuracy. It can deliver precise results as any other ruler.
What are the benefits of using a folding ruler?
Folding rulers are different than regular rulers due to their long length and larger measuring capability. There are lots of benefits to using a folding ruler. You can measure both smaller and longer distances as you require. You can make it long or short as per your requirements. A big advantage is its folding capability. You simply fold the ruler into a small bar to carry it easily. It is good for both storing and carrying.
How long a folding ruler can be?
Typically, folding rulers are either 6' or 8' long. It is the length you will find when the ruler is unfolded. When the segments are folded together normally it is about 6" long.
Final Words
So, did you decide which one do you want? I know you can easily get confused when all the rulers are equally proficient. However, you have to choose one out of all if you don't want to buy all of them.
One of the best ways to choose one is to go by your requirements. You should check which one meets your work necessities. This process will help you choose one among all and also you will get the one that can meet your work demands.
Hope you get the best folding ruler for woodworking you were searching for.
You May Also Like:
Top 5 Coping Sled for Router Table.