Sandpaper is a necessary tool for any DIY project, whether working with wood, metal, glass, or plastic. Without the smooth finishing, all your hard work to build a craft seems like a waste.
Although there are various tools like power tools or wheels used for finishing surfaces, we must say sandpaper is the most convenient option. While the power tools require some skill and expertise to operate, beginners can easily use sandpaper as an alternative.
However, choosing the right sandpaper requires some research. And if you are working with glass, you should have more knowledge of the paper's grits and material. To help you out in this tiring job, we present some of the best sandpaper for glass. Keep reading; you will surely find all the answers you are looking for.
Also Read: Top 5 Sanding Blocks for Faster Sanding.
Our Top Picks
Top 5 Glass Polishing Sandpaper Reviews in 2022
After extensive research, we came up with some of the top-rated sandpapers explicitly designed for glass use. Let's check them out and find the finest one.
1. LANNEY 60 Pcs Sanding Paper Sheets for Glass Polishing Finishing
With 60 pieces of 15 different grit papers, this package certainly beats every other sandpaper packs in the market. And you also get two other variations, a 36-piece pack with sandpapers from 120 to 3000 grit and a 102-piece pack with 80 to 3000 grit papers.
The exclusive product with such a wide variation of grit papers is sure to meet all your needs while sanding glass. And each of the sheets has an identification mark on the back so that you don't mix up while using.
The product's unique feature set includes premium electro-coated silicon carbide material, which not only gives you quality effect but also high efficiency and resistance to abrasion.
The tear-resistant yet flexible backing ensures the abrasives attach firmly and do not fall off while working. The kraft paper backing provides a comfortable grip and will not twist or tear, enhancing each paper's durability.
Moreover, you get four pieces of each grit that eliminates the need for buying in bulk of a specific grit. Indeed, 120 to 3000 grit is a wide range to choose from for both fine and coarser works.
Also, the standard 9 inches x 3.6 inches papers cover a good range of area so that you get the work done in lesser time. You can hand use them comfortably or wrap them around a sanding block if you want. Again, you can cut the sandpapers according to your needs in smaller pieces.
And it doesn't end here; the waterproof characteristic of silicon carbide has made it suitable for sanding on both wet and dry planes. Apart from glass sanding, sandpaper is also used in woodworking, metal and automotive polishing works, and even plastic grinding.
2. WaterLuu Wet & Dry 42 Pack Sandpapers for Wood Finishing Glass
This product, 42 grit papers, and a sanding block is sure an all-in-one package! The wide range of grades helps you in all applications, from aggressive sanding on wood and autobody to fine finishing on glass crafts.
And if you are skeptical of whether the harsh use will tear paper or make the abrasive grains fall off, well, let us tell you, the abrasives are of silicon carbidewith uniform grain distribution. Thanks to the electro-coated technology, it ensures refined sanding that will leave zero scratches.
You can use the standard 9-inches x 3.6-inches paper for hand sanding or attach it with the sanding block. It enables you to sand the hard-to-reach places and give a perfect finishing to corners and edges with ease.
The block comes with an ergonomic design that ensures your comfort while prolong working.And last but not least, the pieces are waterproof. You can switch from wet to dry without changing the paper.
Apart from glass sanding, the heavy-duty pieces perform exceptionally well while removing rust scale, surface treatment before coating, and paint finishing. And the 14 different grit papers work on wood, metal, and autobody parts as well.
3. LANHU Abrasive Dry Wet Waterproof Glass Polishing Sandpaper
Sometimes the packages with so many different grit papers are overkill for lighter uses. You might not need so many grits contrasts for a small handy project or furniture finishing at home. So, how about a package that includes all essential grits for somewhat finer to coarser sanding?
Yes, having this in mind, we are to introduce you to glass polishing sandpaper that provides great value for money. And it comes in three different size variations; you can use a 2.8-inch x 4.5 inch one for a small and handy project, 9-inch x 3.6 inches, or 9-inch x 11 inches one for wide-area coverage.
The package includes two pieces of 6 different grade papers. The lower grits, 400, 600, and 800, are suitable for rough area sanding like rust scale removal or automotive surface polishing. And you can use the higher grits, 1000, 1200, and 1500 ones, for fine sanding wooden furniture and glass objects.
Moreover, the papers make a right fit for different environments like wet sanding with water or oil and varnishing.
4. LotFancy Silicon Dry Wet 80 to 3000 Grit Sandpaper Assortment
When you are using glass sandpaper on rough surfaces, you might think of the grains falling off. Well, this product, with its electro-coated silicon carbide abrasive grains, makes sure it's durable, doesn't crumble off or tear.
It includes three pieces of 15 different grade papers, so you get a total of 45 papers from 80 to 3000 grit. You can use the lower ones like 80-150 to remove scratches, 240-400 for light sanding metal surfaces, and 400-800 to finish off the surfaces before painting. The higher ones from 1000-3000 are for ultra-fine finishing on glass or glass-like surfaces. So, the one package is sure to meet all your needs.
The standard size makes them suitable to use by hand or with sanding machines. The flexible and delicate backing makes sure you feel comfortable while sanding.
Lastly, the papers are good to go for both wet and dry finishing with a waterproof resin bonded sheet. So, this can be your all-time sanding partner, whatever you intend to achieve, and whichever surface you use it on, it blends perfectly fine.
5. LANHU High Precision Polishing Sanding Abrasive Sandpaper Sheets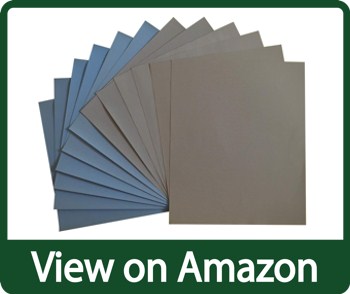 A delicate glass project or showpiece needs the most refined polishing, and you don't want the paper to leave even the tiniest scratch. And for that, you need a collection of higher grit sandpapers. So, we will be wrapping our list with high-precision polishing sandpaper that includes 12 papers from 1500-7000 grits.
If you are working on a sophisticated instrument, delicate glass showpiece, or your dad's favorite antique gift piece, this product will do wonders providing typical fine to super minor finishing. You would surely be surprised to see the transformation.
And not just on glass and metal, the superfine sandpapers work like a miracle on wood, plastic, leather, and stone as well, leaving a shiny finishing on each and every object you apply it on.
The larger 9-inch x 11-inch size translates that you require lesser time to finish off larger areas. Also, the papers are waterproof.The superior quality calcium carbide resin bonded paper ensures high quality, durability, and excellent resistance to slippage and tearing.
How to Smooth Glass Edges?
Probably, the hardest challenge while working on a glass DIY project is to achieve a smooth, shiny finishing. Think about it, what if your drinking glass or candle cover has scratches or jagged edges? Yeah, that won't feel good, right?
You might think that getting rid of scratchy glass planes or broken edges is somewhat impossible with a hand tool. Well, it's not anymore. Of course, there are power tools that offer ultra-fine finishing, but we are here to show you some ways to hand polish glass planes. Keep reading.
Using Sandpaper
Sandpapers are handy and highly effective when it comes to smooth glass edges. You can choose a grit number depending on the sanding demand. And it's better to use wet-dry paper; also, you will need some protective gear to save yourself from the glass dust.
Step one: At first, take lower grit sandpaper from 80 to 100 and dip it into the water to thoroughly wet it. The more wet the paper is, the less will be the glass dust. So, make sure it's very wet before you begin sanding.
Step two: Once your sandpaper is ready, now you can begin sanding. For a finishing container, cup, or glass edges, you need to set the cut edge onto the paper with your dominant hand. And hold the paper steady with your other hand.
Now, with gentle downward pressure, rotate the glass in annular motion for every 2-3 rounds. This will ensure uniform sanding, and hence even finishing. Within about 5 minutes, the edges should be adequately smooth.
Step three: As the edges are smoothed well, now take the glass and now sand the outer and inner corners with a hand. Make sure to dip the paper into the water again before this step. And continue sanding until the desired polishing is achieved but make sure you keep the paper wet by frequently dipping into the water.
Step four: This step is all about perfection. Repeat sanding the edges with higher grits, first with 150, then 220-320, and finally with 400 grits. Once the edges are even and smooth, you can use 1000 or 2000 grit papers to shoot for perfection.
Using Silicon Carbide Powder
To polish glass with silicon carbide powder, you need a float glass, foam, and spray bottle. And follow the below steps to smooth of glass edges.
Step one: First, take the float glass or any piece of window or mirror glass and place it over foam or paper so that it keeps still while sanding. Now pour a small amount of water over the glass piece and just enough powder to make a puddle. You can hand stir the powder and water to form a mixture.
Step two: Now place the glass edges over the puddle and hold tight with your hand. Then rotate the glass in annular motion for 30-60 seconds with gentle downward pressure. Repeat encircling for some time and check if the edges are smoothened.
Step three: As you are done smoothing the edges, now wipe the glass with a cloth or towel to remove the silicon carbide and water mixture from the glass surface. Then use moist sandpaper to sand inside and outside corners to achieve even finishing.
FAQs about Sandpaper for Smoothing Glass
What grit sandpaper is best for glass?
Ans. Choosing the grit number depends on how finished you want the surface and how delicate the object you are working on is. Most often, 80 grit sandpapers are used for the primary sanding of glass planes. After that, increasingly higher grit numbers are used to achieve more even, perfect, and glossy finishing.
Does sandpaper scratch glass?
Ans. If you use lower grit papers like 35-40 over the glass, it might cause scratches. Higher grade ones remove any uneven blurs or blemishes from glass and smoothen it. After sanding with an 80-100 grade paper, it is again sanded with higher grade ones to get it perfectly polished without scratches.
Is sanding glass dangerous?
Ans. Sanding over glass produces minute glass dust. These tiny particles irritate the eyes and lungs if breathed in. Also, you can cut your hand with the specks of dust. So, putting on protective gear like musk, gloves, and goggles is necessary while glass sanding.
How can I remove sand scratches from the glass?
Ans. Other than using sandpaper or silicon carbide powder on glass objects, if you have any tiny scratches on glass windows or mirrors, you can use toothpaste or clear nail polish to diminish flaws, fill in grooves, and minimize scratch appearances.
Wrap Up
It's the perfect polishing that adds a wow factor to a glass object. And such perfection requires the right sanding tool. However, selecting the quality right grit sandpaper is somewhat troublesome. So, we reviewed some of the best sandpaper for glass. I think you have already chosen the finest one from the list. We are confident that you won't be disappointed.
You May Also Like: