If you look for the powerful power tools to arm your workshop, different types of the saw will show up and put you in dire confusion with similar features.
Only a professional and experienced woodworker knows how to choose the right one from many options.
If you target a table saw or radial arm saw, the advantages and the safety feature will make you wonder whether you should purchase both saws or one of them.
Though it's not as difficult as it seems to make the choice even when you stuck with the radial arm saw vs table saw face-off. Let's dig deeper!
Radial Arm Saw vs Table Saw: Head-To-Head
While both of the saws offer almost similar sawing services, a subtle difference in the functioning traps the purchasers. In this showdown, I'll tell you what you need to learn before getting a radial arm saw or table saw. let's begin with the definition.
What is Radial Arm Saw?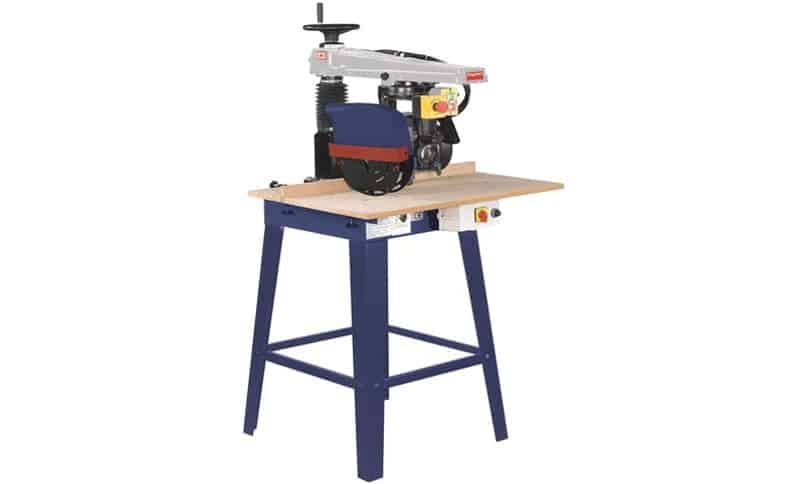 The history of inventing radial arm saw dated back to 1922 by Raymond DeWalt. Since then, the innovative mechanism and dedication established the power tool as the leading brand and positioned in the dominating seat.
A radial arm saw, as the name suggests comes with a hanging blade mounted to the arm, on which it slides forward when pushed and in reverse when pulled. In simplest words, it's another circular saw version that cuts and rips along a twisted arm. While the table saw's blade comes underneath the table, a radial arm saw hangs the blade over the table.
Such a peculiar design helps the saw acts efficiently throughout the journey you make with it. Be it cross-cuts, rabbets, dados, and half-lap joints, RAS is incredible in performance. But it asks efficient sawing skill to function with a radial arm saw. Once you can master the skill, it's hard to get disappointed.
Radial arm saw is designed with diverse settings and precisions aiming for diverse woodworking projects. The best part of them is, you can customize them based on the project you're taking. You can get miter and slant cuts, in addition to all the more astonishing stuff like drum sanding and steering.
Even though they are normally restricted by the size of its workbench, an ideal radial arm saw can give you wide access to tear wood along the grain along with miter cuts, bevel cuts, and drum sanding and routing.
Advantages of Radial Arm Saw
Radial arm saw is good for many reasons, ripping capacity is such a great feature that truly leaves you stunned. People sometimes mess with the saw due to inaccurate adjustment. Adjustment, therefore, remains a significant factor if you like to enjoy the greatness of a radial arm saw. once you can manage it properly, nothing can bar the saw to cross cut anything, be it rough workpiece or wider stock.
A radial arm saw is born not only for merely cutting woods. It's beyond cutting and ripping. The table saw is also versatile to some extent, but when it comes to a radial saw it's greatly versatile.
The radial arm saw can similarly be accessed for drum sanding, routing, planning surface of the board and horizontal boring and many more. You can get many woodworking tasks done with the saw if you learn some woodworking hacks.
If you're a professional woodworker, you need to cut a high volume of boards with different width and length. A radial arm saw is a great option for you, as it can withstand heavy-duty applications letting you get relaxed. This feature brings another difference with the table saw. Unlike the table saw, you don't need to push the workpieces to the blade. just draw the saw towards you and cut as long as you like.
A radial arm saw tends to be smaller that brings another enticing feature with it. As it requires less space in the workshop, many hobbyists prefer the saw. the saw is compact means it can be moved easily and placed on a tool or bench conveniently.
Disadvantages of Radial Arm Saw
In general, dealing with a power tool never can be out of peril. It's quite normal to be harmful if you like to access them without taking proper safety protection. Though all manufacturers nowadays claim to offer safety protection, sometimes they prove to be inadequate. When it comes to a radial arm saw, it's more perilous than a table saw. The uncover moving blade of the radial arm saw hits the highest risk.
I saw many woodworkers switch to the miter saw. the reason why they switch to a miter saw is the precision cutting and convenient. However, few people keep using the radial saw once they mastered the art and hacks of sawing.
When it comes to price, a radial saw is higher than a table saw. they used to be expensive, but the newer addition in the radial arm saw a family – contractor-sized radial saw lessened the price compared to the previous range. Nonetheless, they hike more than a table saw.
What is Table Saw?
A table saw brings the similarity with a radial arm saw featuring a circular saw. The difference with the latter one is the blade that is mounted under the tabletop and wisely engineered to rise up and down as you need.
The table saw is seen as the heart of the workshops by many aficionados because of the versatile cutting and ripping capacity. Beyond that, it's speed, comfort, and ease of use are enticing to many.
Along with simple cutting and ripping woods, table saws can wisely be used for multipurpose woodworking. Many craftsmen use the saw for making grooves and flush cuts and other complex cuts. That would be quite tough for a novice carpenter to do out of a table.
The table saw features a larger working surface that is made of steel, aluminum or cast iron to protect from rust and corrosion over the years. A precision-grounded working surface is a wider surface to place the large workpieces to cut comfortably.
It comes with a fence that helps get the exact line of cutting putting the pieces between the fence and the ripping blade. The blade is secured with a crystal blade guard. Along with that, a riving knife, anti-kickback pawls are shielded to protect the craftsmen.
Advantages of Table Saw
Ripping is a special field
While ripping is a common practice for professional carpenters, you're all time ready to go with a table saw. Unlike a radial arm saw, ripping is a special field for a table saw. because of that, once it was known as a circular rip saw in the united states.
The well-structured mechanism fits the saw for ripping wildly through boards keeping rip cutting in the core of the saw. It also doesn't require any special skill on ripping, unlike a radial saw does.
Manufacturers introduced several power tools so far with different sawing aims. A table saw along with other advantages offers you an unparalleled precision result. Installing the blade in a fixed place, a table saw makes it happen for all types of cutting cooperating with jigs and other accessories.
On the other hand, a radial saw lags behind in precision results. However, you can get enticing precision with a radial arm saw, but only by the high-end models. As the cheaper ones lack such a feature, you have to spend some extra to ensure precision. Sometimes the lack of precision makes the users switch to compound miter saw.
As we're running a radial saw vs table saw comparison, we find the table saw is easier than a radial saw in terms of use. It's one of the highlighting reasons why craftsmen like it most. It is engineered to keep carpenters of all strata. A carpenter without advanced knowledge of sawing can run a table saw smoothly.
However, if you like to get all-round sawing services out of a table saw, you should learn some sawing hacks and keep learning how to master a table saw. Nonetheless, it's easier to understand and operate than a radial arm saw.
The design of the table saw plays a significant role in bringing down the vibration. As the motor of the saw is placed under the table, it sounds less than the radial saw. on the other, radial arm saw sounds much due to bare motor above the board.
As a power tool, the table saw is perilous too. But when we compare the saw with a radial arm saw, table saw is safer. They introduced several safety protections to protect the craftsmen, and keep trying to further improve.
Disadvantages of Table Saw
Required push stick for bigger boards
You don't need to use a push stick as long as you deal with a small board or piece. When it requires to cut a bigger piece, you have to use a push stick to feed the blade for precision cutting. Radial arm saws offer an advanced mechanism to manage smoothly and conveniently. As you lead the saw itself, the board makes no trouble.
Table saws tend to be bigger, heavier and sturdier. Some of them are larger than others and compared to a radial saw, the table saw is much bigger and takes up more space in your workshop. That should not be a serious problem as long as you consider the advantages most. If you lack enough space in your shop, it makes sense.
The maximum of the injury table saws caused so far related to kickback most. But this can be prevented with a smart hand. Manufacturers adopted several safety protections. Featuring anti-kickback pawls, table saws ensured safety for the carpenters. Beyond that, blade guard, push stick, riving knife and many more shield the users.
Table Saw vs Radial Arm Saw: In A Nutshell
| | |
| --- | --- |
| Radial Arm Saw | Table Saw |
| Rip cut, cross cut | Designed for ripping |
| More versatile | Versatile |
| Risky to use | Less risky |
| Less expensive | Expensive |
| Less sturdy | Sturdier, heavier |
| More dynamic | Fixed position |
Table Saw vs Radial Arm Saw: Which One to Buy?
Table saw is chosen mostly by the professionals and hobbyists for versatility and ease of use, especially for ripping and cross cuts. If you like to rip a bigger board or respect precision cutting most, a table saw should be on the list. It's also safer than the radial arm saw.
Some people prefer radial arm saw because of the excellent rip cuts, cross cut as well as miter cuts. Expert carpenters even manage their radial saw for cut-off. But such saws are a warning for the amateur users because of the poor safety protection.
However, you should not fall in love with what a professional and experienced carpenter like. Get your saw by figuring out what you actually expect to form the saw and to what extent the saw can fulfill the demands of the projects.
Summing Up
We're on the verge of ending. I hope this guide helped you break down the confusion thanks to our in-depth radial arm saw vs table saw comparison.
Now you know why and how they make differences in performance and your projects. If you can afford, go for both; unless you're forced to choose one of them due to budget limitation.
New from the blog:
A close look at Contractor Table Saw.
A list of Our Top-Rated Hybrid Table Saws.
29 Different Types of Saws and Their Uses (with pictures)
Recommended Product for Your Safety: