Do you want a professional and indispensable saw that should look good and provide amazing cutting capacity?
Well, now it's possible with the combination of look and cutting capacity.
It's a hybrid saw comes with the double benefits of a cabinet saw and portable saw together. The added benefit of the saw is a comparatively lower price tag than its counterparts.
The following list is a collection best hybrid table saw that is going to help you get rid of any kind of confusion by presenting the well-studied and in-depth hybrid table saw comparison.
Our Top Picks
| Image | Description |
| --- | --- |
| | |
| | |
| | |
| | |
| | |
5 Best Hybrid Table Saw Reviews in 2022
As of now, we have tested several brands and models from renowned manufactures with advantages and disadvantages. We have summarized five of them below.
Check out these hybrid table saw reviews to find the best hybrid table saw for your venture.
1. Grizzly G0690 Cabinet Table Saw – Editor Choice
Grizzly G0690 Cabinet Table Saw hits the woodworker's pocket with peerless reputation of quality and performance. The saw comes with all premium equipment including a riving knife, miter gauge, dust management system, handwheels and many more.
Firstly, it is powered with a top-notch 3 hp motor that enables you to get 4300 RPM arbor speed. The power is transferred to the arbor via a triple belt drive that provides efficient and smooth operation. You'll also get a 13/16-inch width cut with a dado blade.
The table of the saw forms of total 27" x 40" with extension and its 34" high is well-managed to adjust with your standing position. The total ripping capacity is 29-1/2-inch from the right end and 12-inch from the left. The table is made of solid cast iron.
It features a large cast iron handwheels to change the height of the blade and it is attached conveniently to get easy access. The blade height is locked using the lock. It features another side handwheel to make angle change to the saw blade. There is an adjustable stop so you can return to 90-degree cutting.
The off/on switch is mounted for easy and quick that features a lock-up and magnetic safety switch. If the table saw loses power the magnetic switch returns the off position when the power comes back on that prevents you from potential injury.
It comes with a 10/42-inch saw blade including a safety pushback. With amazing tilting ability of 45 degrees. It ensures your safety meeting Ul 987 standard and getting a CSA certificate – the two crucial safety indicators for the hybrid table saws.
high quality 3 hp motor that transferred power to the arbor via triple belt drive for efficient and smooth operation.
Conveniently mounted off/on switch for easy access featuring magnetic safety for preventing injury.
Comes with a cast iron handwheel to change the height of the saw and another wheel to change the angle of the saw.
The set-up is simple and safe to use.
2. Shop Fox W1819 3 Hp 10-inch Table Saw with Riving Knife – Premium Pick
Shop Fox W1819 Table Saw is from a renowned power tool manufacture in the world. The manufacturer gives it well-shaped and well-engineered for those who don't compromise with quality but looking for a hybrid table saw within budget.
It seems similar to our previous pick, but so many things are different than that. The powerful 3 hp motor in W1819generates 4800 rpm blade speed that enables the saw for heavy-duty application anywhere you set the table.
This cabinet-style table saw can manage all sorts of woodworking and professional ventures with this high speed and tilting capacity. It comes with an infinitely adjustable t-slot miter gauge that is equipped with an adonized fence extension for smooth traveling.
The blade stays inside the table when not in use for safety consideration. No worry. You can get it up by spinning the handwheel that is attached under the table. And another wheel next to this one is for changing the direction of the blade. And the wheels are set conveniently for quick access keeping a good understanding between the two.
Safety intuitive is an appreciating feature of this saw. It introduces an electric break in this goal. The blade can be stopped in a millisecond by pulling this electric break. Along with it, a magnetic switch will save you from any power disaster by controlling the power switch.
A highly powerful motor for all heavy and light woodworking projects with 4800(Revolution Per Minute).
Comes with an electric brake to stop the blade immediately. as you press the brake it'll stop soon.
Featured a release lever to use the riving knife and different position for the spreader. The spreader can be used for different through cuts and dado.
A couple of handwheels for changing the height and direction of the blade. Both the wheels are set for quick access.
3. SAWSTOP CNS175-TGP236 10-Inch Contractor Table Saw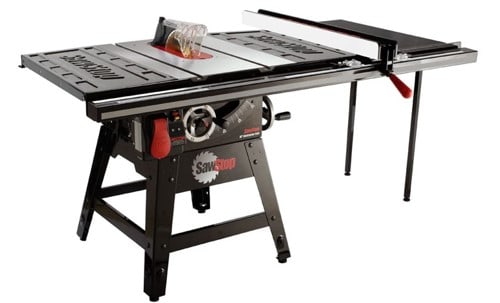 If you look for versatility and precision-cutting at its best, you can end up your voyage to the top-rated hybrid table saw with SAWSTOP 10-Inch Contractor Saw. It includes safety, configurability, versatility, stability, and performance with the pack.
Coming with a 1.75 hp motor and a 10-inch diameter blade with 4000 rpm to zero almost instantly, the Sawstop takes overall charge of your workshop and leaves you satisfied with incredible performance all the way. it also allows an 8-inch dado blade.
What safety measure does it take? It comes with a blade guard that shields the movement of the blade to keep your hand and skin safe from the injury. Its patented safety system stops the spinning blade within 5 milliseconds whenever you come in contact with the blade.
The table is made of solid cast iron that protects rust and corrosion. The durable table helps get the consistently reliable support for efficient cutting.
A good fence is important for accurate cutting. Sawstop accompanies a 30-inch t-shaped fence with a locking clamp that is made of aluminum to rails smoothly through the table to expand and helps you get added space to handle larger wood pieces.
Armed with a 1.75 hp motor and a 10-inch diameter blade for up to 4000 RMP to zero. That also allows a dado blade.
Comes with a patented safety system to guard the saw blade to keep your safe from the potential injury.
An aluminum-made T-fence with a locking clamp for added space to deal with the bigger chunk of wood efficiently.
Well-managed dust control system. It helps keep the surroundings neat and clean.
4. Powermatic PM1000 1791000K Table Saw 30-Inch Fence
Powermatic PM1000 Table Saw comes to supersede the top hybrid table saw in the market with so many features putting in the box. If you like to upgrade your shop or woodworking site with an incredibly durable and capable saw, find satisfaction in it.
The best part of this hybrid saw is the installation process and how well fitted it is. As the structure is well-designed and mastered with experienced woodworking, you can set it up anywhere in your home or the shop experiencing no hassle.
Well, the saw truly deserves to have amazing power to perform incredibly on the go. Coming with a 50-inch fence and allowing you to enjoy the enormous flat area for fast and efficient cutting Powermatic PM1000 requires just 115V.
Featuring a 30-inch Accu-Fence system, Powermatic offers more cutting space that expands the stability and confidence. And working with a precision-ground top will help get precision in cutting. Along with that, the power switch is mounted conveniently for safe dealing with power and saw.
Its well-structured solid miter gauge can swivel up to 60 degrees to both of the sides and adjust. It brings a broader opportunity to cut in a full swing. Its dust management system is another appreciating feature. It collects dust and transports through a hose that stores in a port.
Comes with a 50-inch fence for an enormous flat area for fast and efficient cutting Powermatic PM1000 requires just 115V.
The sensible-structure makes it is easy to set up and well-fitted anywhere in the shop or garage.
Comes with a 30-inch Accu-Fence system and a precision-ground flat top that enhance your cutting experience.
Features several safety measures and a well-managed dust port that collects dust and sends to a port via a hose.
5. LAGUNA TOOLS Fusion
Well, let's get introduced with Laguna Tools Fusion hybrid table saw. If you're looking for a hybrid table saw for relatively light-duty or small home improvement, this Laguna is best suited for you. as of now, we rated it highest for mobility.
With a 1.75 hp motor and 115V in a single phase, you can expect to get your light and small home improvement or small shop task done with ease and perfection. It comes with a 10-inch blade and a 5/8" arbor. It can rip 36-inch at best.
The saw is widely praised because of the default mobility kit feature and safety initiatives. Dealing with saw involves several dangers and risks. Laguna comes with this concern labeling a cut-off switch, a riving knife and a see-through blade cover in the pack.
The cut-off feature secures the saw and the woodcutter from the potential injury due to an unwanted start. The switch is mounted on the top at your touch, so you can get access to it as you need. The blade is pack with a see-through cover to protect when not in use.
Laguna is one of such hybrids saw models that are engineered with a master construction that keeps the sound and vibration in limit and lets you get outstanding result in cutting and woodworking.
The top of the table has zero possibility of getting bend or sagged for extensive use over time. Laguna protects this quality by features trunnions mounted to the frame.
Partners with a dedicated 1.75 hp motor along with a 10-inch blade for getting the job done with ease.
Offers exclusive safety initiatives to avoid peril with the cut-off switch and see-through plastic cover for blade.
Well-managed dust collection with a 4-inch port that can store a volume of sawdust.
Solid construction helps get minimum vibration at any speed level.
Shopping Considerations from Professionals
It's a big concern for all professional woodcutters to invest in the right hybrid table saw for a better result. A perfect hybrid table saw requires having several factors assurance.
So, before spending money on it, why not invest a few quality times to learn the essential features of the saw you're looking for.
Accurate Cutting
Your hybrid table saw will cut through several types of wood in the workshop or jobsite. Cutting is the main business of your saw. You only don't mean it, right?
Your saw, therefore, should be loyal for smooth cutting along with accurate cut without demanding force. Along with smooth cut, a right hybrid saw will ensure you crosscut, rip cuts, and beveled cuts with the finest accuracy and smoothness.
Most hybrid models include miter gauge and fence. If your saw doesn't comply with such features, you have to think for a miter gauge.
Motor
The strength of the motor is indicated by HP (horsepower). It serves a crucial role in the saw sometimes causing a higher price tag. The motor should be under the requirement of the projects.
There is a crucial factor you need to keep in mind. If motor power is lower, you'll feel trouble to complete. That doesn't mean you can purchase high motor-powered saw to cut aggressively. It'll rather make the saw unstable in operation and end up causing inaccuracy and sometimes accident.
Riving Knife
When it comes to a hybrid table saw, kickback is the common security issue nowadays. Some hybrid models show heed to this risk including a riving knife.
A riving knife is a metal-made protector that moves as the blade cut through the wood to lessens the possibility of kickback.
So, find a hybrid table saw that offers a quality riving knife.
Flesh Sensor
A power tool cannot be safe for the user without proper safety measures. No matter, how efficient and professional you are in dealing with the tool. It goes with a hybrid table saw too.
Again, the flesh sensor is another important safety feature. Find a hybrid model that offers you a flesh sensor (sometime it may ask some extra). this feature will stop the blade within a millisecond to protect your hand and skin.
Blade Guard
Introducing another safety technology for the hybrid saw. A blade guard is a smart safety feature that shields to protect your fingers and hand from the potential injury. Luckily, most of the hybrid models nowadays provide this feature.
Adaptability
For getting maximum smoothness and accuracy in the cutting, your saw model must have an adjustment feature along the blade. The infinitely adjustable fence, bevel, and the blade will give you more benefit than that of others come with no adjustable feature.
If you're a beginner, this feature has no alternative for you. But if you are a professional woodworker, you can manage this feature. But it involves risk and discomfort. Check out if your saw parts are easy to lubricate and make no fiction while you try to adjust.
All the hybrid table saw we showcased above are equipped with such easy adjustment among the tool parts.
Drive Belt
Vibration and unbearable noise are a serious concern for the power tool. It gets more serious issues when it connects with a hybrid table saw as it is run by a powerful motor. A well-constructed drive belt plays a decisive role in minimizing vibration eradicating disgusting sound.
The drive belt comes in greater contact by connecting the motor and saw blade. The drive belt tends to be several types of – Poly-V, V-belt, serpentine and wedge belt. Among the several ones, find your saw with the right one.
We experienced a Poly-V drive belt is better than that of the other. It generates fewer vibration. Poly-V drive belt is exclusively born for hybrid table saw that offers flawless productivity.
However, if you can manage a serpentine belt, you can expect a far better result than the rest.
Dust Management
Who doesn't like to see the surrounding neat and clean? On top of that, your hybrid table saw makes it essential to have well-planned dust management to trash a ton of sawdust every day.
You can expect to keep your workstation tidy all the way. Manufacturers nowadays learned how to do it. they include a port to transfer dust into a bag through a hose. Utilize the feature skillfully and unload the bag after each use.
Overall Construction
Durability and sturdiness have immense value when it is connected to a power tool or a tool that is used regularly. It is an uncompromising feature for your heavy-duty hybrid table saw. So, learn about the material used to make the saw.
A metal-constructed saw is always better than that of a plastic-made one. It brings firmness and longevity to the tool. If you think your maximum projects in your shop and rarely, you'll take your saw outside the home, find cast iron-made model. It's moderately heavier than steel or aluminum.
If you think you need to move from place to place with your saw, your hybrid saw should have wheeled legs.
Fence Technology
Most hybrid models tend to feature fence feature in a different shape to develop the cutting experience. The fence system aims to offer more space so you can hold the maximum of the wood piece at a time. It saves your time and effort. The T-shape is the most popular fence for the hybrid table saw. It inclines to be solid, expandable.
However, it is to be made of cast iron featuring trunnions. Find this feature in your purchase. Make sure this is expandable and travels smoothly throughout the table.
Price
Some reviewers like to put this feature at the peak. They might be right, but I like to put it at the bottom putting maximum importance on the quality, durability and performance. Purchasing a quality-product spending a few extra is better than purchasing a tool repeatedly.
The above-reviewed saws come with a reasonable price tag. Some of them even come with a guarantee. I know when you run out of budget, price matters most. So, I kept that in mind while selecting products for the review.
FAQs about Hybrid Table Saw
Even if we covered almost everything in the review and guide section, you may still have some questions and those are influencing your verdict. Let's check some of the most frequently asked questions and professional answers to them.
They are going to help you clear the cloud of confusion and finally make up your mind for the finest.
How to find the right riving knife for my hybrid table saw?
Ans. The best riving knife comes with the curve as your root saw has. It should be adjustable with the different positions of the saw – lower, higher. Some hybrid models provide a riving knife with a quick-release feature.
Such a feature will boost your work experience and convenience. A right riving knife can reduce kickback and injury.
What is the difference between a contractor table saw and a hybrid table saw?
Ans. The question became more prevalent after the hybrid saw came into existence. In some workshops, contractor saw is replaced by a hybrid table saw due to versatility, durability and better performance than a contractor saw.
A contractor table saw tends to be weaker and found quite unable to cut a denser timber. Yet they are portable making them a good choice for jobsites.
On the other hand, a hybrid saw is sturdier, therefore, heavier than its counterpart. But they are belligerent in operation and comes with a cabinet saw's price. That's why all DIYers and contractors love it more.
Who is the hybrid table saw suitable for?
Ans. A hybrid table saw is the combo of a cabinet saw and a portable saw with amazing precision-cutting capacity. Its smart combination made it super-fit for indispensable woodworking.
It comes with several safety initiatives that are safe for both amateurs and professionals. For heavy-duty woodworking or DIY, a hybrid table saw is an unbeatable choice.
Final Words
As I always sum up my reviews, you should find a hybrid table saw that fits your workstation meeting all your needs and projects' demands.
However, it involves a few factors – obsession for a specific brand, how much you can spend and you will.
As several brands and models available in the market, find your desired hybrid table saw from our sensibly-chosen models and brands. We listed some of the best hybrid table saws with our experience and with users' testimony.
You May Also Like: