Shaping is one of the important tasks in woodworking projects. You need to give a perfect shape to the straight piece of lumber to create amazing art. You may do this as a hobby or with the ultimate goal of earning money.
But without an appropriate tool, shaping would be a daunting task. If you make a list of the tools mostly coveted by carpenters for this purpose, rasps will be at the top.
You can use this handy tool for efficient shaping, smoothing, or even sharpening without ripping the material. This tool is also economical compare to other shaping kits.
Our Top Picks
Top 5 Best Wood Rasps in 2022
Unfortunately, most people are ambiguous in choosing the right rasp for their project. We are here to discuss the top 5 rasps available in the market with all their features and uses.
1. ANDGOO 4 Way Wood Rasp File Set for Sharping Wood & Metal
Andgoo Store offers you four tools in one: Flat Mill, Half-round Second-cut, Flat Wood Rasp, Half-round Wood Rasp, for being more versatile in your woodworks. Rough and fine grinding on both curved and flat surfaces can be done with these 2 packs of rasps.
The rasp is made of high carbon hardened steel for durable and aggressive use. The Rockwell Hardness of the material is 60 HRC which is slightly lower than the highest value of 65 HRC. You can easily assume how aggressively you can use the tool.
The tool will provide you a precise second-cut grade with its single-grained teeth. The polishing area of the tool is approximately 90mm. Both fine and coarse teeth are embedded into the rasp to cover a wide variety of work.
This rasp is suitable for all surfaces. The flat file works efficiently on flat surfaces while the half-round side can work perfectly on any surface.
You can use this flexible tool for not only rough shaping of wood but also smoothing the wood. This tool is appropriate even for sharpening metals.
You can use the flat mill file for smoothening edges and sharpening blades. When you need to polish the inner part of a curved opening or hole, the half-round second-cut file will ease your task.
To provide a rough finish to wood, leather, soft metals, or soft plastic surfaces, the rough tooth flat file would go flawlessly. You can use the semi-circular coarse teeth file for roughly grinding inside surfaces of these materials.
For any damage during shipment of the product, the company will compensate your loss.
Features that Matter:
Made of premium grade carbon steel for durable and aggressive use.
4 in 1 wood rasp with both fine and coarse teeth for versatile uses in shaping and polishing.
The semi-circular file is suitable for curved openings and holes.
The flat file shapes and polishes flattened surfaces.
2. YCAMMIN 8″ Wood Rasp File Set with Rubber Grip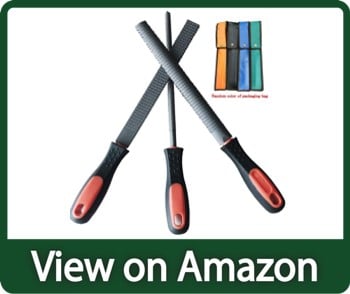 The Ycammin brand designed a set of wood rasp with a flat file, a complete round file, and a semi-circular file to fulfill a broad array of woodworking needs.
The brand not only provides you a set of wood rasp of 3 files but also packing bags for storing the rasps most conveniently.
The rasps are made of high-grade steel for serving you for a long time without any damage for intensive usage. The durable construction enables the rasps to be the perfect example of 'A rasp for every task'.
Your woodworking experience will be pathetic if you cannot hold the tool properly. You can choose this wood rasp set without a second thought if your concern is secure handling experience.
The handle is made of soft rubber to provide you a comfortable grip. It is bright orange in color which enables you to locate the rasp among the many tools in your workshop.
This rasp is widely used by professionals for any task from cabinet making to general shaping of wood, stone, or even soap.
The flat file with sharp teeth is perfect for quickly shaping flat surfaces. The full-circular and semi-circular file will allow you to rapidly polish rounded corners and the hard-to-reach spots.
Features that Matter:
Made of high-quality steel for longer durability with intensive use.
Both curved and flat files with sharped teeth are included for versatile use.
Soft rubber grip for a comfortable handling experience.
Packing bags for easy storage.
3. Newkiton 4 Way Wood Rasp File Carbon Hand File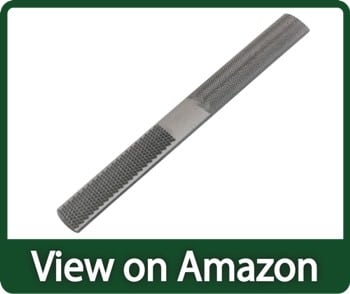 If you are unwilling to purchase the flat and half-round rasps separately, then this 4 in 1 rasp from the Newkiton brand is a perfect combination for you. You will get a flat mill, half-round second-cut, flat wood rasp, and half-round wood rasp, all in just a tool.
You can continually work with this tool without the headache of changing the tool for sharpening and smoothing purposes. You just need to shift from one side to another depending on your working purpose.
The rasp is made of high-quality stainless steel. This highly durable material ensures long-term use without any damage due to aggressive use. You can use the tool for intensive wood removing works.
You can use the four types of files for different purposes. The flat file with fine teeth works great in polishing edges and for even sharpening blades and other metals.
For a rough finishing to wood, leather, soft metals, and plastic the flat file with coarse grains fits the most. The semi-circular second cut file is convenient for polishing the inner portions of contoured openings and holes.
The half-round file with coarser teeth is suitable for roughly shaping the tight spaces of interior contours.
Features that Matter:
High-quality stainless steel for durable and aggressive usage.
4 in 1 tool for working with a variety of woodworks.
The flat and half-round file with coarse and fine teeth in one tool reduces the frequency of changing and picking different rasps.
Can be used for both roughly shaping and polishing works.
4. Kutzall 6″ Flat Hand Wood Rasp for Woodworking & Shaping
Kutzall store comes up with multi-tasking and long-lasting rasp with a convenient holding feature. This tool provides you a never-ending opportunity of carving wood and stone, remodeling, boat repairing, and so on.
The tungsten-carbide coated file enables you to effortlessly remove material. This coating also ensures high durability even on intensive use. You can direct the rasp in any direction for reaching the tight spots with ease.
The teeth of the rasp can withstand aggressive exerted force and remains sharp for project after project. The teeth are very consistent for long-term use.
The handle of the rasp is designed ergonomically for effortless control over the tool. You cannot work efficiently without a comfortable grip. The woodworking rasp is perfect in this regard and prevents your fingers from pinching into teeth during operation.
This woodworking tool is perfect for professional carpenters. They need to handle a lot of projects at a time with great efficiency. The Kutzall rasp is perfect for the rapid removal of material in any punishing project.
You can use this on a broad range of materials such as wood, plaster and wallboard, fiberglass and other composites, pattern-making materials, rubber and polyurethane, sand cores, soft stone, and many more.
While other conventional rasps work poorly on fiberglass, composites, and polyurethane, this versatile rasp from Kutzall will work perfectly in these materials.
Features that Matter:
The tungsten-carbide-coated rasp outlasts for a longer period than conventional ones.
A handy tool for multi-directional cutting actions to reach tight spaces.
The ergonomically designed handle ensures a soft and comfortable grip.
Can be used on a wide range of materials including composites, fiberglass, and tones.
5. NKTM 8″ and 10″ Golden Tapered Wood Rasp Bastard File
If you are a lover of carpentry and are fancy in choosing your tools, the golden-colored wood rasp from NKTM brand would be the perfect option for you. This tool is great in design and has a gorgeous look.
The comprising material of the tool is premium quality carbon steel. This material ensures better longevity and extensive strength. You can use this tool in larger projects for the heavy-duty removal of materials.
You will get two wood files with 8-inch and 10-inch working ends that are uniformly embedded with teeth. The teeth are solid in their position and will not fail at all.
To provide you a great handling experience, the handle is made of rubber for convenient gripping. This will protect your hand from getting hurt. It is black and yellow in color that adds good value to the look.
You can use this rasp for insanely fast and aggressive shaping works. But if you lighten the pressure on the tool when you get to your required depth, it will also provide you a better finishing.
You can use this tool for all types of milling, shaping, and carving of soft and hardwood, plastic, and rubber material. Processing, deburring, and roughing of materials are also possible with this outstanding tool.
Features that Matter:
Good quality material for better longevity and strength.
Rubber handle for ease in handling without getting an injury.
Ergonomic size and color for better look and workability.
Widely used for polishing, deburring, shaping, and carving purposes.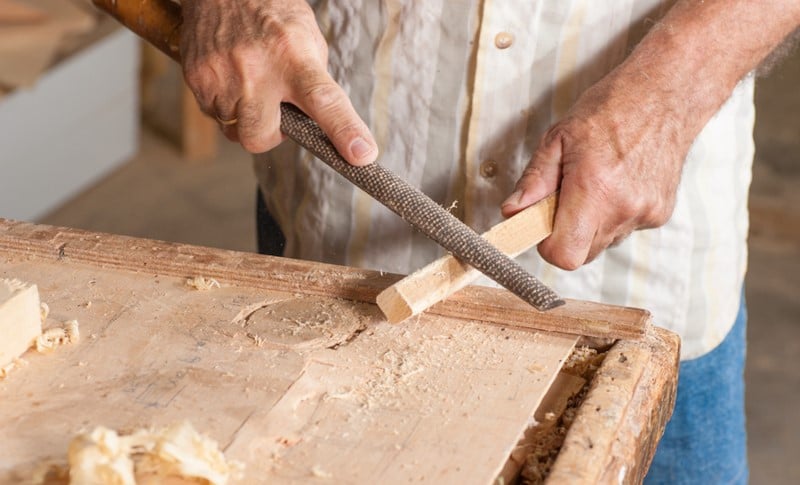 FAQs About Wood Rasps 
In this section, we will ghost bust some of the frequently asked questions and help you pick the finest one.
What types of teeth can a rasp have?
The application of the rasp depends on the type of teeth. The embedded teeth on a rasp can be of three types. They are:
Fine: The teeth are very fine in grain for flawless finishing purposes. These can also be used for sharpening metals.
Average: The rasp with average-sized teeth can be used for all purposes.
Coarse: For rapid and aggressive removal of material and roughly shaping this type of teeth are embedded into the rasp. They cannot be used for polishing purposes.
How to use a rasp?
At first, you need to fix your wood piece with a walrus or a vise. Proper positioning of your body is very important to provide a sufficient amount of stroking force.
You need to use both of your hands for operating wood rasps and files. With the dominating hand, you must hold the rasp by the handle and with the other grip the tip. Then exert force on a forward motion to have your work done. Lift or remove the pressure in returning stroke to avoid clogging the teeth.
What are the measures to be followed during using a rasp?
I am giving some suggestions for proper and safe use of rasp.
Always test on a spare wood piece before using.
The clogged teeth of a rasp should be cleaned with a wire brush.
A rasp with clogged teeth cannot work properly. It can get stuck during operation and cause damage to the working material.
Make sure the handle is tightly attached to the tool. Never use a loose handle to avoid injury.
How to take proper maintenance of the rasp?
You can take the following maintenance measures to ensure better longevity of your tool,
Store the rasp separately from other tools to prevent the teeth from getting damaged.
It is wise to hang the rasp where there is no chance of mixing it with other heavy tools.
The wood carving rasps are prone to rust. Always keep them in a dry place. If you keep them in a drawer then put a few bags of silica to draw off moisture.
Always clean the rasp with a wire brush after every use.
My Two Cents at the End
Having a whole set of rasps will not help you in your woodworks, rather choose the right tool after thorough research to get the best output from your tool. Each tool has benefits and limitations. You need to select the perfect one for yourself.
We tried to review elaborately the 5 best wood rasps available with full discussion of their features. Read the article to purchase one for the quality investment of your money.
If you ask me for suggesting a rasp from the list, I will definitely go for NKTM 2 Pack Golden Tapered Wood Rasp for its strength and efficiency in shaping and smoothing works.
You May Also Like:
Top 5 Shoulder Planes for Woodworking.
5 Top Rated Card Scraper for Woodworking.
Top 5 Picture Frame Clamps for Woodworking.