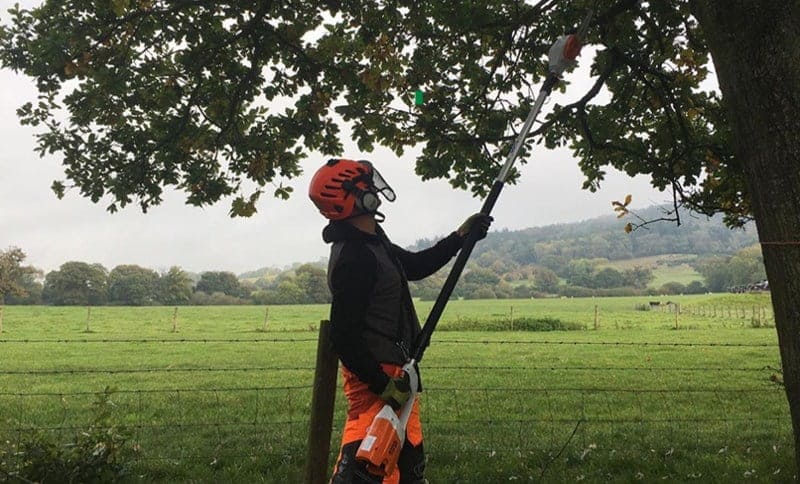 You want to buy a cordless pole saw. Definitely, you tried googling.
But did you find the right one that you are looking for? I guess no.
When you go to the market without a concrete idea of what you want and what you need, available options make it very hard to decide which one you should go for.
And for a mechanical device like a pole saw, you need to know about the important aspects and basic features to choose the right tool.
A quick guide will be the perfect thing to filter your search and make it more effective. Thereby I have prepared an exclusive review list along with a simple guideline to lead you to the best cordless pole saw.
Comparison of Our Favorites Cordless Pole Saw in 2020
| Image | Description |
| --- | --- |
| | |
| | |
| | |
| | |
| | |
Top 5 Best Cordless Pole Saw Reviews of 2020
I have selected only the top 5 of the best battery powered pole saws in this review list to make the search quick and easy for you. Thus, you can read my cordless pole saw reviews and have a thorough look at exclusively the best ones.
1. EGO Power+ PSA1000 Battery Operated Pole Saw –

Editor Choice
We want everything together. The tool has to be multifunctional, efficient in work, durable, reach longer distance, and also be light in weight. And this pole saw from EGO Power+ truly includes all these characteristics in it.
The saw is built to be compatible with the highly powerful powerhead PH1400 from EGO Power+. This delivers maximum power for completing your trimming job uninterruptedly. It generates more power than gas in a noise-free fume free environment.
Besides power, the efficacy of the blade is important for the tool to work proficiently. You might have a mighty motor, but all ends with the blade. This ego battery tree trimmer not only has a commanding powerhead but also excels in its blade quality. It includes a 10-inch Oregon chain blade with a sprocket nose bar. This will use 25% less energy to rotate and save power to have longer battery life.
You do not have to think about its maintenance and oiling. This innovative Ego pole saw has auto lubrication system to oil the chain on the go. It increases the chain's durability and helps it to last long.
One of the downsides of Ego tree trimmer is its kickback issues. It can be dangerous and lead to accidents too. EGO Power+ emphasizes this issue and ensures the highest security for you. They use a double guard bar which reduces the kickback intensity. Thus, you get a smooth cutting experience without a sudden harsh rebound.
Its sturdy 10 inches long body can go through all your rough and tough using events. It has been made durable with a weather-resistant structure. You can use it under any weather and any circumstances.
Compatible with EGO Power+ powerhead PH1400. Can be swapped with any other EGO Power+ tool.
10-inch Oregon sprocket nose bar blade. Utilizes 25% less power.
Uses a double guard bar to reduce the kickback effect.
Strong, sturdy weather-resistant body. Can be roughly used.
2. Greenworks G-MAX 20672 Cordless Pole Saw –

Premium Pick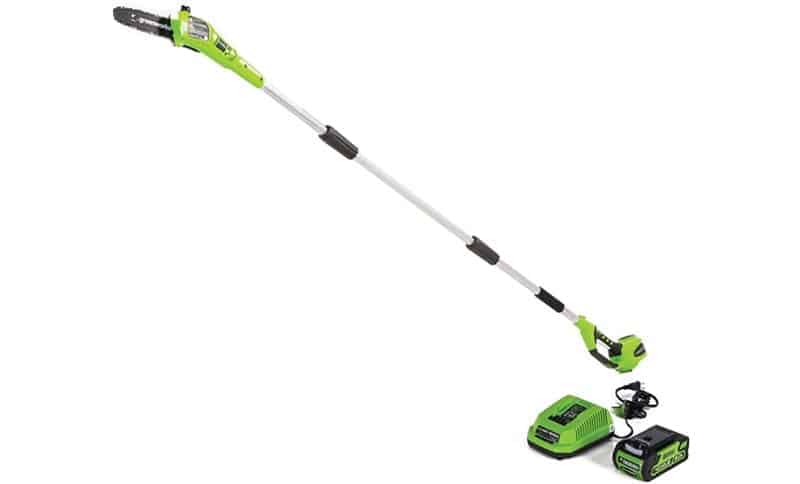 The next exclusive pole saw to rank the top list is the saw from the renowned brand Greenworks. Its remarkable structure and sophisticated features make it unique from others.
You can easily clean up the mess of your yard with this tool without any professional help. With the assistance of this super convenient tool, you can become a pro yourself. Your backyard cleaning to trimming your ornamental garden trees, you can do them all with this beneficial tool. Its highly efficient 8 inches long chain bar blade can cut through all the small and medium sized branches.
You might worry about the complex adjusting and maintaining systems of the chain in pole saws. However, you do not have to feel the same for this one. Greenworks 20672 has a super easy knob facility for adjusting the chain tension. Within seconds you can release the tension and tighten it again without any trouble.
Maintaining it won't be a hassle too. Greenworks 8.5′ 40v cordless pole saw, 2.0 ah battery included 20672 has an auto lubricating system which lessens your manual work. All you have to do is fill oil in the reservoir before starting trimming. The chain is oiled automatically and repeatedly. It increases the functionality and durability of the chain.
This is a 6 ft long pole saw with extending capability. You can extend its length to up to 8 ft with its easy to attach aluminum extension shafts. With this, you will get a working height of around 8.6 ft or higher depending on your height and handling ability.
The Greenworks cordless pole saw is powered by a 40V 2Ah G-Max lithium-ion battery. You can buy the Greenworks 8.5′ 40v cordless pole saw either with or without the battery system. The battery comes with a durable charger. This versatile tool is compatible with many other devices. So, it is wiser to buy the kit with the battery system.
Includes 8 inches long chain bar blade. Can cut through any small to medium-sized branches.
Has an auto lubricating system eliminating manual hassles.
6ft pole can be extended up to 8ft to reach high branches.
Powered by 40V lithium-ion battery.
3. BLACK+DECKER LPP120 Cordless Pole Saw –

Best for Money
The first concern for a cordless pole saw is its battery life. And Black+Decker lpp120 20v lithium ion pole saws give much priority on this issue. It ensures that in one charge you can go a long way. Approximately you can make about 100 continuous cuts per charge.
The pole extension helps to reach a distance of around 14 ft. It is the longest compared to other pole saws mentioned in this list. Despite the length of the pole, this Black and decker lpp120 cordless pole saw is very easy to handle due to its light bodyweight.
Black+decker Lpp120 battery pole saw has a very minimalistic structure and fiberglass pole construction. This design helps it retain a very light bodyweight. You will feel the difference when you use it. You can use it for a long time without any break and without getting tired.
It comes along with an 8" chain blade which acts efficiently on the rough surfaces to make cuts. You have the amenity of cutting about 6" diameter with this competent cutting edge.
The blade gains this tremendous cutting capability due to its high speed generated by the power of its 20V lithium-ion battery. You have the full flexibility of buying the kit with or without the battery system.
This Black and Decker Lpp120 battery powered pole saw comes in multiple sets. You can choose among different bundles including different items along with the main pole saw kit. These include leaf collection bin, 3.0 AH battery, and 2.0 AH battery. You can also buy the tool only if you want to.
It can reach up to 14 ft with extension to trim high branches.
Made of fiberglass pole. Has a very lightweight body.
Includes 8 inches long blade. It can cut through up to 6 inches diameter.
Powered by 20V lithium-ion battery.
4. CRAFTSMAN CMCCSP20M1 Battery Pole Saw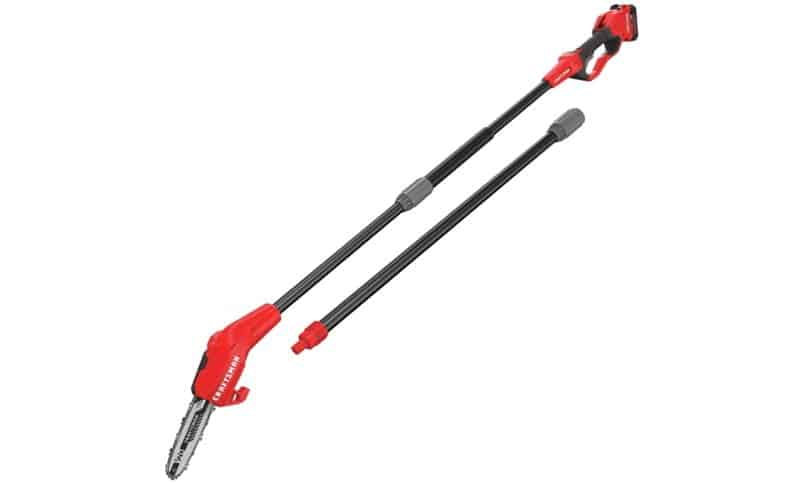 After all those straight cutting head saws, this one is with an angled head. The pole saw from Craftsman is a very skilful tool manufactured to make your trimming work easy. This tool possesses all the important features required for cleaning your garden mess.
The first and most important feature for a pole saw is its length. The farther it reaches the better it is. This competent tool can help you reach about 14 ft high. You can effortlessly trim all the high tree twigs with this which are impossible to reach otherwise. In order to trim shorter trees, you can easily take off the extension from the pole and cut the nearer branches.
Battery life is another important aspect to be prioritized for a powered tool. This capable device is run by a powerful 20V 4.0 AH battery. With per charge you can get about 325 cutting capability.
The angled cutting head of the saw is very useful to use and beneficial too. It also includes a sturdy branch hook. It is there to help you tear off or remove the loosen branches which hang on the tree and creates an unnecessary fuss. You can easily pull them off with this hook without engaging your blade for this task.
Craftsman cordless pole saw has a very comfortable handle with rubber grips attached to it. Your convenience in maneuverability has been highly focused on this. So that you can hold the tool effortlessly without slipping. For longer tasks, you need to hold it for long. The design ensures it doesn't wear you off while working for hours.
With the extension, it can reach up to 14 ft.
Ran by 20V 4.0 AH battery. Per charge can give the capacity to make 325 cuts.
Angled cutting head with a branch hook attachment.
Handle and pole include rubber grip for comfortable handling.
5. Greenworks PSPH40B210 Cordless Pole Saw with Hedge Trimmer
This is another pole saw from Greenworks. The highlighting feature for this saw is that it includes a chain saw and an additional hedge trimmer attachment. You get both in one pack for a complete trimming job experience.
You have the complete flexibility of choosing which cutting head to use. You can use one at a time by attaching the cutting head to the main pole including the battery.
The chainsaw head includes an 8 inches long chain blade for cutting and trimming. You can make swift cuts with the help of this efficient chain blade. The auto lubrication facility of the tool always keeps it lubricated during work. You can effortlessly fix its tension with its easy chain adjustment system.
Its hedge trimming attachment includes a long 20 inches blade that has dual action capability. It has teeth on both sides to make effective cuts in one go. You can make up to 5/8-inch cuts with this hedge trimmer. Another cool feature of this hedge trimmer is that it has a pivotal head. That is, you get to choose your own angle of cutting while working with it. You have the complete flexibility of moving the head up to 95o angle.
Even with all those cool features, the attachments do not increase the weight of the saw. Without the battery, the chain pole saw weighs approximately 8.38lbs. Whereas, the hedge trimmer weighs around 9.57lbs.
The Greenworks cordless pole saw is powered by a 40V lithium-ion battery. Greenworks pole hedge trimmer gives you the chance to buy the saw kit with or without the battery. The pack with battery also includes the charger for fast charging.
Includes two head attachments. One Chain blade saw and one hedge trimmer.
The chain blade is 8 inches long and the hedge trimmer blade is 20 inches long.
The hedge trimmer has a pivotal head for angle cuts.
Powered by 40V lithium-ion battery. Has a long battery life.
Things to Consider Before Buying a Cordless Pole Saw
Cordless pole saws like all other saws have some core factors. These factors determine their performance and efficacy. To help you detect the efficient saw, I have noted some of these factors here.
Battery Life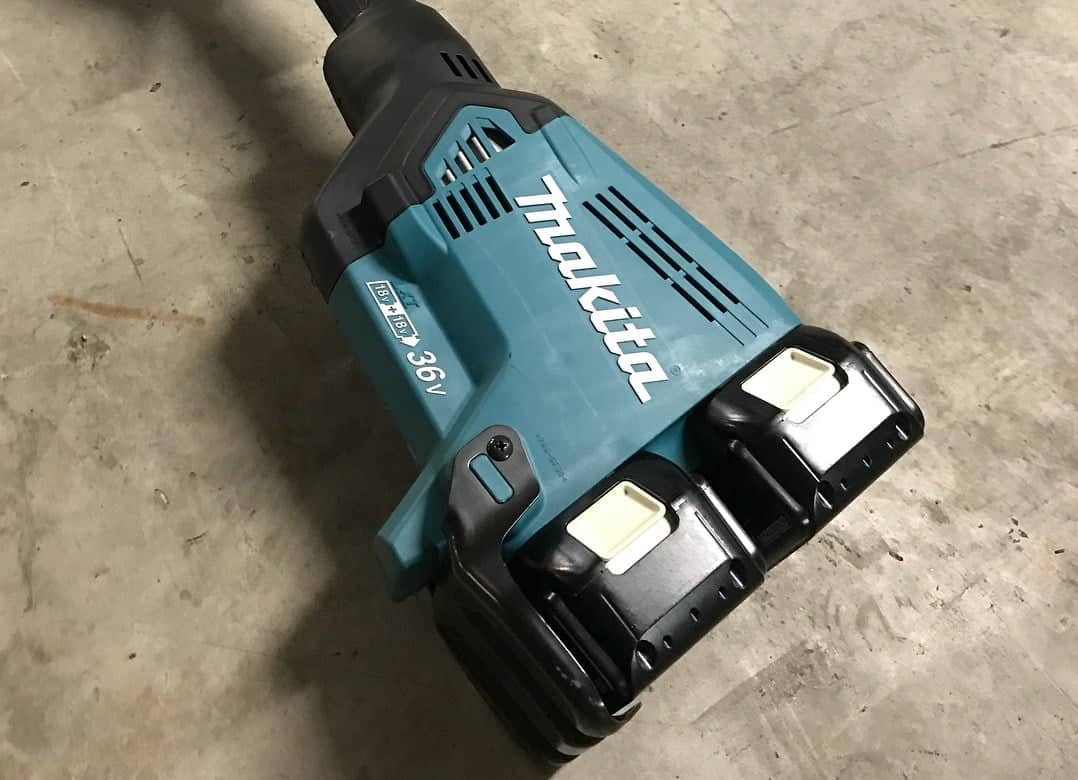 For a battery-powered tool, battery life is extremely important. The whole working process and the amount of time it can function depends on it. It is more significant as an aspect of a pole saw.
Moreover, it depends on how many cuts you can make in one go, how long you can work and how effective your work will be. Thinking about all these issues you must look for cordless saws with higher battery life.
However, there is a contradiction with the amperage of the battery with the cutting capability. A high amperage battery has more cutting power but it comes with low battery life. The battery power drains very easily for such batteries. You have to recharge it frequently. Whereas the low amperage battery might have a lower cutting capacity but a higher battery life. You need to find a saw with a balanced amperage battery that has a decent battery life with an adequate cutting capacity.
Safety Measures
Every saw requires safety measures while handling. The pole saws are no different. This long saw needs cautions while working with it to avoid accidents. That's why it is necessary to use a battery powered pole saw  having maximum safety measures.
The riskiest issue to be found in battery operated pole saw are kickback effects. It is one of the common causes of accidents by saw. The kickback effect occurs when the fast-moving chain blade suddenly scratches hard surface that it cannot cut and thus rebounds back towards the operator. This can cause serious injuries.
That's why for chain blades, a double guarded safety chain is used. Such a chain is designed to reduce the kickback effect and help people operate safely. Make sure your saw has one to reduce the risk level.
Another important safety protocol is the emergency stop button. Normally this button is implanted on the handle or at the nearest spot to the operator. It is very effective to switch off the pole saw immediately during any crisis. Always make sure your saw has an emergency stop button for being on the safe side.
Length of the Pole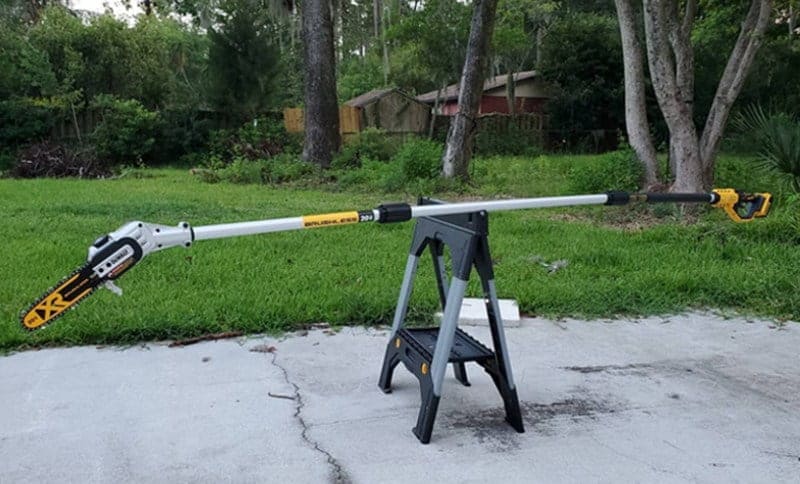 The main purpose of a pole saw is to reach the unreachable parts of a tree. The pole of the saw is the core element that makes it possible. That's why it is important to have long poles to serve the purpose.
The length of the pole varies in different saws. On average, the length of the pole ranges from 8ft to 15ft. This is the standard length of pole for a good pole saw.
In many saws, the manufacturers mention actual heights whereas in some they mention working heights. The actual height denotes the real length of the pole saw from the handle to the cutting edge.
On the other hand, the working height means the average height the cordless pruning saw can reach. It is the total length of the pole saw along with how high a regular person can lift it to make a cut. When you are buying a battery pole saw, take a better look at the length if it's the actual length of the pole or the working height.
FAQs about Cordless Pole Saw
In this section, I am going to answer some of the most frequently asked questions about cordless pole saw. If you want to add a new question, please go ahead and write in the comment box below.
What is the Benefit of Battery-powered Saw Over an Electric Pole Saw?
Ans. When we are saying cordless pole saw, then we are eliminating the most important drawback for a pole saw that is the cord. A cord limits the distance and working capability of a pole saw. You can't carry it much far from the power source. This hampers the trimming task of big yards. It also makes it harder for trimming long trees. The cord tangles and knots at places making the task even more complicated. That's why it is far more beneficial to use battery powered saw over an electric pole saw.
What is the Average Weight of a Cordless Pole Saw?
Ans. The average weight of the cordless pole saw ranges from 7 to 15lbs. Different pole saws weigh differently depending on their structural design and construction material. Different additional features also tend to increase the weight. When the pole saw is lifted overhead the weight seems to feel heavier than the actual weight.
How to Maintain a Cordless Pole Saw?
Ans. Maintaining a cordless pole saw is very easy. If the saw is automatically lubricated the works become even easier. Just fill the reservoir with oil before using it. Oil lubrication increases the blade functionality and makes it durable. If the saw does not have an automatic lubrication system, oil the chain manually regularly.
Make sure the teeth of the chain blade remain sharp. For that, you have to sharpen them occasionally. When you take off the chain for sharpening, clean the guide bar properly and oil it manually. It will help to run the chain smoothly. Sharp teeth will help to make swift cuts without rebounding.
When using the saw tighten the chain. After the use, release the chain tension before storing it. Chain contracts when it is cooling. So, it will be damaged if not loosen before the cooling process.
Lastly, always clean the saw with a damp cloth after each use. Regular cleaning will save the tool from getting damaged due to corrosion and rusting.
Do Cordless Pole Saws Make a Loud Noise?
Ans. As a powered device, a cordless pole saw will make noises. But it is far low sound than made by a gas-powered pole saw. The cordless saws make much less noise and operate more smoothly than its counterparts.
Final Words
You are at the very end of my cordless pole saw reviews. Buying a cordless pole saw will be actually a better choice to make than to buy any of its counterparts. The cordless saws are far more affordable and also serve the purpose. You can easily carry them, handle them and such saws also have a very simple functionality. All in all, you will make a winning deal buying a cordless pruning saw.
Coming to the end of this review, I hope you have a comprehensive thought of what you want or which one you want.
Still, if you need a more rigid idea of which one to go for, I would suggest the Craftsman V20 cordless pole saw. It has a lightweight structure; a high cutting capability and its long pole length make it an all square tool to be used for trimming jobs.
So, without further ado, let's make your move and get your long wanted the best cordless pole saw.
Related Article:
A Quick Look at Our All-time Favorite Manual Pole Saws.
Recommended Product for Your Safety: