Having trouble operating your card or cabinet scraper across the wood pieces?
Or have you lost the sharpness on the edge of your card scraper?
Well, we are here to put all your worries aside to take some rest.
After a certain time, every card scraper loses its sharpness over the edges and cannot form a firm and smooth surface over wood. Using a cabinet scraper burnisher is the most reliable and fastest way to make your blunt card scraper's edge razor sharp.
Our Top Pick
Top 3 Card Scraper Burnisher Reviews in 2022
On your way to buying a new card scraper burnisher, we are here with a list of the finest ones to guide you. We are not just merely saying they are the best. After thorough research, they have been tagged so.
So, here is a list of the best 3 card scraper burnishers with an unbiased review for each.
1. DFM Tool Works Cabinet Scraper Burnisher
The cabinet scraper burnisher from DFM Tool Works Store claimed its first position on our shortlist with its outstanding performance in honing a cabinet scraper.
The most notable feature of this card scraper burnisher is the steel rod which is made of M42 grade high-speed steel. The steel rod of the wood scraper sharpener has a hardness value of 63-65 on the Rockwell C scale which means it is super hard.
Next is the burnishing rod which has carbides in the steel that makes it harder than iron or any other steel and it can be used for sharpening other steels too without any breaking down. This feature will definitely make the sharpening process quite easy for you without burning you high calories.
Moreover, the finest polish turns the steel bar's surface smooth enough to deliver you the ultimate quality output when you are turning a hook or sharpening the card scraper.
Have you been satisfied already? Don't be, a lot more features are waiting for you!
Concerning your safety issues, the DFM Cabinet Scraper Burnisher attached a hardwood handle with the sharpening steel rod. The handle will give you a better grip for use. It is mainly of hard Maplewood for ensuring better longevity.
The maple handle also has a stainless-steel ferrule to hold the steel bar from coming out of the handle. Additionally, it is dyed with cherry red color that takes all the credits for the artistic appearance.
However, with all the above-mentioned stellar earmarks, the burnishing tool for card scraper is also lightweight and very handy to carry in your pocket without any trouble. The weight of the tool is 5.6 ounces with a length of fewer than 9 inches.
The finest grade material will keep you apart from the problem of getting rusty, misalignment, broken handle, and many more. In a word, after buying this product manufactured by DFM Tool Works you will just forget about maintenance and use it whenever you need it.
2. Narex 872401 Cabinet Scraper Burnisher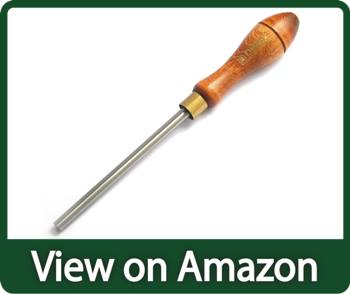 The next one on our choice list is the cabinet scraper burnisher from Narex. If you are looking for an indispensable tool for sharpening your wood scraper with an offshoot of putting a thin hook, this is the perfect one to buy.
The round steel bar has a slender diameter of 3/8 inches. This ergonomically designed diameter will ease your hardship in making a small hook on wood scrapers.
The main part of the burnishing tool is the steel rod. It is made of high-grade speed steel mixed with high-grade carbon to give it a hardness level of 62-64 on the Rockwell C scale.
You can imagine its strength from this value which is good enough to give your wood scraper an extremely sharp edge. The highly polished 6 inches long fine-grade steel can ensure the creation of a thin burr on card scraper.
The Narex scraper burnisher offers you a long handle of 5-1/2 inches with a diameter of 1-1/2 inches for a better grip. The wooden handle is made of hornbeam and stained gently for a long-lasting better appearance.
Tensed about slipping the rod from the hornbeam handle? No worries. There is also a brass collar for gripping the steel rod tightly.
Now it's a problem when it comes to the size and weight of the burnisher. Well, the Narex scarper burnisher has a length of overall 11-1/2 inches with a weight of 6.7 ounces. These two properties may seem to be a problem while carrying but think twice! This tool may not be handy, but it offers you better quality, better grip, and longer durability. Impressive, huh?
3. Crown 377W Big Horn 20260 Cabinet Scraper Burnisher
Are you not done yet? Looking for a lightweight card scraper burnisher on a relatively low budget? Stop roaming around. Here we are with the best burnisher for card scraper for you from the brand Crown.
This exceptional quality sharpening tool for woodworking is the coolest for its lightweight. Its weight is only 0.81 ounces. Can you even believe it?
Just like the other two, the cabinet scraper burnisher from Crown has a steel rod that is also made of high-speed steel. Although the 6 inches long steel blade is strong enough to sharpen the edge of the card scraper, the only difference in constructing material is that this rod does not have high-grade carbon.
The finely polished round-shaped steel blade is a perfect addition to bring sharpness to the cabinet scraper's edge.
The 5-1/4 inches long handle made of beechwood is long enough for a proper grip. The steel rod is fitted into the rosewood handle with the help of a brass ring. The handle is stained with dark black color to bring a long-lasting classic look.
Finally, the overall 11-1/4 inches length of the Crown wood scraper burnisher will give you better friction control and the minimal weight will make it handy for use.
How to Use a Card Scraper Burnisher?
The card scraper burnisher is a very handy tool for woodworking and the process of its use is very simple. A burnisher is a harder piece of metal than that of your cabinet scraper which scrapes off fine burrs from the edge of your scraper. But how to use a card scraper burnisher? well, read on to know the step-by-step process.
Burnishing
Burnishing is required to form burrs on the edge of your scraper and make them the high-angle cutter. The burnishing process does not require any hurdle in execution.
First, put your cabinet scraper on a flat surface like your workbench and clamp it firmly to resist movement while burnishing. Next, you need to lubricate your scraper to ensure smooth sliding of your burnisher without any snagging of the cutting edge. Now, put your cabinet scraper burnisher straight flat on the scraper and rub it over the cutting edge in the forward direction by exerting force with your thumb. Do it 15-20 times to get the best results.
You are not done yet actually. It's time to burnish the opposite side of the scraper. You already know how to burnish. So, just do it!
Turning the Burr
Now it's time to put some extra oil on the scraper and position the cutting edge just out of your workbench while the rest of the body will be on the workbench. This time you need to align your burnisher perpendicularly with the cutting edge instead of flat.
You need to exert a little more force in turning the burr than the burnishing process. It is because the cutting edge is already sharp after burnishing and you just need to sharpen those leftover tiny steel burrs in the upright direction. Blow the whole length of the scraper 5-10 times. Now wipe off the oil and see how wonderfully you have turned the burr!
Isn't it easy to burnish a card scraper with the appropriate tool: card scraper burnisher? Though this can be done by any tools such as a screwdriver or hard steel, it will be wise to use the dedicated tool, card scraper burnisher, for this particular job.
Safety Measures while Using a Card Scraper Burnisher
A card scraper burnisher or cabinet scraper sharpener is an indispensable tool for regaining the burr of your old card scraper.
The burnishing tool has a metal rod of round, oval, or triangular shape having a harder surface than the card scraper which is the main part for creating a sharp edge. Seems not a sophisticated tool it is?
Well, the card scraper burnisher is really a simple tool to use with minimal risks incorporated with it. But as a professional, you need to take proper safety measures while using a burnisher in sharpening your card scraper.
Firstly, you need to put on hand gloves to secure your hands from cutting by the sharp edge of the card scraper.
Secondly, grab the cabinet scraper burnisher perfectly using both hands for a perfect grip while rolling over the card scraper otherwise the steel rod will come out from the handle.
Finally, you need to be super careful about the angle while rubbing to create a perfect burr on the edge of your card scraper.
FAQs about Card Scraper Burnisher
Does the screwdriver work as an alternative to a card scraper burnisher?
The answer is simply no. Screwdrivers nowadays do not have a headache on their hardness level. If you ever try to burnish your card scraper with a screwdriver, the card scraper will cut your screwdriver slowly.
So, why damage your favorite screwdriver, when you have a dedicated tool for burnishing?
What length is perfect for a card scraper burnisher?
The length of the card scraper burnisher is not a major factor for creating a burr. It doesn't matter how short or how long the burnisher is as long as it doesn't create a problem in holding with your hand.
If you can hold the cabinet scraper burnisher using both hands and feel a perfect grip, it works fine while sharpening your card scraper.
What are the shapes of the metal rod for the card scraper burnisher?
The usual shape of the steel rod of the card scraper burnisher is round, but there are also various shapes including oval and triangular. While using a round or oval shaft, you need to roll the rod over the card scraper edges for sharpening.
On the other hand, simply rub over the card scraper edges to burnish when you have a steel rod of triangular shape.
How to choose the best card scraper burnisher?
If you need a thin burr for your card scraper, you should buy a card scraper burnisher with a small diameter metal rod. The diameter of the steel rod should be larger when you need a relatively large sharp edge on your cabinet scraper. The given amount of pressure while rubbing the wood scraper burnisher is also responsible for the size of the burr on the edge of your scraper.
My Two Cents at the End
A card scraper burnisher offers you an extra hand while woodworking. If you have a cabinet scraper burnisher you do not need to buy a new card scraper every time after losing the sharpness on the edge.
Moreover, it minimizes your time and effort in returning the burr of your card scraper. A cabinet scraper sharpener will bring you the opportunities to enjoy your woodwork in less time but more effectively. It is a high-priority tool for every cabinetmaker.
We tried to shortlist the best card scraper burnishers that are available for taking carpentry to the expert level. But if you are still confused enough to choose the best one to buy and ask me for a suggestion, I will choose DFM Tool Works Cabinet Scraper Burnisher Tool with Hard Maple Handle and Super Hard Steel Rod.
You May Also Like:
Top 5 Woodworking Card Scraper Reviews.