Bandsaw and woodcarving are deeply connected. No professional woodworkers but use a bandsaw.
The 17 inches bandsaw is a quite bigger version of the typical ones and used in woodworking workshops. A bandsaw minimizes half the hard task in woodworking. You may not be using a bandsaw but once you use it you wouldn't want to shift back.
The right bandsaw can give you the best results. In your search for the right one, I will be helping you with this best 17 inch bandsaw list.
My Top Picks
Top 3 Best 17 Inch Bandsaw in 2022
I have selected 3 of the best 17-inch bandsaws from Grizzly. Hope you will find the finest Grizzly 17-inch bandsaw you are looking for.
1. Grizzly G0513ANV 2 HP 17-Inch Bandsaw Anniversary Edition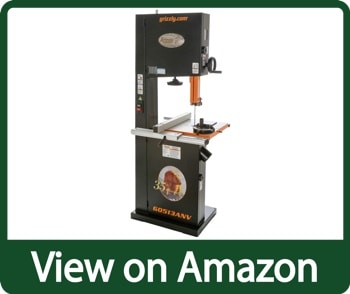 This is Grizzly G0513ANV bandsaw. This is a 17″ band saw that can serve you well in your woodworking. The saw has a typical body design with a simple working mechanism. You will find nothing complicated in it.
The saw has a micro-adjusting geared table. Rotating a simple knob, you can tilt the table little by little to get the precise angle that you need. It gives a maximum tilting capacity of 45o to the right and 10o to the left.
Its cutting area is spacious to fit big lumber. You get a cutting height of 12.125 inches and a throat of 16.25 inches. You can easily fit your big wood chunk in this space to make a successful rip, cross, or any other cuts.
The highlight for the saw is its height measurement scale included on the guidepost. This is a unique addition that you normally cannot find in others. This helps you check the exact height of the lumber you are working on and how high or low you are shifting the guidepost. It is a great addition to keep track of the height.
2. Grizzly Industrial G0513X2 17 Inch 2 HP Bandsaw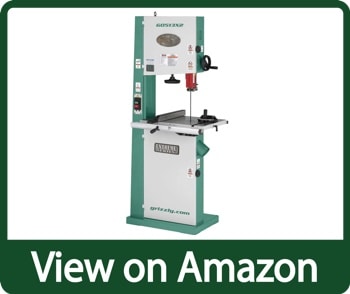 Sturdiness is the highlighting aspect of this bandsaw model from Grizzly. It has a tough body made of cast iron. The robust structure with detailed finishing gives the saw a tremendous look and sternness. If you need something heavy-duty then this should be your bandsaw.
The saw comes along with various supportive items to make your woodworking much easier. You get a miter gauge, a rip fence and a resaw fence with the main bandsaw. Don't think just because they are supportive items, they are not quality ensured. These items are also built focusing on giving longer service without wearing off.
This bandsaw also includes a magnificent dust port facility. Not just one but it has 2 to help you keep your workspace clean. Both of them are 4" in size where you can add the hose to take away the dust to a designated place where you desire.
3. Grizzly G0513 2 HP 17-Inch Bandsaw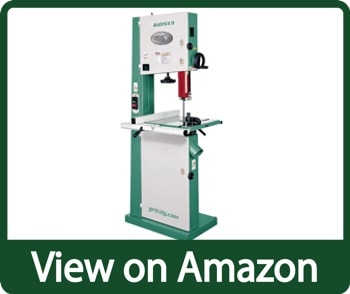 This model of Grizzly is a sophisticated one. Its versatile blade size to power everything about it makes it stand out from others. Every single detail about the machine is flawless and valuable.
Whether you are woodworking or doing some metal works, you can take advantage of this tool. Its dual speeding system is just perfect for cutting both wood and metal. The high-speed 3500 FPM is ideal for wood whereas the low-speed 1600 FPM is for metal. This can help you make cuts the way you require.
Besides the speed, the size of the blade is also an important aspect. You need to change the blade with the material you are cutting. This bandsaw allows you to use a blade from 1/8 inch to 1inch.
Changing the blade is not an issue for this saw. Its blade change tensioner makes the task really simple. Just release the tension by the knob and get your blade out to insert a new one. It gives you the simplest way possible.
FAQs about 17 Inch Bandsaw
What is a bandsaw used for?
A bandsaw is mainly used for cutting woods. It can cut thick wood chunks, plyboard, multiple layers of wood, and others. The cuts can be normal straight cuts or curves. A bandsaw can be used to make different shapes out of wood or for duplicating cuts. It can also make notch cuts, rip cuts, bevel cuts, and many other woodcarving essentials. And most importantly bandsaw is highly used for resawing bulky lumber into thin planks.
What is the average speed of a bandsaw?
The average speed of a bandsaw is about 1000 FPM. This speed is adequate for cutting wood and other materials. The higher the speed the better the wood can be cut. But speed is maintained focusing on safety issues. Too much speed can be very dangerous.
What is the average power of the motor for a bandsaw?
The average power of the motor for a bandsaw ranges from 1/3 HP to 1.5 HP. Heavy jobs require higher power whereas random cutting jobs can be done with a lower alternative. On average it is better to have a bandsaw with motor power anywhere in between.
Final Words
Out of the 3 bandsaws, you cannot differentiate like one is good whereas the other is not. All 3 have their own charm and specialties.
So, how can you choose one?
Well, I would suggest you go for the one that meets your needs. You should not settle for just any. The one you choose must have the qualities and features that you need for your work. Considering all these facts the one that you will choose would the best 17 inch bandsaw for you.
You May Also Like:
An In-Depth Guide about 14 inch Bandsaws.
Top 5 Portable Band Saws for Metal & Wood.