You might be able to replace a bandsaw for some non-major cuts with any other sawing tool. But for resawing your large lumbers, there is no alternative to a bandsaw. It is a universally acknowledged saw which is used by woodworkers to accomplish all their resawing tasks.
Resawing requires high cutting capacity. The larger the cutting depth, the more varieties of thick lumbers you can resaw. Its structure, versatility of blade, and cutting speed are also factors that influence the quality of a resawing bandsaw.
You will find lots of options in your search journey, but you got to scout out the finest one if you are serious about your work and perfection.
Only the best bandsaw for resawing will give you the best experience and ultimate perfection you really want. Let's find one!
Our Top Picks
Top 5 Best Resaw Bandsaw Reviews in 2022
To get the best, you must search among the finest. To help you find the best bandsaw for resawing, I have made a list of the top 5 bandsaws and reviewed them in the following section.
1. Shop Fox W1706 14 Inch Bandsaw for Woodworking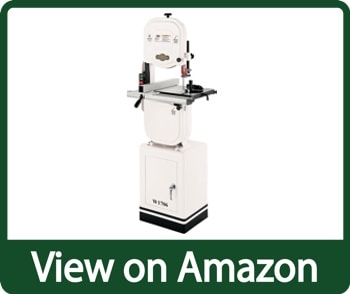 The first thing that you require for resawing is the large cutting capacity. And this Shop Fox bandsaw can deliver you with just the thing you want. This down to earth budget bandsaw is highly capable of resawing.
This saw gives you an average 6 inches cutting capacity for making general cuts during your woodworking. You can easily increase the cutting capacity to a massive 12 inches cutting height by its option for including a riser block. 12 inches is perfect for accomplishing any resawing you would require to do.
The saw is run by a highly powerful 1 HP motor. Its efficiency is praiseworthy for cutting thick wood. The single-phase motor can generate a speed of 1725 RPM which is ideal for resawing.
To fit your lumber, it has a wide worktable of 14 x 14 inches. Your wood chunk can effortlessly fit and steadily stay on this table for you to make effective cuts. Its cast-iron construction can withstand all the load of large timber devoid of any problem. It was made to bear all the work abuse without getting damaged easily.
Not only the worktable, but its body frame and both its revolving wheels are also made using cast iron. It gives the saw a sturdy structure to withhold all the pressure and workload. The weight of its cast-iron frame also increases its steadiness. It will stay put in its place even when you are resawing large wood chunks.
Has a cutting capacity of 6 inches. Can raise the height to 12 inches using a riser kit.
Ran by 1 HP highly efficient motor. A Single-phase motor can generate 1725 RPM blade speed for resawing.
Broad worktable of 14 x 14 inches. Can fit large lumber easily.
Cast iron body structure. Sturdy enough to withstand the work abuse while resawing.
2. JET 710116K JWBS-14DXPRO 14″ Deluxe Pro Bandsaw Kit
By paying a few extra bucks you can this Jet bandsaw. Bigger, wider, and ideal for resawing tasks. Every penny you pay for this saw will be worth it. You will be extremely happy when seeing your artworks come to live for this saw.
What's so special about this saw to make you happy? Yes, there's a lot to say about this saw that will make you happy and satisfied. Its structural design and body construction is done in such a manner it is highly suitable for resawing. You can easily fit your lumber to this saw and make your necessary cuts.
Why would not you be happy about it anyway? This saw gives you a huge cutting capacity of 12 inches height with 13.5 inches throat capacity. With this wide-open space, any typical lumber would fit on it. So, no tension of getting stuck in here.
There is no question of sturdiness in here either. No matter how hefty your wood piece is, its 15 x 15 inches worktable can take all the load to hold your lumber firmly.
A good quality to mention about this saw is its column-mounted power button system. This gives you easy access to the power switch. In case of any necessity or for any time when you sense danger, you can easily shut off the power with it. Either powering it on or off, it stays close to your hand for quick actions.
The saw gives you 2 speeding options in this saw- 1500 RPM and 3000 RPM. Shifting between the two is a piece of cake. With your changes in the material, you can easily change the blade speed.
Ideal for resawing for its massive 12 inches cutting height and 13.5 inches cutting throat.
Sturdy and wide worktable of 15 x 15 inches. Can fit lumber easily.
The column-mounted power button gives easy access to initiating and terminating power.
The dual-speed system gives the versatility of cutting multiple materials.
3. WEN 3962 10-Inch Two-Speed Band Saw with Stand & Worklight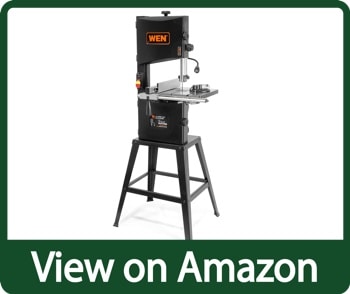 No, not all bandsaws are crazy expensive. You will find many which come at a very low price but do a remarkable job. Hobbyists you do not have to give up on your dreams. This Wen bandsaw won't let you. They offer you a great bandsaw coming just under $300.
Pricewise the saw does an amazing job. It gives you 6 inches cutting height facility with 9.75 inches throat capacity. For your DIY projects, this specification will be more than enough.
It doesn't lack in any respect in terms of versatility. You can make rip cuts, miter cuts, crosscuts, and even bevel cuts up to 45o with this saw. The saw includes necessary scaling accessories including guides to assist you in making accurate cuts. The saw takes accuracy at different levels by adding a flexible worktable light to it. It will help you to have a clear view of the cuts you make.
Its 3.5 amp motor is something to brag about for this saw. The efficient motor can pull dual speeds for the saw. You get the options for 1520 FPM and 2620 FPM from this saw. This saw gives you the chance of cutting multiple materials and materials of multiple thicknesses. As lower speeds are ideal for resawing thick lumber, its lower speed makes it ideal for resawing.
While resawing you can expect a huge pile of sawdust accumulating in your saw. No problem to be faced while working with this saw. You can easily attach your vacuum cleaner hose to its dust port to extract out all the sawdust.
No need to think about hose size. This band saw gives you not 1 but 3 options of dust port sizes to match your vacuum cleaner hose. It makes all the tasks easy and simple for you.
Perfect budget bandsaw. Comes under just $300.
Has a cutting capacity ideal for DIY projects.
Has dual speeding options. The speed is perfect for resawing.
3 in 1 dust port to have easy access to the cleaning facility.
4. RIKON 10-305 10-Inch Bandsaw with Fence
It is another low budget bandsaw that can be handy for hobbyists. Its small size and stand less structure can fit any small workshop. It will not kill space but serve its purpose to the fullest.
The 10 inches bandsaw has a sturdy body to withstand the weight of hefty lumber you will be putting on it. It is constructed of a steel plate which is stronger than plastic and can absorb the effect of vibration better than the cast iron frames.
It is small in size but has a large worktable. This worktable is just the thing required for resawing. From sturdy cast iron construction to wide open space, it has all. It gives you a wide working table of 13.75 x 12.5 inches. This is a quality that you hardly can find in a band saw like such size.
The table includes an assisting rip fence for guiding you to make straight cuts. While you resaw this 2 inches guide fence will help you keep your lumber straight as you push it towards the blade. Again, when you do not need that, you can easily take off the fence from the table to increase the workspace.
At the end of the day, all the features will be useful if the saw has a hard-working capability. And this saw does have that. Its powerful 1/3 HP motor generates adequate blade speed to crash through thick wood for your resawing tasks.
It's 10 inches stand less bandsaw. Perfect for small workshops.
Has a wide 13.75 x 12.5 inches sturdy cast iron work table. Ideal for resawing jobs.
2 inches rip fence to assist in making straight cuts.
1/3 HP powerful motor. Can generate adequate blade speed for resawing.
5. Laguna Tools MBAND1412-175 14 x 12 Woodworking Bandsaw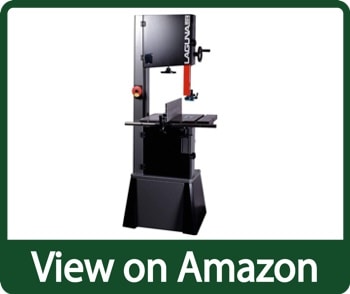 Couldn't you still find your right one? Are you looking for something more sophisticated? Then this saw from Laguna is the one for you. No need to go anywhere else. You just found your saw.
At first glance, you can say how fit and standard maintained touches the saw has. This saw is an example of elegance. Its construction, body design, and functionality all combinedly form an excellent bandsaw.
Resawing is a heavy task to do. But with this saw, you won't feel a thing. Its cast-iron built well-balanced wheels eliminate all the vibrating issues. The wheels are covered by polyurethane tires to ensure effortless movement. You can work smoothly without any bumps.
Its 1.75 HP motor can generate high blade speed. It is worthy of delivering dual speed options for you. You can choose any one of the two speeds as per your requirements.
Rigidity is a must when cutting through large wood chunks. And for Laguna bandsaw, it is offered by its unique pyramid spine. This structure helps the saw to be stable and tackle all the back force while resawing.
The saw has a very graceful blade guard adjusting facility. It moves up and down like fluid with its manually handled worm gear tuning system. It won't be anyway hard for you to adjust the guard height.
This saw gives you every facility to perform resawing. While carving your large lumber, doing freehand might be a little problematic. But with its high rip fence, there is no chance to slip off the track. You can easily change this rip fence into a lower version of it just by flipping it.
Heavy-duty body structure with elegant facilities. Excels both in looks and performance.
Cast iron-built wheels with sealed bearing. Sturdy to retain stability and give a vibration-free performance.
Easy worm gear adjusting system.
Aluminum built high-low rip fence. Helpful for resawing.
FAQs about Bandsaw for Resawing
We are now going to see what people often ask regarding resawing band saw and their usages. Knowing professional answers to these most frequently asked questions will help you a lot in the long run.
Why need a bandsaw for resawing?
Resawing is a process of reducing the thickness of lumber by cutting along its grain. Normally raw wood is resawed into a much thinner and usable piece of wood. And such raw wood usually comes in very bulky size. To cut such a voluminous thing in your workshop, you will require a larger capacity bearing saw.
A jigsaw or a table saw cannot serve this purpose due to the incapability of high cutting depth. That's why you require a band saw for this specialized task. Its structural design and functionality permit it to do the resawing job efficiently.
How to use a bandsaw safely for resawing?
A bandsaw is one of the safest saws to be used for cutting wood. But it does not mean that it should not be handled with caution. As it is a powered tool that uses a sharp blade to pierce through the thick wood, it is definitely dangerous. You must handle it with extra care.
To use a bandsaw for woodworking safely the first step is to use protective gear. You must use hand gloves, eye goggles and for long-time use, you must wear protective headphones. These will keep you safe from sudden accidents.
In terms of holding the wood piece hold it with a push block. Using your bare hands can be dangerous at times. While pushing the wood, for instance, if your hand by mistake go close to the blade, it won't be a good situation. So, using the push block is much safer.
Now comes the cutting process. While cutting the wood does not push the wood too fast towards the blade. Take it slow and let the wood slide off itself as it gets cut through.
Thus, you can safely use a bandsaw for resawing.
What is the right blade for resawing?
Resawing jobs require large blades. The wider the blade, the better it is. A wide blade gives straighter cuts. So, it is necessary to have broad blades on the saw.
The TPI measurement is also a fact to consider. The number of teeth per inch determines how fiercely the blade can cut. For the resawing, a 3 or 4 TPI blade is said to be suitable. Such blades can cut through effortlessly through the thick wood.
What is resawing capacity?
Resawing capacity is the highest cutting capacity a band saw can offer. It is the highest height the blade guard of the bandsaw can be lifted to fit the lumber in order to make successful cuts. This height is different for different saws. For some woodworking bandsaws, the cutting capacity can be increased by adding a riser block to it.
Final Words
All's well that ends well. Your long search journey for the best bandsaw for resawing will be worth it as you end it by choosing the best one among all. That one is worthy of all your time and money that you are spending. But which one is it?
Have you already decide which one you are going to pick? Or are you still a skeptic?
If you are done deciding, congratulations. You are getting a new bandsaw now.
However, if you still could not make up your mind for one, then follow my suggestion. All the bandsaws in this list are the best ones.
But if I am asked to pick one for you, I would go for JET JWBS-14DXPRO 14″ Deluxe Pro Bandsaw. This saw outperforms other if compared based on price, performance, and sturdiness. But how is it so different?
You can know about the saw in detail by following the link and make a comparison yourself. It is just my perspective. Going to the link you can know more and who knows can get more surprises too.
You May Also Like:
A list of Our Favorite 17 Inch Bandsaw.
How to Choose A Perfect 14 inch Bandsaws.