Suppose you're a woodworker or a newbie in woodworking, in that case, you are probably searching for something that will make your rabbet smooth and accurate.
A good rabbet or bullnose work always gives you perfect joinery in your craftmanship. And for a flawless rabbet joint, you'll be needing a rabbet plane that stands out in the crowd of all the tools available for making rabbets.
So, what's the best rabbet plane?
Well, there's no single answer to this question. But if you research enough and contact specialists on the rabbet plane, you'll probably get the same result as ours.
To save your time, we did the hard part, the research. Here's the list of the top five rabbet planes in the market right now.
Our Top Selections
Top 5 Best Rabbet Plane in 2022
1. Faithfull No.778 Rebate Plane
While looking for a good rabbet plane in the 21st century, woodworkers often prefer something lightweight, durable, and multipurpose. Well, the winner of our list is something they would love to have in their hands.
The Faithfull 778 Rebate Plane comes with adjustable fence support that will allow you to cut rebate up to 38mm. The adjustable fence has the aid of two guide rods with push-throughs. This feature allows you to set the fence on both sides of the plane.
In terms of selecting a rebate plane, people always worry about the rabbet plane's ground base. In Faithfull 778 Rebate Plane, the body is made with cast iron, making it more durable than wooden ones. It also offers an accurate ground base. The whole thing only weighs 2.24kg which is pretty lightweight in terms of a rabbet plane.
Faithfull 778 Rebate Plane positioned the cut in the center position, making it easier for cutting corners. So, if you're having problems with bullnose works, this could be your perfect solution.
2. Stanley – 78 Duplex Rebate Plane
The second one on this list is a premium choice for work. If you don't have a problem with the budget, we recommend getting Stanley 78 Duplex Rebate Plane.
Stanley is a trusted company that has manufactured hand tools for over a hundred years. It has been a trusted Rebate Plane manufacturer for woodworkers.
The plane offers a single cutter that includes two blade beds. If you're looking for a blade to help with bullnose work, then the front edge will do the job. On the other hand, the middle will be doing your regular job.
On a different note, the middle blade comes with an adjustable lever so that you can adjust the depth of the blade with your own preference.
Stanley comes with a 38mm adjustable cutting blade. The cast iron body and tungsten steel blade make it more durable than other rabbet planes. When it comes to user experience, it is pretty easy to use. The angled handle helps woodworkers to get maximum control while doing bullnose work.
3. Prettyia Good Quality Rabbet Plane
Not everyone likes to work with a cast iron planer, and some still prefer the old way. So, while making this list, we made sure to take different tastes into account. The planer that holds the third position is for people with different tastes and budgets.
Though it's cheaper than the former two, it doesn't compromise the quality of the product.
Prettyia Rabbet Plane is a multipurpose hand planer with a vintage outlook. With a solid premium rosewood body and hard high steel corrosion-resistant blade, it will keep doing your woodwork for a long, long time.
Whether you're doing intricate woodwork like working on violin and cello or making rabbet cuts for doors or windows, it'll make the slotting job easier for you.
The size and weight of the tool make it easier to carry. The technique of changing the blade is easier than the other planer in this list. It works with a smart wedge that makes the work easier. Last but not the least, all these come with a reasonable price range.
4. Stanley 12-978 Bullnose Rabbet Plane
Another rabbet plane from the Stanley. The Mexican company is too good at manufacturing the tools. With a 38mm depth and 254mm long blade, The Bullnose Rabbet Plane is going to make your bullnose work better than ever.
You already know from above that this Stanley Rabbet Plane also has a cast iron body with an angled handle. The front and mid blades will support both your regular and bullnose works.
The rear cutter, which works for regular jobs, offers an adjustment system that will make your cut more precise. Even though it has a cast iron body, it still weighs only 2.7lbs, making it easier to carry around without any hustle.
If you have worries about online shopping, Stanley is a pretty trustworthy manufacturer. So, go for any of the Stanley rabbet planes from our list by closing your eyes. Compare to Stanley 78, this one comes in at a slightly lower price. So, this could be your chance to take this instead of premium Stanley 78.
5. Ulmia Rabbet Plane with Double Iron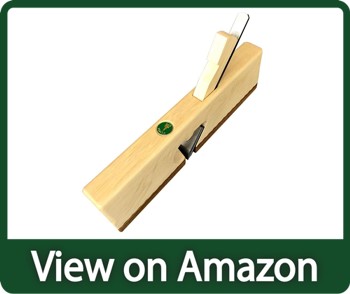 Everyone loves German cars. They're not only good at manufacturing cars, but they are also trustworthy in any mechanical tools. Our final choice for the top five rabbet planes is a German rabbet plane with double iron.
Ulmia Rabbet Plane with Double Iron is a gorgeous-looking tool with a simple and easy-to-understand mechanism. The German steel blade is adjustable, and it uses wooden wedges to adjust the blade. The 270mm length and 30mm width with 49 degrees of cutting angle of the rabbet plane will enable you to cut through the rabbet in no time.
Thinking about the weight of this analog device? Well, let us surprise you then. The whole package only weighs about 2lbs which makes it the lightest one on this list.
When it comes to a wooden body, people get all concerned about the durability of the product. Well, say goodbye to those thoughts because the hornbeam body and ironwood sole will make sure it lives up to your expectations.
Types of Rabbet Hand Planes
Tuning wood rabbet is the job of a rabbet plane. Keeping a rabbet plane around is always helpful for woodwork and other necessary work around your shop. The Rabbet plane uses a cutting-edge blade that helps make your furniture smoother.
Whether you need to make cutting for doors and windows or doing complex work like making violin and guitars, a rabbet plane is always a must for your shop.
There are subcategories in the rabbet plane that you need to understand before selecting one for your shop. The available sub-categories are:
Adjustable Rabbet Plane
Skew Rabbet Plane
Double Rabbet Plane
An adjustable rabbet plane can adjust according to your will and select blade depth as the name says itself. It offers a larger mouth opening. So, getting rabbets jammed up won't be a problem.
The Skew rabbet plane is similar, but the opening is adjustable. So, the skewed blade will slice the grain easily.
The bit odd-looking rabbet plane is the double rabbet plane. They have two positions for iron blades and the front one will do the bullnose work and the middle one for the regular rabbet remover.
How to Cut Rabbet with Hand
So, how do you cut a rabbet by hand? There're many ways to cut rabbets. It's been used by workers for thousands of years.
The first one is a chisel; chisels are the oldest hand tool used for woodworking. You need to position it over wood with chisels and apply force directly behind it to cut through.
The next one is a plow plane. It's pretty helpful for cutting rabbet joints. With a plow plane, you can select the blade's depth and cut according to your will.
Finally, the router plane and rabbet plane, the most modern solution to cut rabbets. The adjustable width and depth with a perfect angled handle to use just made the work more straightforward than anything.
FAQs about Rabbet Plane
What are the differences between Rabbet Plane and Shoulder Plane?
Any wood plane with a blade at the bottom is a Rabbet Plane. The shoulder Plane is a kind of Rabbet Plane with different blade cutting angles. While Rabbet Plane works as an edge-to-edge cutting tool, the shoulder plane's job is to make the surface smoother. Rabbet Plane cut-throughs rabbets as the design demand and the shoulder plane cut the surface grain with less effort.
What is a rabbeting plane?
Rabbets are the step-shaped recess that cut along the edge or in the face of the wood. And the tools that help you cut rabbets are the rabbet planes. It's often a wooden box with a wedge in the middle that adjusts a cutting blade at the bottom of the box, which allows it to cut steps while sliding in the edge of a woodblock.
What are the disadvantages of a rabbet joint?
The rabbet joints are not free from the disadvantages. You need to be accurate in measuring and always have to be careful to not break the rabbet.
Again, though the joints give extra area for glues, the end grain can make things difficult to glue properly.
Lastly, to be honest, it's not aesthetically pleasing for modern woodworks.
What is the difference between dadoes and rabbets?
Rabbets are generally the step-shaped cut at the edge of any wood panel.
On the other hand, the dadoes are the same cut but in the middle of the board. It takes out a slice column of wood from the panel to make room for connections.
Conclusion
Well, everyone has their own preference in terms of selecting a rabbet plane. The most important thing is which one you're comfortable with. We tried to keep our list versatile for everyone.
Whether you're using something like Faithfull 778, a cast iron body with an adjustable blade, or GermanUlmia Rabbet Plane, which is simple and durable, we hope you get some good rabbet work done in your workshop.
We hope this article has helped you find the best rabbet plane for your woodworking jobs.
You May Also Like:
Top 5 Jack Plane for Woodworking.