Price, size, electricity bill and space– thinking about all these you can conclude with one solution: getting yourself a manual tile cutter would be the best idea.
You will find varieties of manual tile cutters when you start your search. Their properties, capabilities and working techniques are different from each other.
Though it's a simple manual device, not all of them are easy going. Their quality and cutting skills might not stand up to the worth. Such cutters won't give you good results as the high standard ensuring ones.
That's why I have prepared this exclusive list of best manual tile cutter so that you find your perfect piece of tile cutter.
My Top Selections
List of Best Manual Tile Cutter in 2022
A big number of options may confuse you, deciding which one to buy might be somewhat challenging. For an effective search, I have filtered down only 5 finest ones only for you. Check them out and pick the one you like most.
1. QEP 10900Q 35-inch Manual Tile Cutter for Porcelain & Ceramic Tiles
The first tile cutter of the list is from the famous brand QEP. It ought to be the best for many reasons. It is a big manual tile cutter with 35 inches straight cut and 24 inches diagonal cut capacity. You can fit your required tile effortlessly on this.
Its sturdy body is capable of working rigorously. Its ergonomic structure includes a handy working handle just like a bicycle. The grip allows you to hold the handle tightly and work effortlessly. All you have to do is gently slide it across the tile. It includes a linear ball bearing scroller for a smooth sliding process. It will move smoothly with the least traction.
The main cutting wheel of the cutter remains attached to the base of the sliding handle. It is made of tungsten carbide with titanium coating and can rip off the tile in just one go. You can have a neat cutting experience with this highly effective tool.
The base of the QEP manual tile cutter is made of aluminum alloy which includes pads made of rubber. It makes sure your tile will stay on its position without slipping away while cutting.
Its structure includes side extensions to increase the capacity of the tile cutter. The thin side arms can hold the large tiles which do not fit within the main base. At the tip of the arm, it includes a small rubber grip that makes it more stable and fixed to its position.
Cleaning tools can be problematic, but not for this one. You can easily clean this device even with bare water. The process won't damage the tool, and you can get a clean cutter every time.
Has a rip cutting capacity of 35 inches with a 24 inches diagonal cutting capacity.
Strong body made of durable components. It will last a long time.
Base covered by rubber grip to help keep the device steady at a place.
Easy maintenance and servicing.
2. Sigma Pull Handle 26″ Tile Cutter 3B4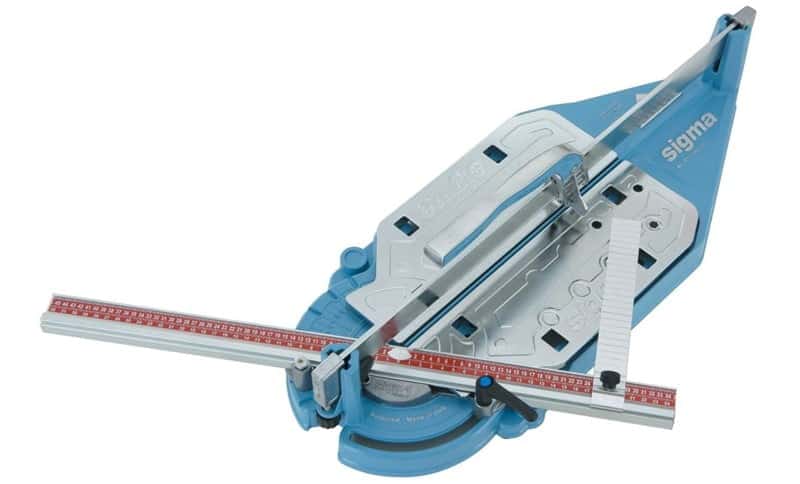 Versatility is important for tile cutters. You definitely do not want one cutter for one material to cut. The more varieties of materials it can cut, the better it is. From this perspective, the Sigma 3B4 series is the king of all cutters.
This highly skilled device has the capability of cutting through multiple forms of tiles. You get the opportunity of cutting tiles of glass to even porcelain. It seems surreal, but this manual cutter is strong enough to pierce quarry, pavers and saltillo tiles. You can decorate your bathroom or sophisticated kitchen implanting granite or marble using this proficient cutter.
Its structure and design are arranged so you can work effectively with the tool. The total structure has been laid using steel and aluminum alloy. This gives it a rigid body to retain a steady position while working with heavy materials. Its durable construction helps it to tackle all the wears and tears, and give service for a longer period of time.
This cutter has an exceptional process of measuring cuts than the other cutters mentioned in this list. It has a linear scale and a scaling system that rotates -45o to +45o. This scale is moved based on the angle markings. For your convenience in moving it, a small rubber handle has is given on it. This measurement system works for both linear scaling and angled scaling.
Unlike others, this tile cutter has a single trail for rolling the cutter wheel. Its handle is allowed to move freely along the rail. For cutting your tile, you have to pull the cutter across the tile instead of pushing.
The tool might look small but has the capability of cutting up to 26 inches tiles. Diagonally you can fit up to a massive 18.5 inches tile. Its structure and design are moderately different than others, and so is its capability.
Can cut through multiple forms of tiles from glass to granite.
Strong hardwearing body made of steel and alloy. Will give service for a long time.
Unique design and structure with a sophisticated measuring system.
Can make straight cuts up to 26 inches and diagonal cuts up to 18.5 inches.
3. QEP 10630Q 24-inch Manual Tile Cutter
Another tile cutter from QEP to be mentioned in this list. This model of tile cutter is smaller in size than the previous one mentioned in this list. If you need any smaller alternative of the previous QEP manual tile cutter, this will be the best choice.
This sophisticated tool can assist you to cut 24 inches tiles. It might be smaller than the previous model but is large enough to fit average size tiles. Diagonally it can fit about 17.5 inches tile.
The QEP 10630q 24-inch manual tile cutter includes measurement scales attached to itto assist you in making straight cuts. The scale is adjustable as per your requirement. You can fix the scale in the desired position and cut your tile accordingly. This feature helps in making more accurate cuts.
You can easily cut through ceramic and porcelain tiles up to 1.5 inches thick with this tile cutter. You do not have to apply extreme pressure or induce force to cut the tile. Just a gentle score and a snap will cut your tile into two pieces.
The effective performance depends on the main cutting wheel itself. Its sharpness and effectivity are important to get the best results. The 7/8 inches cutting wheel of this tile cutter is made of tungsten carbide.
The carbide wheel is coated with titanium to increase efficiency and durability. It helps in holding its shape and sharpness for a longer period even going through heavy cutting tasks. It is a replaceable part. When the part wears off, you can purchase it separately from the market.
Not only the wheel, each and every part of the tool is made with durable components to assist you in your regular work. From broad aluminum base to linear ball bearing slides and not forgetting the steel rails with chrome plating, all made of hard-wearing components. Its sturdy body is made likewise for heavy usage so that you can use the tool regularly.
24 inches rip cut capacity and 17.5 inches diagonal cut capacity.
Includes an adjustable measuring scale attached to the tool.
The heavy-duty cutting wheel can cut through up to 1.5 thick tiles.
Sturdy body made of durable components for heavy usage.
4. Goplus Manual Tile Cutter for Porcelain & Ceramic Tiles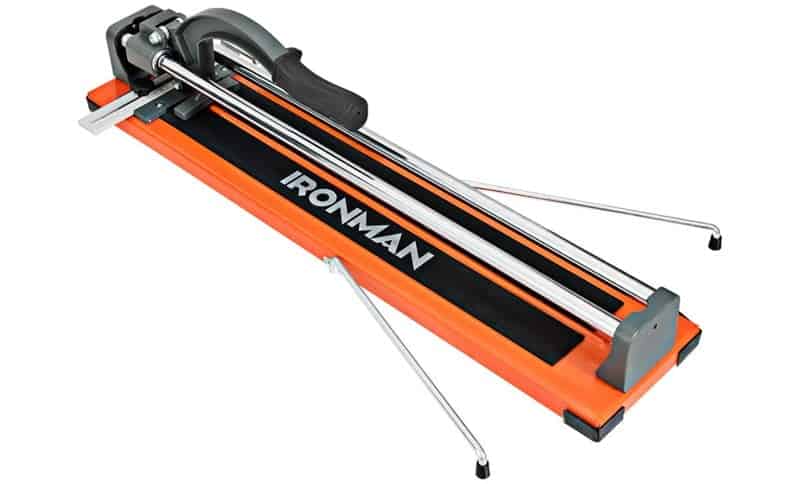 If you are looking for something professional, then this tile cutter is for you. It is a proficient tool used for performing heavy jobs. It is suitable for household tiling projects and other large-scale tiling jobs.
This tool has the versatility of cutting any form of tiles. You are not restricted to the light ones. You can even cut through porcelain and glass tiles with this heavy-duty ensuring tool. It has the capability of cutting through 5mm to up to 12mm thick tiles.
The size of the tiles is also an important issue for manual tile cutters. This competent tile cutter can offer you a spacious room of 24 x 6.7 inches to fit your desired tiles. On this wide space, you can fit 24 inches tile for rip cuts and 16 inches for diagonal cuts. To assist in handling larger tiles, it also includes sidearms. You can simply slide them out on either side to work as stands for holding the tile.
Maximum manual tile cutters contain this feature of measurement guides. This particular tile cutter has the same too but a removable one. You can detach its scales when not required. It provides extra room for cutting tile.
Besides having a large space, its body structure is very sturdy too. This tile cutter is made for heavy use. Its body has an iron frame construction that makes it heavy and thus very stable too. It would not have any situations of tripping over when you apply force to snap your tile.
The best thing about this tile cutter is it comes assembled for you. It can be used right out of the box. Only the measurement kits need to be installed. You have been given the complete freedom of either attaching it or not.
Can cut through any form of tiles.
The maximum cutting capability is 12mm thickness.
Removable measurement scales. You can easily take them off if not using them.
Sturdy body with the iron frame structure. Very stable and durable.
5. CO-Z Manual Tile Cutter for Porcelain Tiles or Ceramic Tiles
Accuracy is important in tile cutting. That's why all the tile cutters have a measuring guide to ensure precise cuts. But this tile cutter has taken accuracy at a different level.
This cutter has introduced a unique style of measuring using a laser beam. It has an infrared ray device implanted on it. The laser guide will help you to follow the beam in a straight line to make precise cuts. Not only that, but you can also adjust the pointer by loosening or tightening its screw. Other than that, it has a linear scale too.
You can cut different types of tiles using this cutter. Most of the tile materials are cuttable with it. It can handle thickness from 0.24 inches to up to 0.6 inches. Just scrolling the cutter once over the tiles will break it into two polished pieces.
Its efficient cutter will cut your tiles smoothly without chipping. It has a solid alloy serrated cutting wheel that cuts through tiles like cutting butter. You do not have to apply force or push it too hard. With your gentle scrolling, it cut the tile flawlessly.
Whether you are doing a DIY project or you are a professional, it works for all. It is made of durable components to deliver heavy-duty performance. Its aluminum frame construction is long-lasting and won't leave your site anytime soon. It will tackle all your wearing tasks and still be in one piece to take the challenge for more.
This model of tile cutter comes in 2 different sizes, and you can go for either of them. Both of them have a massive capacity for cutting. One has a capacity of 40 inches and the other a total of 48 inches. These are ideal for cutting large tile blocks.
Has a unique laser beam system for assisting in accurate straight cuts.
Highly efficient solid alloy made cutting wheel.
Useful for both DIYers and professionals.
Comes in 2 different massive sizes. Highly suitable for large tiles.
FAQs about Manual Tile Cutter
Know the answers to some of the most frequently asked questions related to manual tile cutter help you pick the best handheld tile cutter.
How to use a manual tile cutter?
Using a manual tile cutter is very easy. At first, you have to mark the cutting line on the tile. Then place your tile on the base of the cutter. Set the cutting wheel on the edge of the marking on the tile.
Now, gently press down a little using the handle and score along the line. Moving to the other edge, place the snapper on the tile. Applying slight pressure on it, snap the tile. Thus you get your tile cut using a manual tile cutter.
Does it take much time to cut tile using a manual cutter?
It takes the least time to cut tiles with a manual cutter. It's a simple score and snap process. It does not require any extra hassle of arrangements or any complex techniques. That's why it cuts tiles in no time.
What tiles can I cut with it?
Manual tile cutters can cut through ceramic tiles effortlessly. Not limited to only ceramics, these cutters are also capable enough for cutting porcelain and glass tiles. Some of them are much more skilled and capable of cutting through Saltillo tiles.
What is the thickness of tiles that can be cut with a manual tile cutter?
You can cut around a thickness of ¾ inches with a manual tile cutter. Though the capability of the cutters varies from material to material, this would be the average thickness a manual cutter can cut.
Final Words
Where wet tile cutters need bigger workspace and lots of arrangements, you can work with a manual cutter at the very spot you are tilling. You can get clean and neat working experience. You can wrap up everything right after finishing your tiling work; no extra hassle, no pain.
With the best manual tile cutter, you can get the finest experience of tiling. I hope you have already found the ideal one for your tiling jobs after reading my manual tile cutter review post.